There are times when a stock is primed to move higher but its prospects are dismissed by investors. After 20+ years in the investment management and investment research business, I find that in the health care space it is something of a regular occurrence, relative to other sectors.
Investors continually expect progress to be executed on a linear pattern. Unfortunately, life usually does not work that way, and it certainly does not work that way with pharmaceutical R&D. What never ceases to amaze me is why a particular stock gets placed in the penalty box while another with equal or lesser prospects goes under consistent accumulation.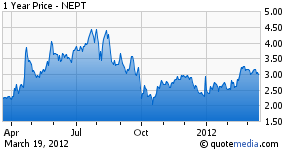 One reason sometimes is related to complexity of a business model rather than the science. If a company is operating out-of-the-box, through the back door, or has "too many" shots on goal, than it is hard to attract a specific investor that may gravitate exclusively toward oncology treatment stocks, or stem cells. While in the short-term, it may hinder upside, when value is realized through catalysts in the form of progress, or news, the floodgates are opened. A perfect example of this scenario is Neptune Technologies and Bioressources (NASDAQ:NEPT).
Through three operating segments/subsidiaries, NEPT develops and commercializes novel marine bioactive ingredients, specifically omega-3 phospholipids from underexploited marine biomass such as cold, deep water Krill found in Antarctica. The Company (Neptune) develops and markets offerings for the nutraceutical market (Neptune), treatment and product development for cardiovascular diseases (Acasti Pharma subsidiary) and neurological diseases (NeuroBioPharm subsidiary.)
Neptune
NEPT extracts the essential fatty acid omega-3 from Krill oil rather than from traditional fish oils and currently sells it under the NKO® (Neptune Krill Oil) brand. It should be noted that NKO® is the first and only krill oil offering to clinically demonstrate a substantial increase in the absorption of omega-3, versus traditional fish oils, which also reduces the typical dosage associated with omega-3 products. In clinical testing, krill oil has been proven to aid in cardiovascular health, joint pain, high cholesterol, women's health, as well as brain and cognitive functions.
NKO® is available for sale in the U.S. and abroad including Canada, through the largest producer and distributor of dietary supplements in Canada. It should be noted that Health Canada approved, exclusively for NKO®, therapeutic and risk reduction claims, as well as corroborating aspects of Neptune's clinical research and substantiating NKO® safety and effectiveness on cardiovascular health, inflammation and women's health.
NEPT continues to make strides in nutraceutical product development and distribution. In addition to NKO®, the Company is set to launch Eco Krill Oil, or EKO®, which will carry lower omega-3 concentrations and a lower price point than the flagship NKO®. The Company also plans to launch commercial product pilots for functional food applications including juice, fruit berries, fruit paste and protein bars for both human and animal health. These pilots dovetail with the clinical trials for functional/medical food applications in conjunction with multinationals Yoplait and Nestlé (OTCPK:NSRGY). Results are expected to be known before the end of Q1 2013.
Interestingly, NEPT recently signed a MOU with a China-based entity for a 50-/50 joint venture in Asia to develop and market products in Asia. We should note that Asia is the largest market for krill products and this entity has significant expertise and experience in krill harvesting. While it is early in the business development process, this deal could be a game-changer for NEPT, and include upfront royalty payments.
In order to meet increasing demand for its NKO® and other products under development, NEPT is in the midst of a major production expansion which will increase krill oil production capacity to 500,000 kg, up from 150,000 presently. Management recently secured $20M in funding for this expansion and it should be noted that fully 40% of the funding is in the form of grants, tax credits, and an interest free loan.
Acasti
Publicly traded in Canada, NEPT owns 57% of Acasti Pharma (APO.V), which we view as a major wild card for the Company, as it relates to overall valuation.
Acasti is currently engaged in a Phase II human clinical trial to investigate the use of CaPre® as a treatment for patients with dyslipidemia. The trial is randomized, double blind, placebo controlled, and will assess the safety and efficacy of CaPre® in patients with triglyceride levels ranging from moderately high to very high, which distinguishes CaPre® from prescription drug fish oils labeled only to treat patients with very high levels of triglycerides. Early testing demonstrated a reduction in triglyceride levels and an increase in HDL cholesterol. Importantly, management plans to file an IND with the FDA, which would be a big boost to both Acasti and NEPT.
In addition to CaPre®, Acasti is developing Onemia™, an omega-3 phospholipid launched last year. It is classified as a medical food by the FDA which may be useful in alleviating symptoms of chronic cardiometabolic disorders. Onemia™ has the potential to be available in pharmacies behind-the-counter through distributors.
NeuroBioPharm
Wholly-owned subsidiary NeuroBioPharm develops medical foods, over-the-counter products and prescription drugs to treat cognitive and neurological disorders. One of the most promising products has already completed pre-clinical studies with a partner in Germany. These tests indicate that NKPL, a highly concentrated phospholipid extract, may be an effective treatment for children with ADHD and a safe alternative to Ritalin®.
Separately, clinical trials have demonstrated that NeuroBioPharm's novel composition of astaxanthin and omega-3 phospholipids significantly improve cognitive disorders caused by developmental, hormonal and/or age related abnormalities.
All told, the Company has products under development representing tens of billions of dollars in annual sales, in various stages of development, including the prevention of cognitive decline, ADHD, Alzheimer's, and learning disorders.
Recap
Neptune is generating revenue ($13.8M for the first nine months of 2011) and has tremendous opportunities in nutraceutical product penetration. Management is prepared for demand with the recent facility expansion project. Acasti and NeuroBioPharm offer huge potential via traditional proprietary and OTC pharmaceutical research and development channels to treat diseases and conditions representing huge markets.
In our view, NEPT current market capitalization of $155 million reflects the nutraceutical business only and when one takes into account the $60M reflected by ownership in Acasti and a nominal value assessed to NeuroBioPharm, we believe that NEPT could soar as continued progress generated by its subsidiaries renew attention on the stock.
Interestingly, NEPT's current valuation reminds us of another characteristic of stocks whose low relative market caps are head-scratchers. That characteristic is time.
NEPT has been working in this arena for many years, and in fact has been awarded 70 patents, highlighting the value of its IP. While it has not yet broken through with proprietary drug approval using its out-of-the-box approach, it is extremely well-positioned to do so, in our view. Sometimes it just takes longer when a new method is being "trail blazed".
The NEPT situation is reminiscent of Cel-Sci Corporation (NYSEMKT:CVM), a stock I have been following on/off since the early 1990's. It too is a victim of "taking too long" to develop. Like NEPT, CVM has developed a novel, out-of-the-box approach. In this case, it is a method of treating head and neck cancer. Currently in Phase III trials, its lead product Multikine may also have the potential to be first in a new class of cancer immunotherapy drugs. It currently is the first investigational combination immunotherapy thought to have both passive and active immune properties.
Like NEPT, CVM's prospects are not being handicapped properly by the Street, as illustrated by the low valuation afforded it. While it may be puzzling to existing investors in these stocks, when catalytic events occur, a re-valuation should follow with an increase of 50% or more, along with relative market value stability, albeit at higher levels.
Disclosure: I have no positions in any stocks mentioned, and no plans to initiate any positions within the next 72 hours.