The recession devastated the railcar industry as consumers (mostly leasing companies and railroads) cancelled orders in advance of the economic downturn. Orders were about 60,000/year from 2005-2008 but fell dramatically as shown in 2010 as shown below. Consultants project strong recovery in deliveries for an extended period.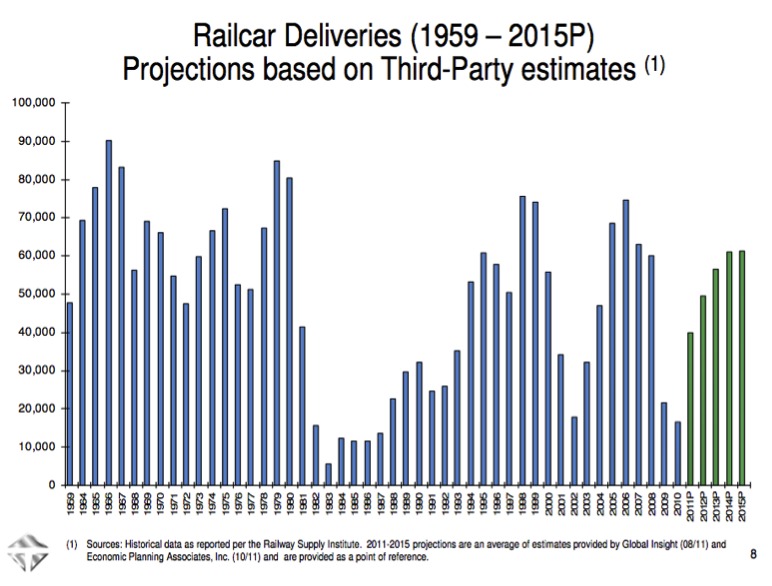 click to enlarge
Source: Trinity Industries
The major manufacturers and market segments are as follows: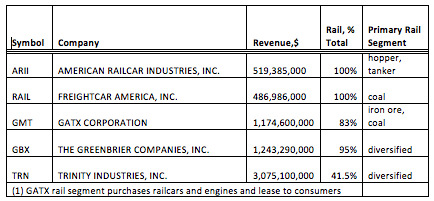 All companies are seeing large increases in order backlog.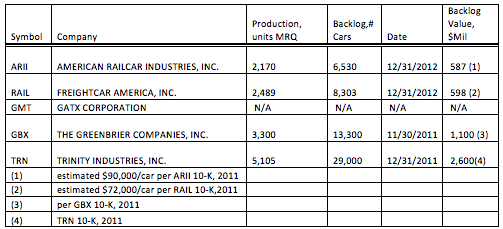 Hydraulic fracturing is a technique that increases oil and gas production from unconventional sources, such as shale rock, which is otherwise too dense and hard for adequate hydrocarbon flow. The operator drills a vertical well, and then rotates the drill bit 90 degrees to create a horizontal lateral leg. The operator places explosive charges in sections of the lateral and pumps in a fluid mixture of water, process additives and a proppant (sand or other hard ceramic materials).
The explosion creates minute cracks in the rock that are filled by the fluid. Then the fluid is pumped out but the proppant remains and holds the cracks open causing the hydrocarbons to flow out at much higher rates that otherwise would be the case. This process has been so successful that natural gas prices are now at ten year lows due to increased supply and lower than normal demand.
Greenbrier (NYSE:GBX) and American Railcar (NASDAQ:ARII) have commented that carrying sand, used in hydraulic fracturing of shale rock for oil and gas production, has been a huge growth area recently.
Although the horizontal rig count is up about 20% in the last year, this does not give the full story. (See below.) Fraccing operations are increasingly more complex: lateral sections per well are longer and require more sections so that operators need higher horsepower pumps and more proppants per well.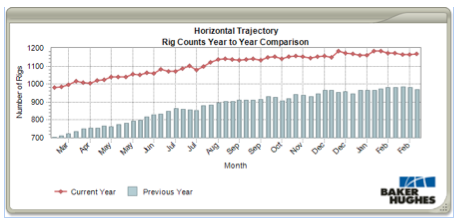 Crude oil is shipped in tankers from emerging basins such as Bakken (North Dakota), Eagle Ford Shale (South Texas), and Niobrara (Colorado) to refineries or storage depots where the oil is pumped into pipelines. GATX specializes in tankers suited to this service.
Coal exports are growing at an annualized rate in excess of 20%/year for the last several quarters, and are double what they were two years ago. This has been a great benefit to Freightcar America (NASDAQ:RAIL) who specializes in coal cars. In addition, they have developed a line of aluminum cars that provide an economic incentive to shippers. Since cars are limited to their gross weight, a savings in the weight of the car enables the shipper to load more coal onto the car and increase profitability.
According to RAIL, the quantity of steel coal rail cars in excess of 31 years of age (US fleet average is 19 years) is 72,000 cars. At their average sales price of $72,000/car, this is an additional sales opportunity of $5.1 billion. Since they have 70% of this market segment it seems likely they will get a substantial portion of this new business over the next few years.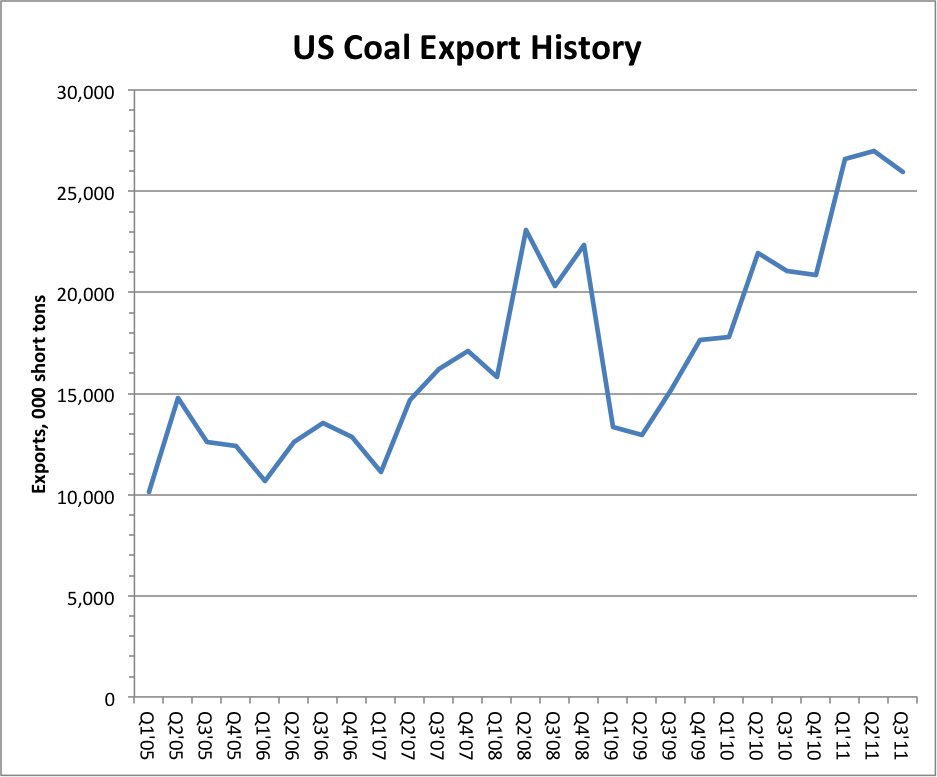 So if you want to play the energy driven railcar recovery there are a number of choices. In the Table below I show some key factors. Based on consensus analyst estimates of next year's EPS, GBX is selling at the lowest level so looks attractive. The ratio of the production backlog as a percentage of the last quarter production is an indication of certainty of revenue growth. TRN scores best on this measure but GBX looks good too.
Considering the recent price run up you have GMT close to their 52 week high but GBX is the lowest of these four companies. In summary I think each of these companies will do well but if I had to pick one it would be GBX for the reasons cited.

Source: Thomson Reuters
Disclosure: I have no positions in any stocks mentioned, and no plans to initiate any positions within the next 72 hours.