Verso Paper's (NYSE:VRS) debt will eventually crumple up the stock. It's a shame too, because without the interest expense, this would be a fine, profitable company.
Verso Paper produces and sells coated papers in the United States. Primarily paper for catalogs and magazines, annual reports, brochures, magazine covers, and retail inserts. It also provides pulp that is used for printing paper and tissue products.
On March 8th, the company announced an issuance of $345 million of 11.75% senior secured notes due 2019 in a private offering. These notes will be used to pay off the $315 million of 11.5% senior secured notes due 2014, as well as related costs and expenses.
Shareholders might think these debt buyers are their friends and are helping out by taking over the debt and pushing out the principle due date. Nothing could be further from the truth. By charging exorbitant rates, the debtholders plan on gouging the company, taking a pound of flesh every year, up until the company's inevitable demise of 2019 or earlier, where they'll wipe out the equity holders and take it over.
The stock rocketed up on the bond offer news from an open of $1.23 on March 8 to a high of $3.36 that day for a 170% gain, only to drift back down to $1.80 today. Shareholders were biting their nails earlier because when 2014 rolls around there's almost no chance the company would be able to pay the principle of so much debt without filing for bankruptcy. The new bond investors clearly have confidence in the company to last awhile longer. The S&P gave these new bonds a BB- rating which is two notches higher than the company's corporate credit rating of B. The higher notches are because of the company's liquidity and positive EBITDA.
It makes sense for S&P to give these bonds a relatively high rating, because they are primary senior secured notes. They are secured by the firm's assets, and are first in line. The company has a total of around $1.2 billion in debt. The following is the details on the company's notes: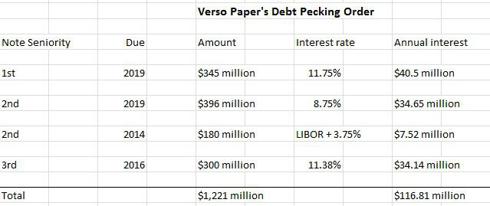 Even though the highest seniority bonds have first dibs on the assets in a bankruptcy, the interest rate is still the highest because of the latest due dates.
In Q4 2011, VRS produced an EBITDA of $48 million. Unfortunately, the total net loss was $68 million.
In the conference calls, Verso paper executives applaud their EBITDA numbers. The truth is, the company has a fine and healthy "E", that's not the issue. The issue is with the "ITDA".
Take a look at the company's "depreciation, amortization, and depletion" expenses. In 2010, it was $127.4 million. In 2011 it was $125.3 million. These high expenses require the company to spend more on capital expenditures.
In 2010, EBITDA was $124 million, but CAPEX was $73.6 million. In 2011, EBITDA was $114.9 million, but CAPEX was $90.3 million.
The increase of $16.7 million in CAPEX was for a renewable energy strategy that is expected to be finished in Q4 2012. The company expects this strategy to add $50 million a year in EBITDA. In my opinion, that seems optimistic, but I don't know how much the company spends on electricity.
From the 2011 10-K, the company expects 2012 CAPEX to be between $85 and $95.
Now take a look at the interest expenses. A whopping $128.8 million in 2010 and $126.6 million in 2011. How is the company paying its interest expense after paying so much in CAPEX? By whacking it's assets and adding to its liabilities, that's how. After having a Shareholders Deficit of $7 million in 2010, it grew to a $154 million deficit in 2011.
To decrease its need for CAPEX, the company closed down three of its machines in Q4 2011. The company also expects this will increase its EBITDA. Although Robert Mundy, Verso's CFO, couldn't be specific about how much the EBITDA will increase, he did hint that the top line will be hurt, but the bottom line should go up.
In order to just break even, the company will need about $200 million in EBITDA per year, give or take. If the renewable energy project succeeds in adding $50 million to EBITDA, that leaves about $30 million in growth needed. However, with the shutting down of machines, there is not enough capacity for any growth.
On page 6 of the 2011 10K, it shows the mills and the production capacity. It shows that the annual production capacity for coated and supercalendered paper is 1,505,000 tons. The previous year's 10-K showed a max capacity of 1.7 million tons. The reason for the decrease is because of the closing down of machines.
The amount of coated and supercalendered paper sold in 2011 was 1,601,000 tons. Now they don't have the capacity to match last years sales of their best selling paper. They set themselves up for contraction for next year. This is a sign that the company is basically killing the equity holders and is resigning itself to the bondholders. As shown in this pie chart from the 201110-K, coated and supercalendered paper make up 82% of Verso's sales.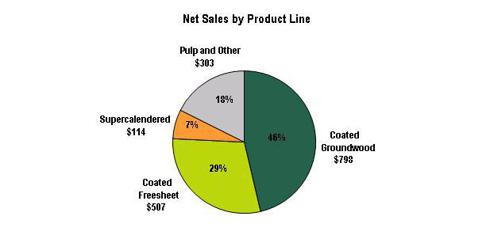 The company said the market share growth is pretty flat across the board for 2011.
In the Q4 2011 conference call, a question was asked about coated paper sales. The conversation went:
Jeff Harlib - Barclays Capital

Okay. And just then on, just on your comments on coated shipments being flat adjusted for the closures, I just want to make sure I understand. So you had about 1.6 million coated paper shipments, if I take out 200,000 that's about 1.4 million. Is that about what you're thinking you will ship this year?

Robert Mundy

Yeah. It will, well, for just coated, Jeff or I'm sorry, your...

Jeff Harlib - Barclays Capital

Yeah. Your coated in SC segment.

Robert Mundy

You said 1.4, it should be higher than that.

Jeff Harlib - Barclays Capital

Okay. So it should be close to your 1.5 capacity?

Robert Mundy

Yeah. Absolutely.
Oops! Verso's CFO Robert Mundy thought 1.4 million tons seemed like too low of a number, so he said coated shipment sales should be higher. However, there isn't enough capacity to go higher than 1.5 million. Basically the message, intended or not, is that there won't be any growth in 2012 for 82% of the company's sales, because it will be at max capacity. Therefore there won't be any growth until the company adds more machines. So they closed down three machines only to have to open them back up if they experience any growth? That's more restructuring expense. The recent machine shutdowns resulted in charges of $24.5 million in Q4 2011.
If the company doesn't experience enough growth in the next few years, the hole will be dug deeper, and bankruptcy is inevitable by or before 2019.
Also worth noting is the executives pay themselves very well. As shown in the DEF 14A filing, in 2010 the top five executives paid themselves a total of $4.8 million. An average of $967K apiece. Not too shabby of a paycheck for them after the company lost $131 million. I'm looking forward to seeing what they got paid in 2011 after having an even worse year.
Bullish Thesis
With the economy coming back, companies will be sending out more advertisements and reports. More magazines will be created with more ads.
Europe's paper exports to the US declines, so that gives more business to companies like Verso Paper.
However, I don't think the company itself expects much growth since it's shutting down some of its machines.
Trade recommendation: Sell
Disclosure: I have no positions in any stocks mentioned, and no plans to initiate any positions within the next 72 hours.