This is just a short briefing about Broadcom (BRCM) and why I think it may soon decline in price, due to purely technical reasons. On Friday, Broadcom closed at $37.81, near the same price top it has closed at many times before. For whatever reason it may be, Broadcom almost always fails in this price range, ending its run up, and beginning their downward descent. Also, as Apple (NASDAQ:AAPL) is looking to no longer be invincible, a fall or major stumble in price action from the tech titan could also bring down other names, such as Broadcom and Qualcomm (NASDAQ:QCOM). So this begs the question, will this be the breakout investors have been looking for, or another fail at resistance?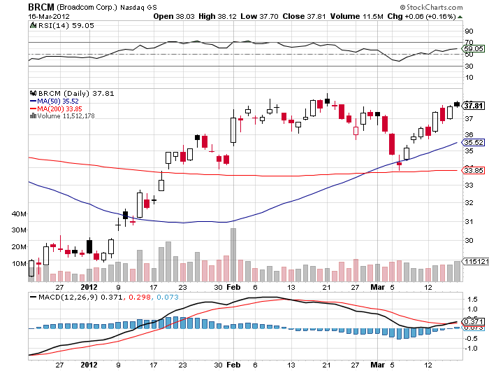 Above: Broadcom 3-month chart (Click to enlarge)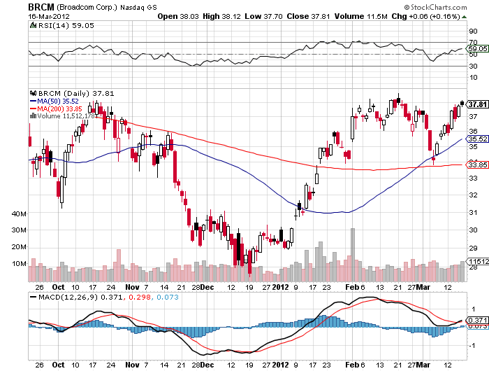 Above: Broadcom 6-month chart (Click to enlarge)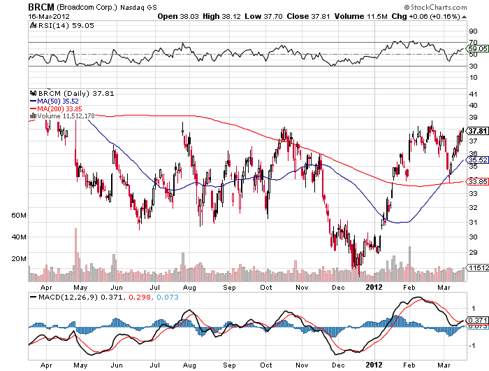 Above: Broadcom 1-year chart (Click to enlarge)
A look at the 3-month, 6-month, and 1-year charts will show that Broadcom has been at the $38 price level many times before, and has subsequently failed at moving through it each time. Last year in late October, Broadcom bounced away from the $38 mark twice before starting its nearly three month downward trend. Then in January, after their earnings report, they ran up to the same level and failed to break through. For the entire month of February Broadcom tried breaching through the $38 mark, failing over and over once more. I think we are beginning to see a pattern here. In March Broadcom was trading near $34 and quickly began its march up (no pun intended) to once again, the critical $38 mark. This time it will be crucial for the chip company to push up and over the $38 hump, if it wants to see $40 and beyond. However, the 50-day simple moving average did cross the 200-day simple moving average to the upside on February 29th, possibly signaling a bullish move for the stock. Only time will tell if this movement will continue, or if the is top near these levels.
I'm all for Broadcom and their long term outlook, especially with how much growth remains in the chip sector for wireless devices, and how well Apple is doing. In fact, on a fundamental basis, I'm very bullish semiconductors in general and am quite bullish on Qualcomm, as I wrote several weeks ago. However, for whatever reason, Broadcom just seems to be unable to break their current resistance at the $38 threshold, even though this may be the sign of a true breakout. I plan on using the April 37 strike put options should we see more significant resistance at this level and another stall out in price momentum.
Disclosure: I have no positions in any stocks mentioned, but may initiate a short position in BRCM over the next 72 hours.