The new iPad3 went on sale Friday, March 16th, 2012, in stores across several countries only shortly after Apple (NASDAQ:AAPL) shares touched $600 for the first time earlier that week. Australia was the first country in which the iPad3 was sold, with Wal-Mart (NYSE:WMT), Best Buy (NYSE:BBY) and RadioShack (NYSE:RSH), as well as Apple, selling it in the U.S. This morning Apple announced a long-expected quarterly dividend of $2.65 per share, representing a 1.75% current yield, along with a buyback program of up to $10 billion. Talk about making headlines, as a shareholder I continue to like what I'm seeing.
Earlier the previous week, on Wednesday, a Dutch court rejected an attempt by Samsung (OTC:SSNLF) to get the iPhone and iPad banned, stating the patents Samsung was asserting must be licensed on FRAND [fair, reasonable, and non-discriminatory] terms. Of interest is the court's claim that Apple doesn't need a FRAND license since it uses Qualcomm (NASDAQ:QCOM) chips, and Qualcomm has licensed Samsung's patents. Such a ruling could give Apple motivation to continue using Qualcomm chips in future iPhones and iPads.
Speculation a Mini-iPad will be introduced this year recently intensified after an unnamed Samsung official said Apple is planning to release a smaller iPad, probably with a 7.85-inch screen. It was added that Apple could buy $11B worth of displays and chips from Samsung this year, up from $7.8B in 2011. All this in spite of intense competition and dozens of legal battles that exist between the companies, exemplified in the Dutch court this week.
Meanwhile, Apple's strategy of aligning the iPhone with a single mobile carrier initially appeared to have backfired over in China, where Samsung has opened up a huge smartphone market-share lead. According to Bloomberg, the iPhone now has a 7.5% share of China's smartphone sales, while Samsung has a 24.3% share.
This share makes Apple the 5th largest smartphone seller in the country, while Samsung is leading. Samsung has sold phones through all three major China mobile carriers since 2009: China Unicom (NYSE:CHU), with 200 million subscribers, China Telecom (NYSE:CHA), with 129 million subscribers, and China Mobile (NYSE:CHL), with 655 million subscribers. Apple, meanwhile, exclusively sold through China Unicom until March 2012, before it reached a deal with China Telecom to start selling through that carrier as well starting this month.
Globally the picture is quite different, with Apple clearly the top smartphone vendor in 2011, with a 19% global market share. Total smartphone sales in 2011 grew 58% year over year (YoY), reaching 472 million units sold. Western Europe and North America led most of the smartphone growth for Apple, with global smartphone sales increasing 47.3% to 149 million units in Q4 2011. Apple also managed to get 17% of the overall PC market due to record sales of iPads and Macs in Q4 2011. With 15 million iPads and 5 million Macs sold worldwide during the quarter, Apple was the No.1 PC vendor.
On the technology front the battle rages on, with Samsung again claiming its Galaxy Note 10.1 is better than Apple's latest iPad3. Samsung actually went so far as to distribute the following graph to try and get the point across.
(Click to enlarge)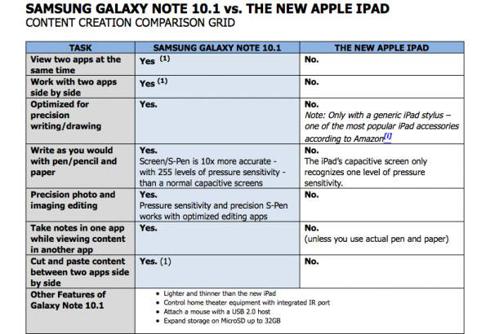 Some will say that Samsung indeed makes some good points. Others will likely take all individual features on both devices into full account and realize that Samsung, understandably of course, is a bit 'biased' in its assessment.
Just as it has done with the new Galaxy Tab 2 10.1, Samsung has been very careful to make sure its new 10-inch Galaxy Note looks very different from Apple's design. As much as Samsung may feel its design has been somewhat forced by Apple's continual legal action, it may actually be for the best as its new larger tablets are looking much more distinctive and just better. However, that hardly makes it an iPad beater.
Apple's iPad 3 isn't significantly different in design from the iPad 2, the only change is a bit of extra weight and thickness, but barely noticeable and for good reason. Apple has gone all out to upgrade its tablet display quality, and Apple has managed to bring its famed Retina technology to the bigger tablet screen size, which means the iPad3 now sports a 1536x2048 pixel resolution at 264 ppi [pixel density per inch] for arguably the clearest visuals you'll be able to get on a near-10-inch device. To compare, Galaxy Note 10.1 uses a PLS TFT capacitive display with 1280x800 pixel resolution at 149 ppi.
Samsung's Galaxy Note 10.1 uses a dual core 1GHz processor with 1GB of RAM, same as the iPad3, and comes in 16GB, 32GB or 64GB, each with MicroSD capability for up to an additional 32GB via card storage. The iPad3 does feature Apple's new A5X chipset with a quad core graphics processing unit, and also has options for 16GB, 32GB or 64GB, but unfortunately still no MicroSD slot to be found. That is one of the primary reasons some do prefer the Note 10.1 over the iPad3.
Apple has brought its iSight camera technology from the iPhone 4S over to the iPad 3, which means you get a 5-megapixel BSI [backlight-illuminated sensor], stabilisation features, and 1080p video capture. This means better pictures on the iPad3 than the Note 10.1. The Samsung does have an LED flash and 1080p video recording, but it sports a 3.15-megapixel camera.
So what does this all mean for us as investors. For one, it proves that companies like Samsung are continually upping their game in order to beat Apple in the smart phone and tablet market, and are sometimes succeeding like we've seen in China and Europe recently. But it remains equally clear that the iPhone 4S and iPad3 still set the benchmark, not only through their technology, but also in terms of marketing. And some would say that's just as important, if not more, and certainly needs to be taken into account when it comes to consumer electronics.
As investors we also need to look at the underlying performance figures of the respective businesses and view these companies in terms of relative valuation. To start with the latter, we can see here for Samsung, and here for Apple, that both these juggernauts are still attractively valued compared with the broader market on a price-to-earnings basis for example with P/E's of 7.3 and 12.3 respectively, and both are continuing their strong long-term uptrend. Not surprising, as these two companies have virtually dominated the global consumer electronics landscape during the last few years.
Taking a closer look at the latest Q42011 and FY2011 results for Samsung, we see the company achieved revenue of 47.3 trillion Korean - 1.000 won = $0,89 USD - for Q42011 ended December 31, 2011, which represented a 13% YoY increase. For the quarter, Samsung reported an operating profit of 5.3 trillion won, representing a 79 % YoY increase. Consolidated net profit for the quarter was 4 trillion won.
The fourth quarter results brought Samsung's FY2011 revenue to an all-time high of 165 trillion won, up 7% YoY. Net income registered 13.73 trillion won, and operating profit was 16.25 trillion won, a 6% YoY decline, mainly due to higher costs. Growth in sales was strong and mainly driven the GALAXY S II and GALAXY Note.
Turning to Apple's latest results, Q12012 announced on 01-24, it was again an impressive set of numbers from the company based in Cupertino, California. The company posted record quarterly revenue of $46.33 billion and record quarterly net profit of $13.06 billion, or $13.87 per diluted share. These results compare with revenue of $26.74 billion and net quarterly profit of $6 billion, or $6.43 per diluted share, on year ago. Gross margin was also impressive at 44.7% compared with 38.5% percent in the year-ago quarter, a 16% YoY increase. Ever-growing international sales now accounted for 58% percent of the quarter's revenue. It becomes easy to understand why Apple's status, along with its share price, keeps rising to unprecedented levels.
Apple sold 37.04 million iPhones in Q12012, which represented a 128% YoY unit growth increase. The company also sold 15.43 million iPads during the quarter, a 111% YoY unit increase, along with 5.2 million Macs, a 26% YoY increase over the year-ago quarter. The only decline was in iPods, with 15.4 million units sold, a 21% YoY decline. Clearly, Apple's overall sales momentum has been and remains incredibly strong, and the company undoubtedly has some amazing products in the pipeline to thrill consumers.
In the end, it should not be to difficult to build a solid investment thesis for either Apple or Samsung. To be successful in investing, as in business, it remains a simple fact that there's nothing wrong in betting on two or more horses in one race if that increases your likelihood for returns.
On the other hand, the vast majority of investors will only have limited funds available for each purchase and that may greatly influence what you are willing to pay for a stock. Investors will find themselves overcoming a psychological barrier in order to buy a $600 Apple stock, even though the investment case may be better than cheaper alternatives. In the end, a 20% return on 2 Apple shares provides the same result as a 20% return on 20 shares in Transocean (NYSE:RIG) for example. 20 shares just 'feels' more substantial, and therefore an issue many retail investors will need to master.
Regardless of your final investment decision, Apple Inc clearly remains top dog in the consumer electronics arena, and for good reason. But at the same time Samsung Electronics Co isn't a slouch either. Whichever company you choose to invest in, two things seem clear:
Innovation still drives success, and
Even after Steve Jobs' passing the Apple still doesn't fall far from the tree within this truly amazing company!