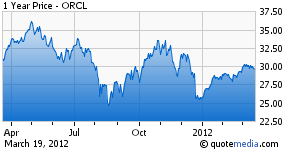 What have you done for me lately? This is the question that database giant Oracle (NASDAQ:ORCL) has been forced to answer since its disappointing second quarter conference call where it missed earnings estimates. As a result the company has found that its list of Wall Street doubters has grown to the extent where many have begun to proclaim rivals SAP (NYSE:SAP) and IBM (NYSE:IBM) as the new dominant enterprise solutions and cloud leaders. This has caused the stock to languish in a range that has since frustrated many of its investors. However, anyone that knows Oracle and its management should expect that the company has a chip on its shoulder and will be out to prove just how dominant it plans to remain going forward.
The Overreaction
During the earnings conference call, management spoke of some struggles to close sales as the quarter ended, which reflected uncertainty in financial markets and caused a number of customers to pull back on spending. Management also detailed that new software and hardware products, including Exadata and Exalogic, sold well and beat out servers that combine features from market leading competitor Intel (NASDAQ:INTC). In the quarter ending November 30, the company reported a profit of 54 cents per share while analysts were projecting profits of 57 cents. The bright side of the report was that new software sales rose slightly - 2% year-over-year to $2 billion.
Management also added that it expects hard revenue declines of 5% and 15% while also projecting new software sales growth of flat to 10% - another disappointment as analysts were forecasting growth of 7%. The fact of the matter is, for as consistent as Oracle has been over the years, I think it would be more than fair to have given the company the benefit of doubt considering how tough the quarter was for many technology leaders. This has caused me to believe that Wall Street's response to the company's miss was a bit of an overreaction.
What to Expect This Week
On Tuesday the company will release its Q3 fiscal year 2012 earnings announcement after market close. As far as what to expect, during the Q2 announcement the company said new software license revenue growth is expected to range from 2% to plus 12%. The company's CFO Safra Catz described it in a manner that it's from positive 2% to positive 12% in constant currency and 0% to 10% in U.S. dollars. She also said that the hardware product revenue growth rate is expected to range from negative 4% to negative 14% in constant currency or negative 5% to negative 15% in U.S. dollars, and that does not include the hardware support revenue.
For the coming announcement, the company expects total revenue growth on a non-GAAP basis to range from 3% to 7% in constant currency and 1% to 5% in U.S. dollars. On a GAAP basis, Oracle expects total revenue growth from 4% to 7% in constant currency and 2% to 5% in U.S. dollars. Non-GAAP EPS is expected to be $0.56 to $0.59 in constant currency and $0.55 to $0.58 in U.S. dollars, up from $0.54 last year. GAAP EPS is expected to be $0.44 to $0.47 in constant currency and $0.43 to $0.46 in U.S. dollars, up from $0.41 last year. There is certainly plenty to get excited about from the standpoint of its earnings. Oracle realizes that it has a lot to prove and investors should certainly expect a better performance over its previous call.
Another area that I'm hoping to hear about is the company's efforts toward the cloud and how management plans to integrate its recent acquisition of Taleo into the mix. As with Microsoft (NASDAQ:MSFT) and its Azure platform, one that is designed to be open and flexible to end users for the purpose of managing applications across global networks, Oracle and its HR component Taleo plan to cement the cloud footprint when it is all said and done. However, for now the question is which one is more ready to address the demand that it will require?
Summary
The company realizes the importance of not resting on its laurels because the competition for its current business as well as those heading for the cloud is growing fierce. Add to the fact that it disappointed Wall Street during the last quarter, Oracle has plenty to prove. As the stock is now trading at $30 with significantly more upside over the next 12 - 24 months, value investors would be vise to make a play here as the stock can reach $40 to $45 during that span. But it has to start on Tuesday with another "routine" performance.