Many people had either started to short Apple (NASDAQ:AAPL) or were considering doing so. The reasons are myriad. I have listed a few below:
Its market cap of roughly $500B makes it unwieldy. At that market cap it is hard for the stock to continue to grow quickly. Too many people have to buy each new product you make. You not only have to provide replacement "smash hit" products for the aging current products, you have to provide further new hit products to accomplish growth. In Apple's case each one would have to be a stupendous hit. This is a nearly impossible task.
Steve Jobs died recently. He was the "DreamMaster." He was the guy with the vision to start Pixar Animation Studios. He comfortably sat on the board of dream maker Disney (NYSE:DIS). Tim Cook is undoubtedly a good manager, but he does not have the almost mystical appeal of Steve Jobs. Steve Jobs by his mere presence made people want to own Apple products.
Steve Jobs was also a master marketer. He understood what fascinated people. He understood what people wanted in a way few others in the tech industry ever have. On top of that he understood the psyches of the techies and the not as knowledgeable "want to be" tech enthusiasts. These people want a continual stream of new gadgets, but more than that they want to be ranked. The continual stream of numbered Apple products allowed them to achieve status for always having the latest (and Jobs told them the best) tech gadgets. They could claim to be the savviest of the techies and/or tech enthusiasts. Plus they could enjoy their new toys that were anointed as the best by the DreamMaster, Steve Jobs.
Tim Cook in his first introduction did serious damage to the above Jobs/Apple image. He introduced the iPad 3 as simply the "New iPad." It had no number. It gave buyers no easy ranking for themselves. It "cheapened" their experience. At the least it made them think the follow on product would give them no new cachet. What could it be called - the new, new iPad? That sounds dumb even to me. It is hard to believe that Apple marketing could have allowed Tim Cook to stumble so badly. "The king is dead." But no one is saying, "Long live the king," as is the custom for the newly crowned king (Tim Cook in this case).
Technically, Apple stock has extended itself far above its 200-day SMA. It stock price hit $608.37 overnight last night. It had previously broken $600 on March 15, 2012. Its 200-day SMA is still back near $400. This means that AAPL stock is roughly 50% above its 200-day SMA. This is more than double the previous amount that it has been above its 200-day SMA in the last two years. Apple stock is overdue to retrace. See the two-year chart below.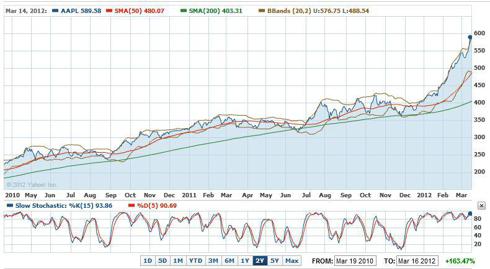 If Apple had retraced sharply, this might have put a lot more pressure on the stock. More people would have jumped in to short it further. More people would have immediately stopped believing in the Apple dream. The stock price and sales might have plummeted in unison. Instead Tim Cook, a good manager, announced a $2.65/share dividend per quarter beginning with the July-Sept. quarter. This is $10.60 per year. That sounds great, and it is a big plus. But it is only approximately 1.77% per year for a roughly $600 stock. Still it should be enough to make a lot of potential shorters think twice about shorting Apple. After all Apple could keep going up near term. If you have to maintain your short for the longer term, you could well be out a lot of money on an AAPL short. On top of that Tim Cook announced a $10B stock buy back. Considering Apple had roughly $100B in the bank, this is reasonable. It does not endanger Apple's fiscal stability. Again it is hard to short a stock that is buying back its own stock in big chunks, especially one with extremely high institutional ownership (little turnover).
I certainly wouldn't buy Apple stock at its current extended level. The chart technicals say it is extremely over bought. Plus the market itself is far over bought. Earnings season is coming up soon. Overall last earnings season disappointed many analysts and investors. With a likely weak Q1, this earnings season is even more likely to disappoint investors. The large January U.S. Trade Deficit of -$52.6B was a big clue that U.S. production is not as high as many expect. David Zion of Credit Suisse forecasts that the S&P500 companies will have pension funding shortfalls of approximately $783B in 2012. This is a 73% rise from last year. It is roughly $300B more that these companies will have to make just to break even with last year's results.
On top of that the EU recession is looming. It is uncertain how severe this recession will be. If it is severe enough, it will push the U.S. into recession. In fact ECRI already has a recession forecast out for the U.S. in 2012. China has recently revised its FY2012 GDP downward from 8.0% to 7.5%. Brazil's GDP slowed in FY2011 to 2.7% from 7.5% in FY2010. Other countries are having much the same kinds of problems. Consequently the guidance from most companies seems likely to be conservative - to disappoint. Now does not seem to be the time to bet the farm on rapidly rising stocks. Now instead seems the time for conservative dividend paying stocks. Tim Cook has just made Apple into one.
I still think Apple is likely too pull back. The 200-day SMA acts like gravity on almost every stock. This has almost the power of a rule of nature such as gravity. However, Tim Cook's announcement should help to preclude a wholesale slaughter situation. This is really what you want for a stock you want to short. It appears Apple has made yet another smart move.
Disclosure: I have no positions in any stocks mentioned, and no plans to initiate any positions within the next 72 hours.