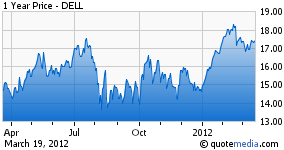 For all of the talk on Wall Street surrounding computer giant Dell (NASDAQ:DELL) and its perceived inability to compete, I'm beginning to realize that the company has heard of these murmurs and is now focused on proving these naysayers wrong. Quite frankly, the notion that Dell should just rollover and play dead because of the anticipated demise of the PC is completely absurd - and the company will tell you that it agrees. Indeed the "death of the PC" has been the subject of much debate, but it continues to be a huge mistake to discount that the company appreciates what it must deal with for the sake of its own survival.
Acquiring the difference
To that end, the company is in the midst of several key transitions in an effort to trim unprofitable parts of its business as a way to increase its margins and generate value. This is something that has worked extremely well for rivals such as Cisco (NASDAQ:CSCO) and the same endeavor Hewlett Packard (NYSE:HPQ) has now undertaken under new CEO Meg Whitman. But for Dell, business adjustments are just one part of its strategy in order to remain competitive - it has now shown that it is also willing to demonstrate its thirst for growth and returning value to shareholders by opening up its wallet and making an acquisition.
Last Tuesday, in a deal that went completely under the radar, Dell announced that it had acquired network and data security specialist SonicWall. Though financial terms of the deal were not disclosed, investors and analysts are estimating the purchase price to be between $1 billion and $1.5 billion. On a conference call with analysts, Dell said it will fund the deal with cash but declined to divulge the purchase price. SonicWall was a public company until 2010, when it was acquired by an investor group led by Thoma Bravo for $717 million.
The question is, does this deal make sense and if so how? But regardless of how it is perceived right now, one thing is certain, as crowded a space in which Dell competes where it is hard to tell one company from another, Dell just may have acquired its differentiating factor. From the standpoint of the deal Dell would be able to leverage SonicWall's Unified Threat Management technology and its firewall capabilities to offer security solutions to data centers and large enterprises. This will put the company in a better position to compete with both Cisco and Hewlett Packard's enterprise offering.
SonicWall offers some pretty compelling security technologies not found anywhere except (perhaps) from chip giant Intel (NASDAQ:INTC) through its acquisition of McAfee a couple of years ago. This deal for Dell makes sense from the standpoint that it has had a long previous relationship with SonicWall. During the announcement, Dell's John Swainson, president of Dell's software group had this to say:
"We are building a strategic software portfolio to address the needs of our customers. Our customers see security as a key IT concern for the foreseeable future."
It seems that the analyst community agrees on the potential benefits that this deal presents Dell, particularly analyst Brian G. Alexander of Raymond James who in a media advisory said "While SonicWALL is more expensive relative to Dell's recent acquisitions, it still fits with the company's focus of acquiring companies with differentiated intellectual property, but limited reach." He also noted that he believes that the acquisition "dovetails nicely with SecureWorks, which can not only manage all of a company's firewalls as a service, but also drive growth through cross-selling SonicWALL's solutions to its captive customer base."
Moving Forward
The company clearly has a desire to grow and remain relevant and it is doing all it can to get that message out to its customers as well as its investors. One of the ways that it's doing that is by making strategic acquisitions such as SonicWall. During its last earnings report it realized that its server business was slowing due to market saturation and increased competition. When you couple this with the slowing PC business it becomes clear that the company had to find other means of revenue to remain competitive.
As far as guidance goes, the company did not offer a lot to be excited about. It offered an outlook that for Q1 revenue that was below Wall Street's expectations. This has caused many to worry that its PC business and the PC industry as a whole had not fully emerged from its downturn. The company's projected sales would be down 7% during the current quarter when compared to the quarter that just ended when it posted revenue of $16 billion. That translates into about $14.9 billion, below the average forecast for about $15.2 billion.
Summary
Dell is starting to think outside the box and the market should now be on the alert. Not only is the company now willing to launch an assault on Apple with its own Streak tablet in partnership with Microsoft (NASDAQ:MSFT) and Windows 8, but it is now focused on furthering its enterprise advantage by also offering security services with its SonicWall acquisition. It is clear that Dell is slowly sneaking up on the market and is no longer being satisfied with being the forgotten No. 3 player in the computer industry. It wants to be No. 1 in being able to offer a total solution and investors should take notice.