Earlier this year, prior to earnings announcements, we looked at a few stocks that had a good potential to show some growth after their 2011 and quarterly results came out. Unfortunately, they did not have the expected pop after their earnings were released.
Alliant Techsystems (ATK)
This company that makes ammunition and pyrotechnics has had a rough few quarters. It lost a major contract last year to run an Army ammunition plant and faces tough competition for another this year. That contract makes up a large portion of the company's annual revenue. In February the company reported its most recent earnings. It is predicting for 2012 total earnings of about $7.65 a share.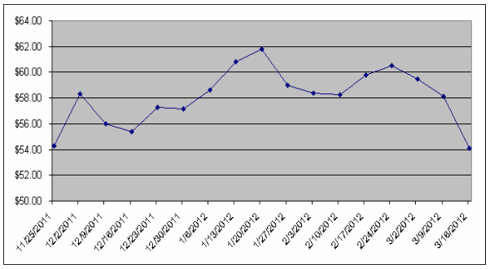 As the above chart shows, the stock price has basically returned to where it was at the end of November.
The company reorganized at the same time and has also recently moved its headquarters to the Washington, D.C., area from Minnesota. These moves are to help it focus on its commercial business as well as start to adjust to the potential reductions in U.S. defense spending.
The stock continues to deliver lackluster performance. It closed Friday at $54.12, down ten percent for the last four weeks. It has also last almost a quarter of its value since its 52 week high touched last May. With a dividend of 80 cents a year it remains in the middle of defense stocks making it not the best choice for income investors.
The company recently put out guidance for 2013 of about $500 million less then expected for 2012. ATK is blaming near term challenges in their business for the expected decline in sales. That does not mean they will not increase earnings as they, along with most major defense contractors, have been making changes to their cost structures as the changes in U.S. spending work their way through Congress.
ATK because of their product line have taken some hits due to the decline in U.S. ammunition demands with the ending of the commitment to Iraq as well as the restructuring of U.S. space programs. They face a rough few years as all of this is worked out. They have expanded their commercial business line, but that faces smaller margins and perhaps more competition. The stock price should reflect these near term issues over the next several months.
Spirit Aerosystems (NYSE:SPR)
The company released earnings at the beginning of February. At that time it was trading at $22.50, up about 50% from its 52 week low. Spirit was expected to announce it expected a good 2012 due to the ending of delays in Boeing (NYSE:BA) aircraft programs such as the 787 and large orders for the new 737MAX. The company did predict revenues would go up about 8 percent to over $2.00 a share.
The stock price closed yesterday at $25.39 and has increased over 7 percent the last four weeks. It has closed half the gap to the $27.50 mark that analysts have been predicting. It has been among the best performing stocks among other defense and aerospace industrials for that four week period including Boeing (BA), United Technologies (NYSE:UTX) and Raytheon (NYSE:RTN).
It looks like if trends continue the stock should reach the predicted price in the next few weeks. As to whether it will ever recover to the $40 high it had in 2008 remains to be seen. The aviation market seems to be moving in the right direction, especially for Boeing, of which Spirit is a major sub-contractor. This should aid it to meet its revenue and earnings goals for 2012.
Curtiss-Wright (NYSE:CW)
This company that has makes aviation and industrial components hit its 52 week high prior to announcing its 2011 earnings, which were as predicted. Since then it has drawn back a little, closing at $37.58. Overall its performance the last four weeks has been a little weak.
The company did announce this week that it is reorganizing to establish a group focused on aircraft data and sensor equipment. This meant splitting existing parts of the company to form the new division. The company's goal for this new part is to "own the sensor data management" part of the aerospace industry. The new Avionics & Electronics division will be based in the United Kingdom.
Curtiss-Wright has been fairly active in acquiring companies for specific needs. This effort to sub-divide some of their existing structure utilizes some of those acquisitions and may lead to more. The company has done well in out performing predictions especially in the later quarters of the year. This new focus within the company, as well as other trends, indicates the stock price might do well in the near term and certainly could push its earlier 52 week high.
Disclosure: I have no positions in any stocks mentioned, and no plans to initiate any positions within the next 72 hours.