NV Energy (NVE), through its subsidiaries, generates, transmits, and distributes electric energy in Nevada. The company generates electricity from its gas, oil, and coal generating units. As of December 31, 2010, the company served approximately 830,000 electric customers primarily in Las Vegas, north Las Vegas, and Henderson and adjoining areas, including Nellis Air Force Base and the Department of Energy's Nevada Test Site in Nye County. (From Yahoo Finance profile)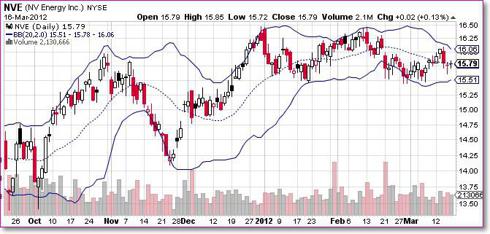 NV Energy did not close out 2011 very well. If you haven't read, that had a net loss of $25 million the last quarter of 2011 as compared to a net increase $14 million in 2010. This loss was due to a number of factors: the majority was plant maintenance and planned shutdowns. Good management practices and needed. Even though 2011 was a down year 2012 is expected to come back as a $159 million rate increase went into effect in 2012 and no new costly maintenance or major projects scheduled for the year.
It seems that Glenn Christenson, director of NV Energy, also believes the same thing. Recently he paid $78,845.00 for 5,000 shares of the stock. Why would a director (any as a matter of fact) invest their hard earned money in a stock unless they expected it to grow? Analysts have the stock pegged to grow to 17.79 or another 15%.
The stock looks like it has peaked as the first of the year. Since then it has been moving mildly down in an even rolling hill pattern, giving up about 6% in value since the first of the year. With an increase in earnings expected this year, we believe the stock will eventually turn up again as the good news starts to come forth through the third and fourth quarters of 2012. With a nice steady dividend of 3.25%, this appears to be a nice investment for dividend slow growth investors. In 2012.