India ETF products declined in value for the week as a combination of higher than expected February inflation and a lukewarm response to the new Union Budget pushed valuations downward. Broad based India ETFs like EPI, PIN and INDY were off between 1.5% - 3%. Here's the weekly performance grid of all India ETF and ETN products.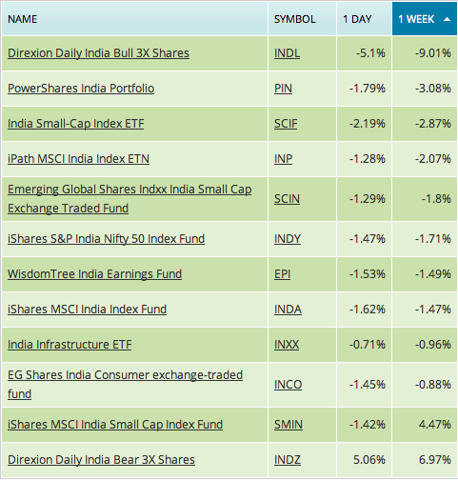 Click to enlarge
(Click to enlarge)
Source: IndiaETFs.com
The biggest news of the week came early on as the February inflation number spiked upward for the first time in 5 months. This discouraged investors as higher inflation numbers are likely to push the timing of interest rate cuts further out. Here's a graphic of India's wholesale price index from Bloomberg illustrating the recent downturn in inflation - until February's number was announced.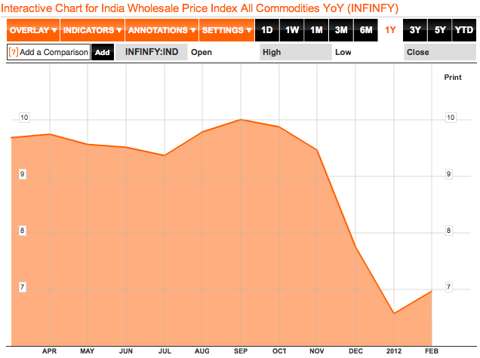 Click to enlarge
(Click to enlarge)
For the year, Indian markets have still produced attractive returns after a terrible 2011. Foreign investment inflows have returned hoping that India's interest rates will drop along with inflation. Those foreign inflows - over $7 billion at last count - have propelled a variety of India ETF products to double digit gains. Here's the India ETF performance grid sorted by year to date performance.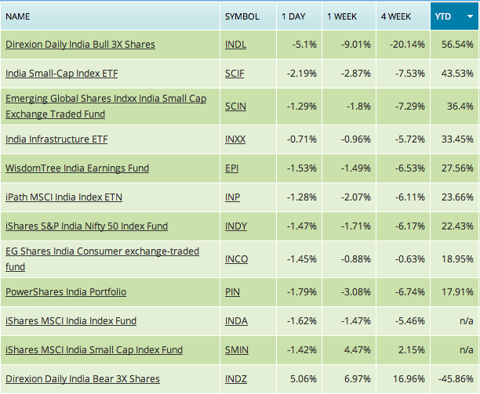 Click to enlarge
(Click to enlarge)
Source: IndiaETFs.com
Small cap India ETFs like SCIF and SCIN continue to lead the pack with gains of 43% and 36% respectively. This trend is unusual as large cap ETFs have historically led bull markets followed afterward by small cap funds. Also of note is the India Infrastructure ETF INXX, which has turned in above average performance this year. This is likely due to the massive amount of spending that should occur to improve India infrastructure over the coming five years.
Going forward, the market will be digesting the proposed budget and the impact of new taxation and subsidies. In addition, the Reserve Bank of India will be a big focus as India's 8.5% interest rate is widely expected to be cut. Over the weekend in fact Bloomberg quoted India's Finance Minister getting into the interest rate cut conversation. According to the Bloomberg story he said: ""I expect policy rates to be reversed by the central bank in coming months," Mukherjee said at a conference in New Delhi today. "That should improve sentiment."
Some think significant rate cuts should spur significant growth in GDP and have the potential to propel Indian markets toward their all time highs set a few years ago. Others fret that February's inflation number and the budget deficit are going to be the anchors weighing the markets down. Indian markets seem to be at an inflection point and investors should remain cautious.
Disclosure: I have no positions in any stocks mentioned, and no plans to initiate any positions within the next 72 hours.