The iShares Dow Jones Select Dividend ETF (DVY) and SPDR S&P Dividend ETF (SDY) have long been favorites of dividend investors as "go-to" funds with a simplistic model that captures the performance of the general market. The funds are labeled to have a dividend focus, but their distributions have typically come in just slightly above an average yield when contrasted against the market as a whole. As it stands, the current yield of the DVY and SDY rests at 3.33% and 3.04% respectively as of March 17, 2012. The yields can be contrasted against the overall market as seen in the following table.
| Fund Name | Last Price | Expense Ratio | Yield % |
| --- | --- | --- | --- |
| SPDR Dow Jones Industrial Average (DIA) | $132.05 | 0.18% | 2.28% |
| SPDR S&P 500 (SPY) | $140.30 | 0.10% | 2.01% |
| iShares Dow Jones Select Dividend | $56.26 | 0.40% | 3.33% |
| SPDR S&P Dividend | $56.55 | 0.35% | 3.04% |
For yield-seeking investors that long for a higher distribution while staying protected behind the safety of diversification, the following exchange-traded funds could collectively provide a portfolio with a significantly better yield. By combining several high-yielding ETFs with distinct focuses of their own, the generalized differences of each fund can help smooth out the possible impact from the others in the portfolio. The following three ETFs provide ample diversification by themselves, but investors could easily add more high-yielding distinction to further refine the results. Taken as a whole, the following portfolio averages a more impressive yield of 9.02%.
| Fund Name | Last Price | Expense Ratio | Yield % |
| --- | --- | --- | --- |
| PowerShares S&P 500 BuyWrite Portfolio (PBP) | $20.53 | 0.75% | 9.85% |
| PowerShares Financial Preferred Portfolio (PGF) | $17.92 | 0.66% | 6.80% |
| PowerShares KBW High Dividend Yield Financial Portfolio (KBWD) | $23.93 | 0.93% | 10.42% |
PowerShares S&P 500 BuyWrite Portfolio. The PBP offers a unique twist on the generalized market as a fund that utilizes a consistent covered call strategy. As a result, despite its focus on the S&P 500, the fund specializes in capturing options premiums on a one month forward-looking basis. By utilizing this basic asset management technique, the fund is often able to create significant yield advantages and reduce volatility. However, it is also less capable to capturing large upswings to the overall market, just as it's slightly less capable of being affected by its downward spirals. Investors looking for high yield and steady returns need to look no further.
PowerShares Financial Preferred Portfolio. The PGF specializes in U.S.-listed preferred securities that are issued by financial institutions. Typically structured as equity investments with an attached yield, such securities allow for the fund to consistently return higher distributions. Though focused on the well being of the financial sector, it is important to remember that unless the underlying company defaults altogether, the yields will almost always continue to flow. As demonstrated over the course of the Great Recession, the yield of this fund has maintained a pretty consistent degree of stability.
(Click to enlarge)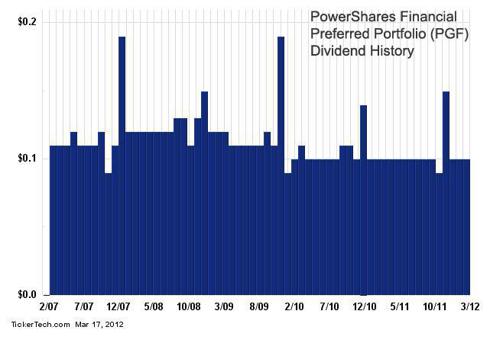 PowerShares KBW High Dividend Yield Financial Portfolio. Though upon first glance, one might be prone to view this fund as being in a related field to the PGF, the KBWD highly revolves around mortgage real estate investment trusts (MREITs), business development companies, real estate investment trusts (REITs), and insurance companies. When contrasted against the mainstream banking institutions found in the PGF, its important to note that such secondary financial institutions are affected in a somewhat different manner. Private equity and even mREITs can actually thrive as businesses struggle to find funding or the borrowing margins improve upon low-interest environments. Irregardless of financial similarities, the KBWD is focused on equity investments, which functions distinctly from the preferred securities of the PGF.
Disclosure: I have no positions in any stocks mentioned, and no plans to initiate any positions within the next 72 hours.