Whatever problems the market was facing two weeks ago (when it dished out the biggest sell-off of the year) were apparently forgotten last week. Traders posted the second-most bullish day of the year this past Tuesday, and put all the major indices back into the uptrend they've been in since late December. As it stands right now, the S&P 500 is up 16.5% since December 19th, and has only stumbled once during that rally. And, that stumble's been more than offset thanks to last week's gain.
Too good to be true, or do we take things at face value and just ride the momentum as long as we can? We'll answer the question below, right after we take a look at the underpinnings … the major economic numbers.
Economic Calendar
While we heard more good news than bad news lat week on the economic front, it's not like we escaped unscathed - a couple of economic red flags started to wave again. Namely, Friday's capacity utilization number and industrial production number faltered. Production was flat with January's level, and capacity utilization actually fell back to 78.7%, from 78.8%. Though neither number was drastically weak, remember, neither of these numbers has been impressively strong for months now, suggesting any economic growth is shakier than it may seem.
The Michigan Sentiment Index for March (preliminary reading) fell from 75.3 to 74.3, rounding out the worst of the troubling statistics.
As for the good news, retail sales were up, unemployment claims were down, and inflation is at healthy - not too hot and not too strong - levels.
Specifically, February's retail sales were up 1.1% with cars, and higher by 0.9% excluding autos. It was the best improvement we've seen in five months, and says the consumer isn't down for the count just yet.
Part of that may have something to do with the fact that more consumers are working … or at least fewer of them are seeking unemployment benefits. New and ongoing unemployment claims both fell last week, and both remain in a downtrend that's pushing these readings into new multi-year lows on a near-weekly basis now.
And no matter how you slice it (consumer versus producer, core versus non-core), inflation is right where we want it to be … showing demand and ability to pay slightly higher prices for everything, but not so much demand and ability that providers are forced to gouge customers. The current annualized consumer inflation rate now stands at 2.87%, which is just a hair under the long-term norm. More important, inflation is at a rate that allows for economic stability and sustainability.
All the rest of last week's key numbers are on the table below.
Economic Calendar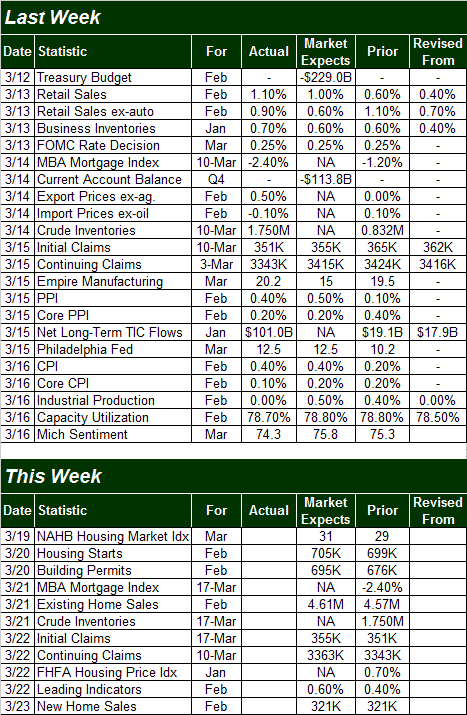 Obviously the coming week won't be as busy, but there are a few things we do want to keep our eyes peeled for, particularly in terms of real estate and construction.
One of them is Tuesday's housing starts and permits numbers. The trend over the last couple of months has been an upward one, finally pulling the construction industry out of a deep, deep slumber it was suffering for most of 2011. However, even with the improved numbers, demand still isn't at what could be considered healthy numbers ... it's just better than it was when it was dismal. Still, investors reward progress - not current status - and it looks like we're at least on a progress trajectory.
We'll get the second dose of housing data on Wednesday when we hear February's existing home sales. The pros are expecting the same basis annualized-sales rate of about 4.6 million.
On Friday we'll round things out with new home sales figures, which like starts and permits have been getting measurably better of late, but still aren't at what one could consider healthy levels. As was noted though, the market rewards progress.
S&P 500
All told, the S&P 500 added 33.3 points (+2.4%) last week, closing at 1404.17. And, it made the move to new multi-year highs - and above the key 1400 level - on higher volume, even if most of the gain and the volume materialized on Tuesday.
As was queried above, is this a renewal of the overall uptrend that's been in place for a while, or does this jump simply pull the market up to a higher rung on the ladder that will make the selloff just that much more painful?
Given that we're technically-oriented and tend to side with the momentum until there's a clear reason not to, we have to be disciplined enough to remain bullish. On the other hand, common sense and reason also have to apply, and the fact is, the length and size of this unfettered rally is levels that tend to jump-start significant pullbacks ... on the order of 5% to 9%, depending on the situation.
And, if there was ever an opportunity for the sellers/bears to step in, here's where they'd be advised to do it. The S&P 500 is starting to stall at its combined 20-day (gray) and 50-day (orange) upper Bollinger bands around 1404.
As you can see, both have been ceilings since January by containing the rally, but neither one jump-started any significant pullback during that time [the selloff from March 6th was big, but insignificant in that it didn't actually stop the overall uptrend]. On the other hand, 'things are different' this time around. This time around, the SPX is a hefty 9.8% above its 200-day moving average line (green), which IS an extreme degree of divergence. Take a look.
S&P 500 - Daily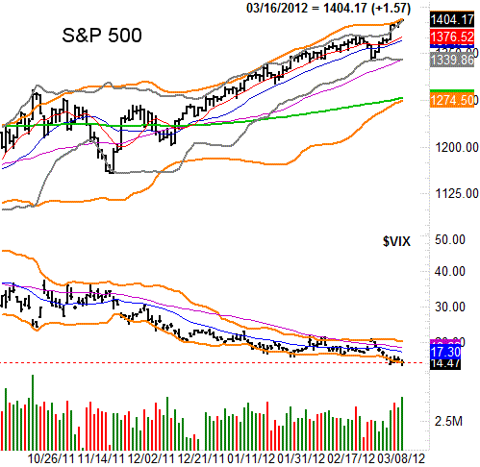 Click to enlarge
(Click to enlarge)
Just for a little more perspective before we draw any conclusions, take a look at the weekly chart of the S&P 500 as well. We can see the current rally is now roughly the same size as the big one from 2011 and the major one from late-2009/early-2010. Also, pay particularly close attention to the CBOE Volatility Index chart.
S&P 500 - Weekly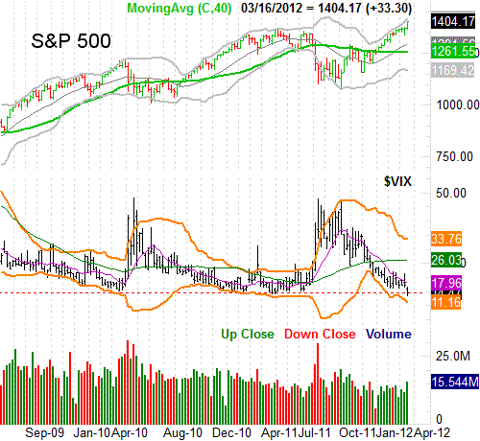 Click to enlarge
(Click to enlarge)
Aside from the fact that the S&P 500 is approaching historical limits (limits to size and distance of its rallies), the VIX is also back to levels where the market has historically topped out.
The selloff didn't always materialize right away once the VIX reached the 15-ish area, and this time may well be an exception to the recent norm - the market may well continue to rally. Just know that the odds suggest otherwise. In the meantime, ride the wave. Just be ready to get off the ride on short notice.
There is no upside target since there is no meaningful bullish reference point or price projection for the S&P 500. There is a meaningful downside target though. It's the 1276 area, where the 200-day average line and the lower 50-day Bollinger band are converging; just note that they both rise a little every day, so the target is a moving target. A dip from Friday's close of 1404 to there would be a 9.1% pullback, which would actually be within the 'healthy and normal' range we discussed above. It's only going to matter of the SPX falls under the 1340 level though, where the 50-day average line (purple) and the lower 20-day Bollinger band (gray) have intercepted one another.
Disclosure: I have no positions in any stocks mentioned, and no plans to initiate any positions within the next 72 hours.