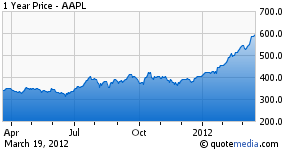 At last, we know how Apple (NASDAQ:AAPL) will spend a chunk of its $98 billion cash hoard: The company announced its first dividend since 1995, a tidy $10 billion return to shareholders. Some were looking for a larger payout, more on the order of 3% or more.
They shouldn't have.
Two-thirds of Apple's cash lies off-shore, tantalizingly out of easy reach to shareholders. So, while a check is in the mail, the greatest portion of Apple's cash trove remains out of reach. As outlined in its conference call, the company isn't going to touch its off-shore capital.
I first broke the story about Apple's overwhelming foreign cash position and how it would constrain future capital deployments here at Seeking Alpha. Since my piece, other writers and analysts have begun to understand Apple's dilemma in how to access overseas money.
Although Apple's wealth is burgeoning, it's the foreign money that is really booming. More and more, earnings have been socked away in yen, euros and the real as Apple moves into overseas markets. Currently, over two thirds, or $54 billion, lies offshore, a development that has profound implications for Apple and shareholders. Notice that cash is growing much faster overseas than in the United States because Apple's rest of world business is on fire. At this rate, Apple's foreign money will tower over its U.S. holdings, probably reaching a 3:1 ratio by 2013.

Most of Apple's cash is overseas, constraining the company's ability to turn cash over to shareholders. Barring a change in the tax treatment of overseas earnings, don't look for large dividend payouts.
Effectively, Apple has $34 billion in the U.S. - $68 billion is salted away in its foreign subsidiaries. The return of $10 billion to investors leaves enough in its domestic cash to fund R&D, growth, buybacks and U.S. acquisitions.
However, the U.S. cash depletion even more loudly signals Apple's future: Growth will lie more overseas than here. Apple will be sitting on an untouched foreign $64 billion and growing cash position, essentially the fuel for the company's off-shore build.
Expect gigantic breath-taking deals from Apple in the future: However, they are more likely to be over there, than here.
The foreign cash hoard momentum is unprecedented. Clearly, the next speculation surrounding Apple's vast wealth should be focused on the overseas pile-up.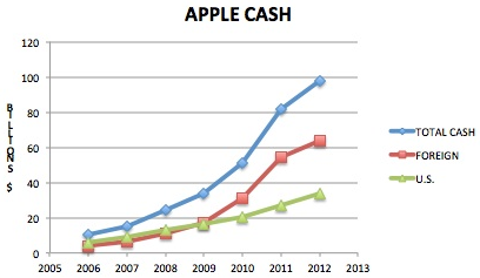 Disclosure: I am long AAPL.
Additional disclosure: Disclaimer: The opinions in this document are for informational and educational purposes only and should not be construed as a recommendation to buy or sell the stocks mentioned. Past performance of the companies discussed may not continue and the companies may not achieve the earnings growth as predicted. The information in this document is believed to be accurate, but under no circumstances should a person act upon the information contained within. We do not recommend that anyone act upon any investment information without first consulting an investment advisor as to the suitability of such investments for his specific situation.