The fertilizer sector has vastly underperformed the market during the rally of the last six months. I think this is starting to change, and the sector should make up for that underperformance significantly over the next six months. One of my favorite stocks in the sector is Mosaic (NYSE:MOS).
Key positives for Mosaic
BMO just came out with a call that Potash activity has picked up over the last few weeks and forecasts a decent spring selling season.
Low Natural Gas prices are having an amazing effect on fertilizer companies' profit margins. The following graph shows this in detail and is courtesy of this Forbes article.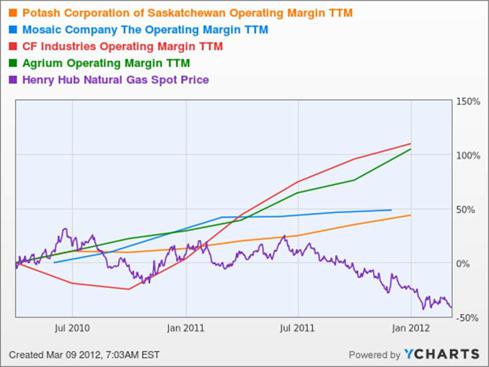 Click to enlarge
Mosiac has underperformed the S&P by about 40% over the past six months, but the stock has turned up recently (See Chart). I believe the company could have a powerful move to close that gap in performance in the medium term.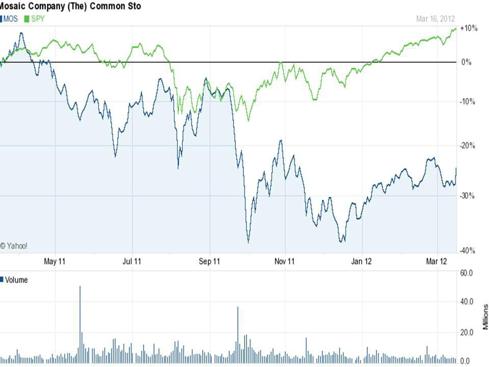 Click to enlarge
"The Mosaic Company engages in the production and marketing of concentrated phosphate- and potash-based crop nutrients for the agriculture industry worldwide. The company also offers phosphate-based animal feed ingredients; and produces and sells potash for use as fertilizers and animal feed ingredients, as well as for use in industrial applications. Its potash products are also used for de-icing and as a water softener regenerant." (Business Description from Yahoo Finance).
4 additional reasons to pick up Mosaic at $57 a share:
The company is significantly under analysts' price targets. The twelve analysts that cover the stock have a median price target of $85 on the stock.
The company has a solid balance sheet with some $2B in net cash and its operating cash flow doubled between FY2009 and FY2011.
The stock is selling at under 11 times forward earnings. It is also priced near the bottom of its five year valuation range based on P/E, P/B, P/S and P/CF.
The stock looks like it bottomed at just under $50 a share, is showing increasing technical strength and is above its 100 day moving average (See Chart)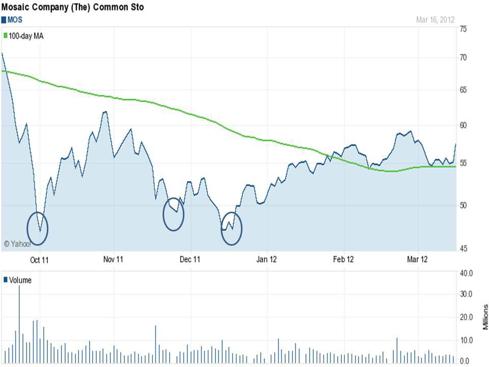 Click to enlarge
Disclosure: I am long MOS.