With the S&P and NASDAQ breaking to multi-year highs, speculation has returned to the market place. Right now investors aren't concerned about a possible European debt crisis, which allows them to reach further out on the risk curve to play some exciting names.
Every year the American Society of Clinical Oncology (OTC:ASCO) conference provides great trading opportunities. This is the perfect time of year to look at the attending companies who will be presenting exciting and potentially lucrative data. The ASCO conference is being held from June 1 - 5, 2012, so now is the time to buy these names and then sell them in the week leading up to the conference.
One particular name that has caught my interest this year is Celldex Therapeutics (NASDAQ:CLDX). CLDX is an immunotherapy company that has a number of drugs in the pipeline to treat cancer and other difficult-to-treat diseases.
For the purpose of the "buy the rumor, sell the news" trade in CLDX, I'm purposely overlooking the majority of their drug pipeline, which is in various stages of clinical trials, and focusing on one particular drug: CDX-011.
On March 7th, 2012, CLDX released earnings and mentioned they would present Phase 2b data from CDX-011 at ASCO in June. CDX-011 is a treatment for metastatic breast cancer and advanced melanoma. The data is highly anticipated by investors and the science community, and should move CLDX significantly up or down based on the results.
In 2010, CLDX ran from 4.50 to 9.50, an 111% advance, ahead of the 2010 ASCO conference. At that conference they released Phase 2b interim data on their brain cancer drug and phase 1 data on CDX-011. By the time the data was presented, CLDX was already trading off its highs, and by the end of June it was back at $4.50/share.
One thing to understand is biotech stocks fluctuate based on catalysts. After the conference, CLDX will have no catalyst in the near future and shares will decline sharply. Therefore, traders who have bought at current prices should sell CLDX before the conference begins.
CLDX should be a relatively safe trade because the company just raised cash on February 24th, 2012; they raised $43.5M by selling 12.07M shares. I believe CLDX could increase by 100% from current levels before the ASCO conference begins, and there is no expected data from any of the company's other clinical trials between now and the conference. Having said this, as long as the market doesn't start to get squirrely with European fears and can sustain current levels, CLDX should trade over $8-10 before the start of the 2012 ASCO conference.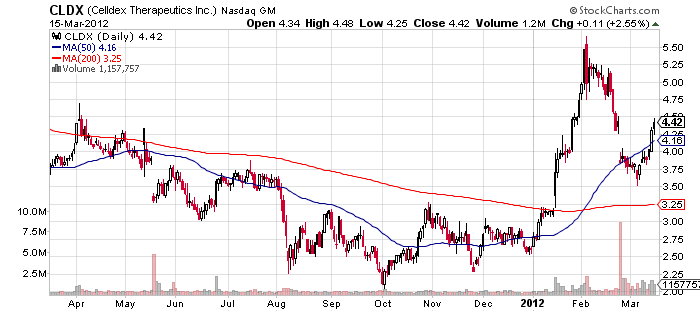 Disclosure: I am long CLDX.