"I try to buy stock in businesses that are so wonderful that an idiot can run them. Because sooner or later, one will."

- Warren Buffett (as quoted in Sprint's Q3 investor presentation)
Sprint (NYSE:S) strikes me as a company with a fundamental tension. It is quite possible to make the case that the company is undervalued. However, management appears to have destroyed value in the past and may continue to do so in the future.
Valuation: Sum Of The Parts
Calculating Sprint's average free cash flow over the past 4 years and putting it on the same multiple as similar companies and adding in cash, debt and the market value of Sprint's Clearwire (CLWR) stake gets you to $4.60/share, or 59% upside.

| | |
| --- | --- |
| | Value ($, Billion) |
| 51.5% of Clearwire (market value 3/2012) | $1.5 |
| Cash and short term investments (12/2011) | $5.6 |
| Debt and capital leases (12/2011) | $20.3 |
| Core business (15x normalized FCF of $1.8B*) | $27 |
| Total | $13.8 |
| Shares outstanding | 3B |
| Value per share | $4.60 |
| Current share price | $2.89 |
| Upside | 59% |
*The 15x multiple is the average of T and VZ, $1.8B is the average of S's past 4 years of annual operating cash flow less capex.
Sensitivity Analysis
Given that Sprint has $22B of debt vs. $9B of market cap it is unsurprising that Sprint's equity valuation is volatile with respect to the value of its core business as the chart below shows. Therefore, Sprint is one company where using a point estimate for the valuation is particularly misleading as the value is very sensitive given financial leverage, with changes of -/+ 50% on the value of the core business, Sprint could trade anywhere from $0 to $7 a share: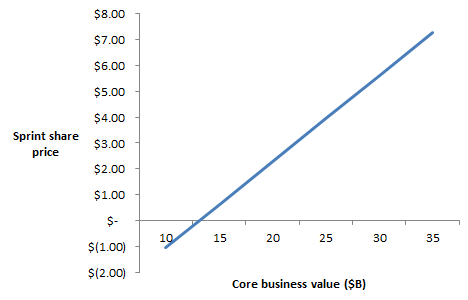 Valuation - Comparative Multiples With Wireless Telcos

| | | | | | | |
| --- | --- | --- | --- | --- | --- | --- |
| Company | P/B | Dividend | forward P/E | Payout ratio | P/S | EV/EBITDA |
| Sprint | 0.25 | 0% | N/A | N/A | 0.73 | 4.6 |
| AT&T (NYSE:T) | 1.78 | 5.6% | 12.4 | 69% | 1.48 | 8.2 |
| Verizon (NYSE:VZ) | 3.12 | 5.1% | 14.2 | 72% | 1.01 | 4.3 |
| Vodafone (NASDAQ:VOD) | 1.01 | 3.6% | 9.7 | 34% | 1.81 | 7.7 |
| Sprint discount to peers | 87% | N/A | N/A | N/A | 49% | 31% |
Looking at comps, the sum of the parts value appears reinforced in that various metrics imply 31-87% upside vs. our 59% sum of the parts analysis. However, these comps may also imply that T is somewhat expensive rather than S being cheap. I would also note that VZ and T's dividend payout ratio is relatively high.
In addition, these comps do not control for differing growth rates between the companies.
Management
There are a number of issues historically with Sprint that may cause one to question Sprint's ability to act in the interests of value creation for shareholders:
The CEO's decision to feature himself in the company's television advertising is at best unusual, though this now appears to have stopped.
Although it was a relatively long time ago, the 2004-5 acquisition of Nextel appears a classic case of overpaying given significant subsequent write-downs and the post-merger integration had limited success due to the exodus of Nextel executives. Even now, Sprint presentations still demonstrate shortcomings in Nextel legacy assets relative to Sprint.
Sprint has an investment of 51.5% in Clearwire. Wince the time of the main transaction in May 2008, Clearwire has underperformed the Nasdaq by more than 80%.
Even the recent iPhone deal can be challenged (see below). Clearly Sprint felt it was something of a 'bet the company' decision to get the iPhone given the customer attrition it drove, but looking at their most recent reporting and their estimates at the time of doing the deal, the impact to operating income appears negative until FY15. Essentially the benefits are improved gross adds, network efficiency and churn improvement, but the bottom line is free cash flow gets worse as a result of the deal (at least for the next few years). Since I view cashflow as the ultimate arbiter of business decision making, I don't follow the logic on Sprint's iPhone deal.
Of course, there are positives too. Sprint has improved performance on customer satisfaction and churn in recent years. However, the larger financial issues such as the Nextel merger, Clearwire deal and iPhone deal may have more than offset these positives.
Conclusion
Sprint appears cheap on multiple valuation pivots to the tune of roughly 50% upside to comfortably over $4/share, however management may have destroyed value in the past with decisions from the Nextel merger to the Clearwire deal to the recent iPhone acquisition. Trading off these factors is more qualitative than quantitative and a process complicated by the substantial operational and financial leverage in Sprint's business.
Overall, I view Sprint as an attractive, if risky, long-term play in the wireless telco sector and would certainly be more comfortable owning it than AT&T, where valuation metrics do look stretched and the high yield reflects a high payout ratio more so than a cheap stock, but I would not expect Sprint's full value to be realized without either a change in management or a change in management's behavior.