Often we hear the saying "what goes up, must come down." The saying is often attributed to Newton and the Law of Gravity. In reality, however, Sir Isaac Newton actually managed to disprove the theory. If an object has a sufficiently high upward velocity, gravity, weakening with increasing distance, will not be able to bring the object down. It will be in a "hyperbolic" orbit.
While the mathematical formula is complex, the evidence of the Law of Gravity in practice is easy to prove. Look at the price of Apple (NASDAQ:AAPL).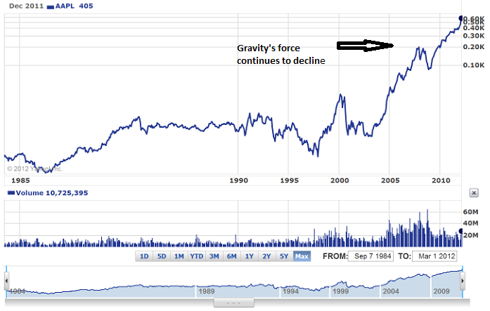 From Apple's news release:
Apple today announced plans to initiate a dividend and share repurchase program commencing later this year.

Subject to declaration by the Board of Directors, the Company plans to initiate a quarterly dividend of $2.65 per share sometime in the fourth quarter of its fiscal 2012, which begins on July 1, 2012.

Additionally, the Company's Board of Directors has authorized a $10 billion share repurchase program commencing in the Company's fiscal 2013, which begins on September 30, 2012. The repurchase program is expected to be executed over three years, with the primary objective of neutralizing the impact of dilution from future employee equity grants and employee stock purchase programs.

"Combining dividends, share repurchases, and cash used to net-share-settle vesting RSUs, we anticipate utilizing approximately $45 billion of domestic cash in the first three years of our programs," said Peter Oppenheimer, Apple's CFO. "We are extremely confident in our future and see tremendous opportunities ahead."
So, using today's price of $600, this equates to a dividend yield of 1.8%. Typically, dividends are the stuff of mature companies that cannot find a higher return use for the cash that they generate. Apple is actually one of those companies - in a way. Their capital expenditures occur within the intellectual property and innovation space. The company has a suite of products that they are consistently first to market with and as others attempt to catch up, Apple improves the product and sets the bar out of reach of their competitors.
So to review, Apple will pay out approximately $9.8 billion in dividends. If share repurchases are done equally over three years, the yearly outlay will be approximately $3 billion. This brings their annual cash outlay beginning in the next fiscal year to $12.8 billion. In response to this, the market has given them an additional $12.4 billion in market capitalization.
Also recall that during their last full fiscal year, the company generated nearly $30 billion in free cash flow. Essentially, everything announced today just slows the rate of net cash build. Apple has once again proven that as it increases in price, the downward pull on price is reduced. A hyperbolic orbit.
Disclosure: I have no positions in any stocks mentioned, and no plans to initiate any positions within the next 72 hours.