This week started with important fundamental news on one of our most recent trade recommendations for our newsletter subscribers, Apple (NASDAQ:AAPL). Overnight, it was announced that Apple would host a press conference this morning before the market opened to discuss its cash usage. This morning, Apple announced a $2.65/share quarterly dividend, as well as $10 billion in share buybacks.
While many investors were waiting for such a seminal moment for Apple stock, predicting that the payment of a dividend would open Apple to a myriad of investors, it is unclear whether the announcement will be a downwards or upwards catalyst going forward. While Apple traded as high as $607.50/share pre-market, shares have been coming off a bit as soon as the market opened. For the regular trading session, Apple has not surpassed the $600/share mark it saw last week.
The $2.65 quarterly dividend is good for a 1.79% dividend yield at current prices. While this is not a trivial dividend, it is still not enough to best the 10-year treasury yield, even before last week's jump in yields. While some dividend funds may now be able to buy it, there has been significant evidence recently of these investors already having purchased Apple stock in anticipation of the payout (here).
The chart below shows Apple stock.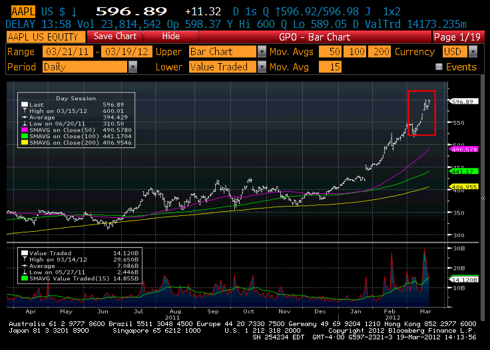 To us, the lack of breakout is a significant development. The payment of a dividend was a widely cited catalyst for Apple to extend its current incredible run. However, it appears from today's market action that the dividend announcement may actually have been the catalyst for last week's 7.4% jump, rather than the prelude, with many "in the know" investors (i.e. those who already knew the dividend announcement was coming) getting in.
Furthermore, the options market is pricing in a rising stock. Shown below is the skew on Apple stock. Skew refers to the difference in implied volatility value between puts and calls.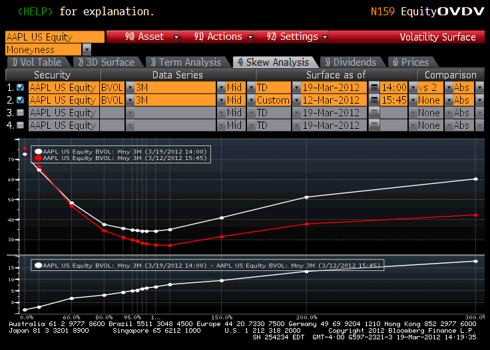 As can be seen from the right side of the chart, the implied volatility of calls on Apple stock have exploded higher. In fact, the disparity is large enough that risk-reversal option positions (where traders simultaneously sell a call and buy a put) can be opened at a significant net credit.
From a momentum standpoint, high-flyers need to establish new highs on essentially a daily basis, especially given the run that Apple has been on. Without new highs, momentum riders will stop supporting the stock, which will eventually lead to the momentum players selling the stock. We saw the same phenomenon play out in silver in April 2011 and in gold in September 2011. If Apple is unable to retake and establish a new high beyond $600 in the next few days, the correction could begin in earnest.
In comparing Apple to other overheated markets, the options market in gold in September exhibited the exact same characteristics as Apple stock does presently, with calls far more expensive than puts. What this means intuitively is that options traders are feverishly pricing in possible upside for the security while greatly downplaying the downside. Any time this happens in the market, with any security, one should be careful.
On an anecdotal note, one was able to walk in and purchase an iPad 3 on Sunday at the Grove shopping mall in Los Angeles. Given the lengthy wait time for iPad 2's, this does strike as us curious that availability was so easy to come by just two days after product release. It remains to be seen whether this is simply an anomaly and iPad 3s are just more readily available than the iPad 2 was.
Trade Recommendation
We recommend placing a similar trade as yesterday's weekly letter, buying the April 20th 540 put and simultaneously selling the April 650 call. This trade can be opened for a net credit of $3.60 per contract, or $360. As long as Apple stays below 650 for the next 30 days, investors profit, with the possibility of a much larger profit than the credit if Apple shares fall at all and put implied volatility increases. If and when the market at large embarks upon a correction, investors could buy back the call and sell the put to lock in gains.
Disclosure: I am short AAPL.
Disclaimer: All information included herein is the opinion of the firm and should not be considered investment advice. Past performance is not necessarily indicative of future results.