Market Recap: The market did not make any significant moves today, and we believe that trend may be intact for the majority of the week. The market has very little major economic data to be released this week that can strongly move the market. We will get a healthy dose of the housing market situation as new home sales, building permits, existing home sales and more will be released this week. The large news today was that Apple (NASDAQ:AAPL) will be doing a dividend. The company finally decided it was time to put cash to work with a dividend and share buyback. As long as companies like AAPL stay strong, the market will continue to be strong.
The market will have some reaction to the news of new home sales and building permits, but we believe they will continue to be limited in what they can do to move the market tremendously. With a flat week ahead, how can we take advantage?

Sell premium! We like selling bull put spreads this week on strong stocks that will continue to remain strong in a flat market. Two stocks that are looking great right now with weekly options are Goldman Sachs (NYSE:GS) and Google (NASDAQ:GOOG). We believe that GS will hold the 120 level this week, and we can sell the weekly 120 puts for about a 4% gain. And if we can get any dip on a day, we may be able to get 5-6%. On a week, when we are expecting probably less than 100 points to end up coming off the DJIA or being added ... that is not bad. We also like GOOG. We think we can be more aggressive with this stock as the tech money is coming into them with AAPL strength. We like the 620/615 bull put spread, which is offering over 12%. The stock looks on a great uptrend, and we think those strikes will hold this week.
Click to enlarge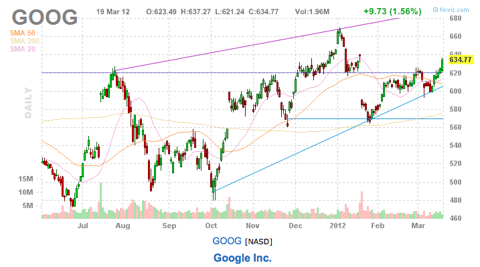 Tomorrow's Outlook
The market seems fairly content with rising right now, and it will continue that way until we get something that will change the direction. We have some housing data that will probably direct which way our fairly flat day goes ... slightly up or down. Some large surprise could have a more violent move, but we are not expecting anything too drastic. We do have some intriguing earnings with Adobe (NASDAQ:ADBE) in AH tonight, Tiffany (NYSE:TIF) tomorrow morning and Oracle (NASDAQ:ORCL) tomorrow AH. ORCL can definitely move the tech market in the application software industry, so that will be something to watch for sure.
Analyst Action
Analysts were pretty busy today again. Goldman Sachs raised its PT on AAPL to $700 and reiterated a Conviction Buy. We have a $780 target with Buy rating. UBS upgraded two steel producers in Steel Dynamics (NASDAQ:STLD) and Nucor (NYSE:NUE) to Buy from Neutral, and the steel industry may be ripening for a cyclical uptrend. We like STLD for its scrap metal division. Longbow downgraded Bed, Bath and Beyond (NASDAQ:BBBY) to Neutral from Buy, and we disagree. The company is one of our favorites for its large economic moat and heavy market share in home goods. We believe they should be accumulated into earnings not sold.
Commodity Talk
Oil is continuing its path back up on dollar weakness, and we expect it to stay flat to strong into inventories on Wednesday. We will most likely look to re-short oil via Ultrashort Proshares DJ-UBS Crude Oil (NYSEARCA:SCO) on Wednesday as oil continues to be overvalued and deserves a correction. Gold got some bargain hunter buying today, but we believe a move closer to 1,600 is still in the works. We will look to add gold miners on some more weakness. Our top play there is in Barrick (NYSE:ABX).
Our Moves
We cleared out a lot of positions on Friday - eight to be exact - seven for gains ranging from 2% to 80%. We took one loss in a short on Apollo Group (NASDAQ:APOL). We started to reposition ourselves today with a long in Foster Wheeler (FWLT) as well as an Apr20 580/575 bull put spread in Google . We like both companies' trends upwards right now with some value left in RSI for more uspide. We are going to continue to add bullish positions to our mix until we see something tremendously weak to deter us.
We have the following positions. In our Options Portfolio, we are long CF Industries (NYSE:CF), Starbucks (NASDAQ:SBUX), Ralph Lauren (NYSE:RL), GOOG, and IBM (NYSE:IBM). In our Earnings Portfolio, we are long Ulta (NASDAQ:ULTA), Monster Beverage (NASDAQ:MNST), Finish Line (NASDAQ:FINL), and GS.
Chart courtesy of finviz.com.
Disclosure: I am long AAPL.