KB Home (NYSE:KBH) dropped 6.8% on Monday, March 19. KBH last sold off this heavily over four months ago. Buyers of call options rushed in to take advantage. For the April expiration, 16,396 calls, mostly at the $12, $13, and $14 strikes, versus 5,273 puts traded on the day. This bullish 0.32 put/call ratio is less than half the current put/call ratio of April open interest. The surging interest in KBH showed up in shares traded as well. The largest surge in volume occurred as KBH bounced off its lows for the day as seen in the following 5-minute intraday chart. The stock waned quickly as volume waned quickly.
click to enlarge
KBH trading volume surges as the stock bounces off its lows of the day
I am assuming two large catalysts played a role in KBH's trading: 1) repositioning after last Friday's expiration of March contracts, and 2) KBH earnings coming up Friday morning, March 23. Note well that the trading action in May options was almost non-existent relative to April: 373 calls traded versus 302 puts. In other words, traders and investors are laser-focused on positioning ahead of the earnings announcement.
Given the large amount of short interest in KBH, I am also assuming that much of the call activity was hedging to protect positions. Shorts currently represent a whopping 59% of KBH's float. The 126% rally off the October lows and the 77% rally for 2012 has only emboldened these bears. As of February 29, short interest has trended upward for at least the last 52-weeks: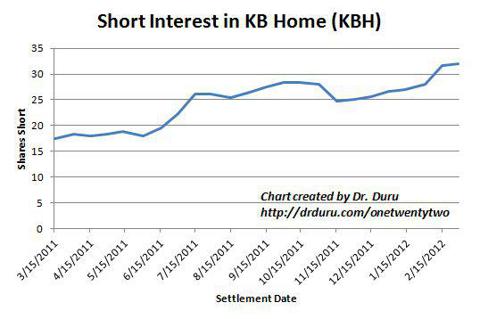 Short interest in KBH sits at least at a 52-week high
Source: NASDAQ.com KBH Short Interest
In other words, bears are loading up on shorts in anticipation of a major collapse in the stock and likely also loading up on call options just in case this catastrophe gets delayed another month. Note well that KBH has not risen courtesy of a short squeeze. Shorts are not covering, they are accumulating.
Meanwhile, all the reasons I liked KB Home two months ago still stand. My biggest surprise remains that KBH has yet to pullback significantly. When I pounded the tale for KBH, I assumed that multiple bouts of market angst would provide cheaper entry points. As it stands, KBH is now at a critical juncture given it sits right at a major downtrend line measured from the top of the housing bubble.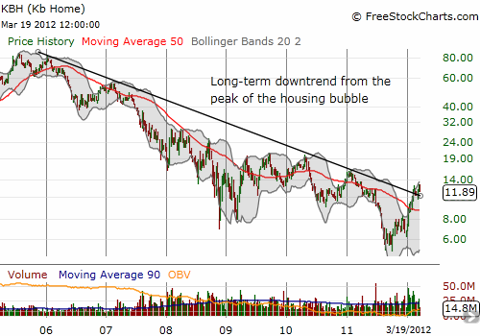 This weekly chart shows that KBH has yet to break free of its longer-term downtrend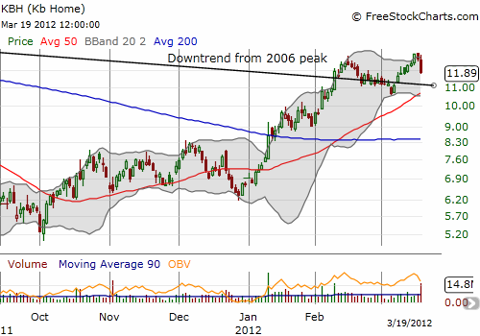 The daily chart shows how KBH is dancing around the downtrend line which is now converging with support at the 50-day moving average (DMA)
Source of all charts: FreeStockCharts.com
AP News points out that, so far, the fourth quarter earnings results from homebuilders have produced a mixed bag (see "Homebuilders see stable housing market ahead"):
Beazer's and M/I's sales and new orders rose sharply in the quarter, while trends were mixed for PulteGroup and MDC Holdings.

Only PulteGroup ended the quarter with a smaller backlog of homes under contract than a year earlier, and its backlog fell less than 2 percent. Backlog is an indicator of potential home deliveries and revenue for homebuilders.

So the increases bode well for the spring. But executives were cagey about forecasts.
MDC Holdings saw new orders rise 30% in January (not clear whether this was year-over-year or month-over-month), and Beazer Homes (NYSE:BZH) claims that it sees evidence of significant pent-up demand for housing. All homebuilder stocks are up since their last earnings reports, some significantly so. I expect KBH to maintain the trend.
In response to Monday's trading action, I decided to re-establish a position ahead of schedule with shares, protective puts, and a large April 13/14 call spread. If KBH pulls back post-earnings, I will dump the puts and cover the short-end of the call spread in anticipation of a rapid rebound.
Be careful out there!
Disclosure: I am long KBH.