Last week, futures traders were again disappointed by Fed Chief Ben Bernanke failing to mention another round of money printing when the central bank's policy making committee gathered in Washington and precious metals prices were bid sharply lower.
For the week, the gold price fell 3.1 percent, from $1,713.50 an ounce to $1,660.10, and the silver price tumbled 5.1 percent, from $34.32 an ounce to $32.56. Gold is now up 6.0 percent for the year, but down 13.7 percent from its high last year, and the silver price has gained 16.9 percent so far in 2012, now down 34.2 percent from its peak last spring.
It's been a difficult few weeks for precious metals investors and I'm afraid that more pain could be in store in the period ahead as there is simply nothing on the immediate horizon to rekindle interest in gold and silver. While this offers more attractive prices for those wishing to enter this market, it does little to create broader interest in this sector in the West.
In the East, lower prices are expected to attract stronger physical demand and this will provide some level of support, but the proposed doubling of import duties in India, the world's leading gold consumer last year, is likely to dampen demand there. After raising the import duty from a flat rate earlier in the year, the Indian government intends to hike the import duty from two percent to four percent and the customs duty on jewelry from five percent to 10 percent in order to help square its current account deficit. Since India imports virtually all of its gold, some analysts fear this will have an outsized impact on overall demand.
In this article at BullionVault, Adrian Ash put the recent gold price decline into proper perspective via the charts below. As was the case back during the 1970s gold bull market, prices move in fits and starts but inexorably upward, often times taking a year or more to recapture previous highs before moving even higher.
click to enlarge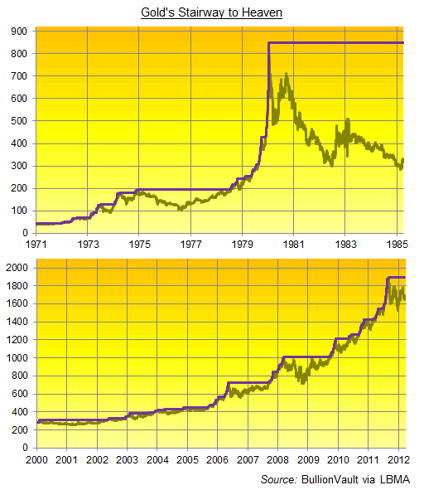 Over the last decade you could count on from 6 to 18 months between peaks and new highs, implying that the current six month stretch from last September's peak likely has further to go. In Ash's analysis, the average peak to new high was 11 months.
But you never know what is going to happen in precious metals markets and all it would take to spur a surge to new nominal highs would be another announcement about Chinese central bank gold buying or a sudden plunge in economic indicators in the U.S. that prompts renewed talk of QE3.
If I had to guess, I'd say that we may not see new highs until this fall, but that's simply a guess.
Gold traders are said to be the least bullish in two months now that more Fed money printing seems less likely due to an improving economy and hedge funds reduced their long positions and added to their short positions last week. Some analysts predict that further technical and margin-related selling could send the gold price back below the $1,600 an ounce mark as it did briefly back in December before it began heading higher.
Mineweb reported that analysts at UBS are still bullish over the long-term but fear lower prices could be ahead, noting:
Emotions are likely running high in the gold community at the moment-a mixture of disappointment, confusion and uncertainty about what is to come. But, taking a step back from the recent market movements and looking at the broader picture, we think the case for higher gold prices this year remains intact. We maintain our bullish call, while at the same time acknowledging that the journey to fresh highs will neither be straightforward nor smooth.
They cited continued improvement in the U.S. economy and the possibility that the Fed will begin normalizing interest rates sooner than expected as the biggest risk to higher gold prices.
Kitco reported that HSBC analysts had similar views:
Any premium that was built into the gold market on expectations of a third round of QE is essentially being wrung out … Further losses near term are possible, but the gold market has effectively absorbed the Fed statement and the better economic data, so additional downside may be limited, in our view. Monetary policy is still on balance highly accommodative … More important, perhaps, we may be nearing price levels that will encourage emerging-market demand, which should help stabilize prices.
With the prospect of sub-$1,600 an ounce gold prices ahead, the Chinese central bank is probably already preparing new buy orders, however, for ordinary investors, it could be a long Spring.