Lululemon (NASDAQ:LULU) will be a $100 stock by this time next year. Basically, if you don't care to read the rest of this post, I'm projecting they'll earn $1.60 on 1.31B in revenue over the next four quarters, and at a P/E of 61, lower than they are currently trading, we have our one hundred dollars.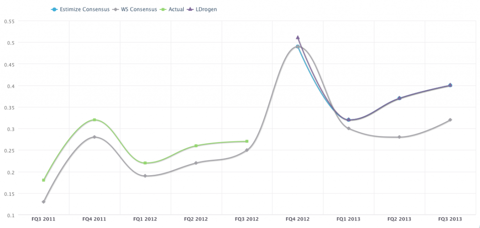 You may wonder why an 8 billion dollar yoga clothing company is trading at such a high valuation. It's relatively simple- the trend in alternative athletic wear, especially yoga, is huge, and growing quickly. The company is opening stores at a rapid pace and has its clothing in every premium outlet, gym store, and on a generous portion of beautiful women's behinds (no complaints here).
The high valuation is not necessarily a reflection of Lululemon itself, it is a reflect of the yoga trend. I often love to invest in trends like this where there is one specific asset which so perfectly encompasses the market. Yoga is a rapidly growing sport (activity, practice, whatever), and Lululemon is the dominant brand. As goes the yoga trend, so will go LULU, and I'm betting that at 8 billion dollars, the company is still early in its growth stage.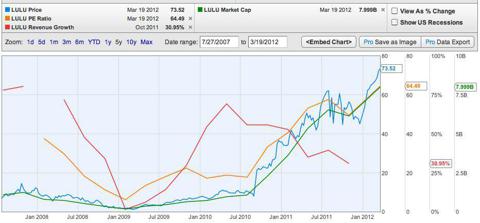 Technically the chart has done everything right, breaking out of a great longer term flag with a large gap and follow through. The stock hasn't closed below the 20 day moving average since. And as with the market indices, large overbought readings after large basing patterns, as we've seen from the stock recently, often lead to longer term moves.
I don't see Thursday's upcoming earnings report as a major catalyst for the stock on a short term basis, but proving that the company can keep growing revenue above 48% YOY will go a long way towards seeing positive action this quarter as the broader market may need a rest.
My estimates for Thursday are .51c EPS on $366M in revenue, and this stock is headed for $100.