J.C. Penney's (NYSE:JCP) investor presentations in late January were an absolute smash. The stock price reflected the enthusiasm, climbing from the low $30's to a 52 week high of $43.18. If you weren't a shareholder, it was a difficult time to analyze the company because it would have been very hard not to get caught up in the hype.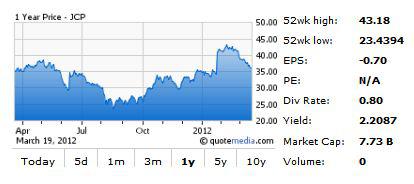 Shares have now dropped below $36 while the rest of the market has risen. For long-term investors who believe in CEO Ron Johnson and the new management team, today's price is attractive. Why the drop since late January? Inevitably, critics have come out. Last week, a Deutsch Bank analyst complained that the changes are confusing customers and hurt employee morale. These remarks come just six weeks after the changes were announced. Its credit ratings have also been cut. There were at least five Seeking Alpha articles since late January urging investors to short the stock.
Those recommendations turned out to be right, but it was a risky move to make. J.C. Penney's turnaround is designed to take three years to fully implement. Trying to get an advantage over a time period such as a month or two is just gambling.
I haven't yet bought shares of J.C. Penney, but I've been following the company since the beginning of Bill Ackman's activism. Ackman and Vornado's (NYSE:VNO) Steven Roth gained board seats early last year after making sizable investments. I'm certainly a fan of Ackman, and he's gone all-in on the company. The entire transformation of J.C. Penney, of course, is because of Ackman. He brought in Ron Johnson and forced out former CEO Myron Ullman. From there, Johnson has brought in a handpicked group of senior executives, most of whom he had previously worked with at Target (NYSE:TGT) and Apple (NASDAQ:AAPL). Fortune magazine had an excellent article a few weeks ago detailing how enthusiastic the new hires were to follow Johnson.
New president Michael Francis left his job as Target's head of marketing and creative visionary not long after Johnson told him he couldn't imagine doing the job without him. [Michael] Kramer, who had departed Apple to become CEO of Kellwood, jokes that his wife was upset -- not because he took the job with Johnson, but because he didn't even try to play hard to get. Penney's new CIO, Kristen Blum, once worked at Apple, as did chief talent officer Dan Walker. "They want to come," says Kramer, "because of the transformation of something."
J.C. Penney was previously seen as a drab underperformer. Now, they have a compelling vision. This vision, presented in late January, was impressive and is what drove the stock price to its 52 week high. If you haven't already, I urge you to look through the presentation slides. It's hard not to be optimistic after viewing them.
Now that we've had a few months to let the euphoria die down, let's look at the plan through clear eyes: Ron Johnson believes the department store is the best opportunity in retail. That's a tough statement to swallow, though he makes a persuasive argument that department stores have lost market share to specialty shops because department stores haven't catered to their customers. They failed in the 6 P's: Product, place, presentation, price, promotion, and personality.
That's a lot to fix. I'll touch on a few. On the product front, the J.C. Penney plan is to create 100 stores within the store. Some other department stores have done this, but J.C. Penney was a laggard. Its biggest success was with Sephora, which sells cosmetics and fragrances within the store. Now, that idea will be expanded with other brands. The unique aspect is that the entire store will be recreated to be a mini-mall containing these 100 stores.
Pricing was a major problem. The retailer relied upon deep discounts to sell its products. Amazingly, only 0.2% of the products were sold at full price. More than 72% of revenue was generated by 50% off or more sales. That trained J.C. Penney's customers to only buy at a discount, which often meant not buying at all. This was one of the first changes. Prices have been slashed to a so-called "fair & square" price, which included everyday prices, month-long values, and a best price sales day on the 1st and 3rd Friday of each month. It will take some time for shoppers to adjust and this has led to the recent investor negativity.
I don't want to rely on anecdotes, but I did check out a J.C. Penney recently. I can't remember the last time I've been in one. I was shocked at how cheap many of the items were. It was also extremely bright. One of the salespeople told me they added more lights recently and moved around some of the merchandise. The store didn't look like the vision that Ron Johnson put forward in January, but it seemed to be headed in that direction. The catalogs I've been getting have really been impressive as well. What wasn't as impressive was the attitude of the salespeople. Customer service training should be in order.
Ackman failed with his investment in Target (TGT) a few years ago. I think he learned valuable lessons that have been applied to his approach with J.C. Penney. Some critics think this investment may implode like Eddie Lampert's troubles over the last few years with Sears Holdings (NASDAQ:SHLD). I don't see any parallels other than both of them being hedge fund managers.
What will happen over the next few months and quarters are anyone's guess. However, I believe the company now has the best management team in the department store space. If it can accomplish half of what its management envisions, it will be a good investment. The company is looking at an EPS of around $6 per share in 2015. That means tremendous gains for the stock if the company is able to hit the numbers.
If it misses that projection, then I consider today's stock price fairly valued. That's a good margin of safety on a difficult to predict turn-around.
Disclosure: I have no positions in any stocks mentioned, but may initiate a long position in JCP over the next 72 hours.