By Richard Rittorno
Continuing our look into the components inside Apple's (NASDAQ:AAPL) latest version of the iPad, we ran a quick scan of the vitals and one of the companies that stood out is Skyworks Solutions Inc (NASDAQ:SWKS).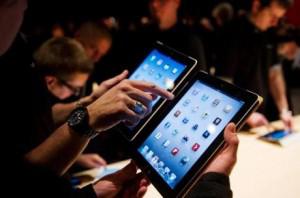 Skyworks makes several specialty integrated semiconductors. Its new IEEE 802.11ac wireless networking technology in particular lets consumers download content substantially faster than equivalent 802.11n solutions.
This new technology is showing up in notebooks, ultrabooks, LED TVs, routers, USB data cards and Blu-Ray® players.
Executive Summary: Skyworks Solutions offers diverse standard and custom linear products supporting automotive, broadband, cellular infrastructure, energy management, and handset applications for industrial, medical, military and cellular markets.
The company's portfolio includes amplifiers, attenuators, detectors, diodes, directional couplers, front-end modules, hybrids, infrastructure radio frequency (RF) subsystems, mixers/demodulators, phase shifters, phase locked loops (PLLs)/synthesizers/VCOs, power dividers/combiners, receivers, switches and technical ceramics.
It has aligned its product portfolio around two markets: cellular handsets and analog semiconductors. The handset portfolio includes customized power amplifiers and front-end solutions, from entry level to multimedia platforms and smart phones. Some of its primary handset customers include LG Electronics, Motorola (NYSE:MMI), Nokia (NYSE:NOK), Samsung (OTC:SSNLF), Sony Ericsson (NASDAQ:ERIC), Research in Motion (RIMM),and HTC. In June 2011, the company acquired SiGe Semiconductor, Inc.
Overall Valuation: SWKS is in the semiconductor industry and has positive earnings; the PEG and PE ratios are the most appropriate valuation measures. The price-to-book ratio is excluded since it likely underestimates the value of hidden assets such as intellectual property. On these terms, SWKS seems expensive with a PEG value of 1.5065, above the semiconductor industry median PEG of 1.36. PE of 24.0292 is also above the industry median of 14.92. However, its new technology can change the overall landscape.
Profitability: SWKS is one of the more profitable companies in the semiconductor industry with a net margin of 15.08%. Its net margin and operating margin are both among the strongest of any peer while its gross margin is in line with the industry median.
Dividend: SWKS, like most of its peers, does not pay a dividend, although Apple's announcement may change the mood.
Financial Strength: SWKS has little to no debt and thus financial risk is low.
Technical Notes: Notice on the daily chart how price is forming a "staircase" pattern up every time price action makes a new high — think of this as scoring a point — and then pulls back to run for a few days until price puts in another new high. A new high is two candles lower to the right and left.