After seeing the S&P 500 rally nearly 12% in the first 75 days of 2012, many investors are justifiably concerned that the equity markets are due for a short-term correction. With macro headwinds persisting, particularly with ongoing sovereign debt concerns in Europe and the potential for a hard landing in China, we see wisdom in preserving recent gains by assuming a more defensive short-term posture.
One way to take chips off the table without selling down equity exposure is by shifting a portfolio to lower beta stocks; that is, stocks that have comparatively low correlations with the general market, represented statistically for our purposes by the S&P 500. As a general rule, stocks with lower betas are less volatile and therefore less risky than stocks with higher betas.
The stocks listed below carry low betas and have demonstrated outperformance during periods of market decline.
Exxon Mobil (NYSE:XOM)
Beta: 0.57
One of the largest companies in the world with a market cap of over $400 billion, Exxon is an oil and gas behemoth that knows how to make money in good times and bad. You're still going to get market-driven volatility with Exxon, but the magnitude will be far less than with other picks in its sector. In comparison, Chevron (NYSE:CVX), Conoco Philips (NYSE:COP), Total S.A. (NYSE:TOT), and BP (NYSE:BP) have betas of 0.9, 1.0, 1.34, and 1.8, respectively. With a company this size, the growth is limited--you aren't likely to be surprised on the upside--but you can rely on S&P-beating returns in down and sideways markets. Take note of 2008: Exxon returned -13.14% compared to the S&P's -37%.
Despite an outstanding 2011 for Exxon, in which it returned 18.45% versus the S&P's 2.11% and Energy Select SPDR's (NYSEARCA:XLE) 2.84%, its valuation is still in check: it trades at multiples of 10.2 and 9.7 trailing and forward earnings, respectively. These are slightly above the industry average but are significantly below the average for the S&P.
Wal-Mart (NYSE:WMT)
Beta: 0.45
Perhaps no data point testifies to the contrarian fortitude of global mega-retailer Wal-Mart's stock quite like its performance in the bleakest of financial years, 2008: +19.95%. In many ways, Wal-Mart benefits from a slumping economy--it caters to the discount shopper, and its massive scale allows it a price flexibility that smaller competitors can't afford.
While not particularly cheap, with a trailing P/E of 13.5 and a forward P/E of 11.6, Wal-Mart boasts earnings multiples that are below the S&P and the industry average. As for competitor betas, Costco (NASDAQ:COST) boasts a similar beta of 0.49, but Target (NYSE:TGT) carries a higher one of 0.76.
Slow and steady characterize Wal-Mart's stock fluctuation, but the company itself is moving aggressively to consume market share in many growth markets around the world, including and especially China. We expect this international expansion to translate into impressive long-term returns for Wal-Mart's shareholders, even as the stock maintains its track record of downside protection.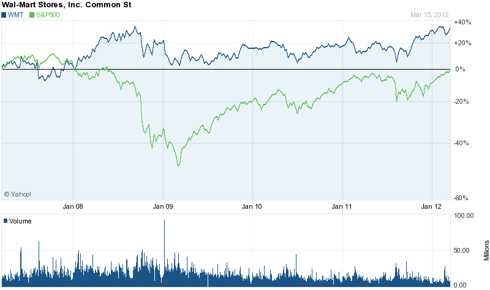 Altria (NYSE:MO)
Beta: 0.39
Altria, the domestic conglomerate of the former Philip Morris, manufactures and sells cigarettes, smokeless products, and wine in the United States. With Altria, an investor encounters regulatory risk and declining domestic cigarette consumption, but nonetheless the company has done a masterful job of unlocking shareholder value through the years, as evidenced by strategic spinoffs of Kraft (KFT) and Philip Morris International (NYSE:PM) and in its very agreeable 5.5% annual dividend.
Since its spinoff in 2008, this low beta dividend stalwart would seem a lock to satisfy your contrarian needs during periods of market decline, and in 2011 we received a taste of that defensive prowess when Altria returned 26.85%, leaving the S&P's 2.11% return in the dust.
If you're looking for a domestic cigarette play, but would prefer a smaller company with more growth potential, either Lorillard (NYSE:LO) with a beta of 0.39 or Reynolds American (NYSE:RAI) with a beta of 0.49 would serve similar functions in a portfolio as Altria. For an international growth strategy, British American Tobacco (NYSEMKT:BTI) with a beta of 0.49 is another solid choice.
Gold (NYSEARCA:GLD)
Beta: 0.08
Although gold is not a stock, a discussion of adversely correlated assets isn't quite complete without mentioning this most common diversifier of all. Whether through SPDR Gold Shares, iShares Gold Trust (NYSEARCA:IAU), or physical bullion, owning gold is a historically effective means of defending against the calamitous financial event, whether inflation, war, or sudden market decline. With gold depreciating by six percent over the prior six months and with equity markets booming to start 2012, some are calling the end of the more than decade-long bull market for gold. Assuming the price of the metal is merely range-bound, the pullback presents an opportunity for a defensive minded investor to hedge exposure and diversify at an attractive price.