The Great One. Often acclaimed the greatest hockey player of all time, Wayne Gretzky excelled in a 20-year professional career. Frequently lauded for his instinct for the game, he would remind others that it was not so much instinct as it was a disciplined approach to the basics of hockey. At an early age, with the help of his father, he learned to "skate to where the puck was going to be". He was awesome on the ice; the records he amassed over his long career are also awesome. Gretzky was, in fact, an exceptional all-around athlete. In addition to hockey, growing up he was a competitive runner, excelled at box lacrosse, and baseball. He had a .492 batting average while in a Junior Baseball League and as a result, the Toronto Blue Jays offered him a contract.
A few top athletes are so far ahead of their peers they are in a class of their own. Some that come to mind are Babe Ruth, Muhammad Ali, Michael Jordan and Jim Brown. They seem to have almost unnatural physical abilities and an instinctive grasp of their game. During their careers they are at the top. Some companies have similar standing in their sectors over extended periods. They are unquestionably the leader in their industry, the dominant force and standard by which other firms are measured. That list might include Coca-Cola (NYSE:KO), Procter & Gamble (NYSE:PG), IBM, Microsoft (NASDAQ:MSFT) and McDonald's (NYSE:MCD).
One firm that is much less of a household name, but no less of a leader, is BHP Billiton (NYSE:BBL).

The Outstanding Miner, BHP Billiton
We live in a time of increasing scarcity of natural resources. These include the base metals, copper, tin, lead and zinc; these include iron ore and metallurgical coal, and aluminum; these include energy products, coal, oil natural gas and uranium. The owners and producers of these materials stand to profit greatly when the economy recovers, and for decades to come.
BHP Billiton is the world's largest publicly owned miner. It has market dominance, a strong balance sheet, reliable cash flow and increasing earnings. One of the keys to its success is a disciplined approach using proven strategy. It offers unparalleled opportunity for long-term investment, pays a handsome and growing dividend, and is currently undervalued.
In downturns of the business cycle, it has the economic power to make huge investments in future production. It favors large, scalable, long lived projects. Its diversification of products and geographies adds stability to its cash flow and profits. Unlike some of its competitors, BHP has most of its major assets in low risk countries such as Australia, Canada and Europe. BHP Billiton is a buy.
click to enlarge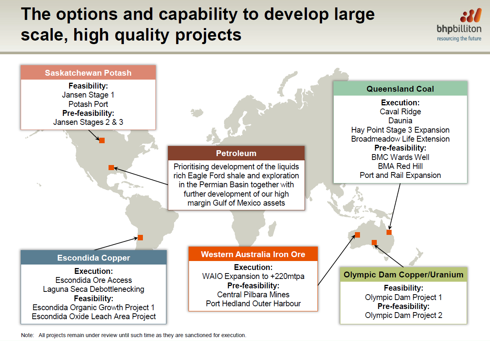 Diversification, Performance and Market Leadership
BHP Billiton has the right properties, a strategy that works, and is able to execute its plans in a predictable manner. Its ownership of strategic properties with huge mineral deposits gives the investor an immediate stake in the scarce natural resources of the earth. Its operating expertise assures all stakeholders a continuity of performance, which gives value to stockholders, customers, employees and the communities where they operate. It begins its 2011 Annual Report with a section called "Our Business" which contains the below. The bolded headings are mine.

[Diversified]

We are the world's largest diversified natural resources company. Our corporate objective is to create long-term shareholder value through the discovery, acquisition, development and marketing of natural resources. We pursue this through our consistent strategy of owning and operating large, long-life, low-cost, expandable, upstream assets diversified by commodity, geography and market.

[Predictable Performance]

This strategy means more predictable business performance over time, which, in turn, underpins the creation of value for our shareholders, customers, employees and, importantly, the communities in which we operate.

[Top Producer of Commodities]

We are among the world's top producers of major commodities, including aluminum, energy coal, metallurgical coal, copper, manganese, iron ore, uranium, nickel, silver and titanium minerals, and have substantial interests in oil and gas. We continue to invest in the future.

Billiton, plc. and Broken Hill Proprietary, Ltd.
In 1860 a Dutch company acquired the mineral rights to the tin-rich Billiton island (Belitung) in the Indonesian archipelago. That company became Billiton mining. BHP, often tagged "The Big Australian", was incorporated in 1885 and operated a silver and lead mine at Broken Hill in western New South Wales, Australia.
BHP Billiton
BHP Billiton was created in 2001 through the merger of the Australian Broken Hill Proprietary Company Limited (NYSE:BHP) and the Anglo-Dutch Billiton plc. The result is a dual-listed company, or DLC. The Australian-registered BHP Billiton Ltd, which is the majority partner, has its primary listing on the Australian Securities Exchange and is the largest company in Australia measured by market capitalization. The UK-registered BHP Billiton Plc (BBL) has its primary listing on the London Stock Exchange and is a constituent of the FTSE 100 Index. One of the benefits of dual listed companies is a reduction in taxes. I believe that it is to the advantage of most US taxpayers to hold BBL, the UK version of the stock, which is traded on the NYSE as a Sponsored ADR.
In the past 10 years, many property purchases have added to the resources brought to the merger by the original firms. In 2011, BHP Billiton acquired shale assets in Arkansas, Louisiana and Texas making it one of the ten largest independent upstream oil and gas companies in the world by resource.
"BHP Billiton's strength lies in its superior scale and diversification. Annual revenues exceed $70 billion and covers resources from iron ore to diamonds." Geographical diversification, as well as product diversification, is important.

Finances and Valuation
Valuation is the process to determine the intrinsic worth of a company. One method employs internal fundamental analysis and historic trends. Ratio analysis is an important part of this. Another method involves comparative valuation, when we look at a company in relation to its industry peers and its relation to markets. If you are unfamiliar with financial measures and ratios, their calculation and use, you might want to view the introductory videos starting with this one on yield, at Investopedia.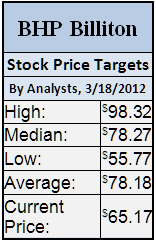 BHP Billiton is trading at about $63 and the analyst 1 year target is $80, which is an analyst positive gap of $17, or 26%. That is an indication that the market is undervaluing the stock. Morningstar puts the fair market value at $84, and rates the company 4 stars, a buy. The current P/E is 7.4 which is just over half that of the broad S&P 500 P/E. For BHP Billiton, F.A.S.T.Graphs indicates a 15 year normal P/E is 13.8. If BHP Billiton was selling at 13.8 times earnings the price would be $108. The stock is greatly undervalued compared to its historic P/E.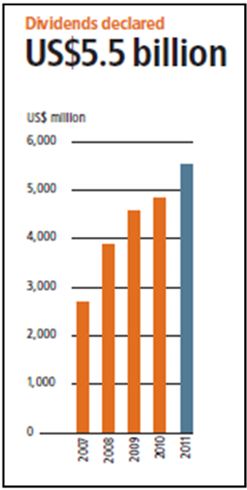 An online calculator using a discounted cash flow model with the growth rate set at 11% for five years and a discount rate of 11% gives a determination of $114 as the value of the stock. To recap, different valuation methods came up with valuations of $80, $84, $108 and $114.
The dividend is paid twice a year, and may be expected to increase annually. The payout ratio is a very healthy 21%. The firm has a stated dividend growth policy:
We have a progressive dividend policy that seeks to steadily increase or at least to maintain the dividend in US dollars at each half yearly payment. We declare our dividends and other distributions in US dollars, as it is our main functional currency.
This stock has a high Beta, which indicates that is more volatile than the market in general. The S&P 500 has an assigned volatility of 1.00, and the 36-month Beta of 1.90 indicates that BHP has been nearly twice as volatile as the overall market. In Modern Portfolio Theory, a high Beta is an increased risk. Part of that risk is that if you had to liquidate your holdings in a downturn you would get a smaller return.
I do not believe this kind of risk should be of concern to a disciplined long-term investor. High Beta stocks give a "bumpy ride" as the stocks trade up and down. If you are a daily watcher of your stocks and are bothered by a 2% dip on a day when your Con Ed (NYSE:ED) is only down 0.30% then perhaps this is not for you. You might take a small position for a while and see how it feels.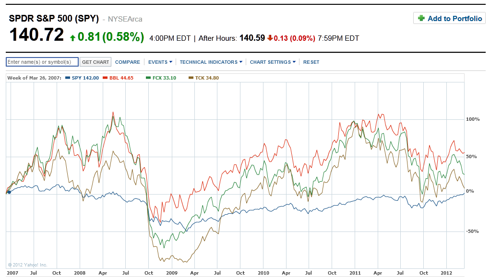 Miners are part of the Basic Materials Sector, which was 2nd to last in performance last year ahead only of Financials. I believe this performance was consistent with where we are in the business cycle. Basic Materials should be rising as the recovery progresses.
The real risk in owning any company is that they will not thrive, often because of their management, product, costs or debt. There are many measures of corporate debt, but by any of them BHP's balance sheet is very strong. In a bond offering, the week of February 21st BHP raised the third-biggest amount in the US corporate bond market this year, $5.25 billion. The miner's $1 billion of 30-year notes were priced to yield 102 basis points, or 1.02 percentage points, more than similar-maturity Treasuries, according to data compiled by Bloomberg. The miner is spending $80 billion over the next five years to boost output of iron ore, copper and coal. The company is rated A1 by Moody's Investors Service and A+ by Standard & Poor's.

Of note above is the very high Return on Equity (ROE) and the impressive Return on Invested Capital (ROIC). BHP Billiton is a very profitable company by any measure. From their June 30, 2011 FY Summary Report:
Record financial results, including Underlying EBITDA up 51 per cent to $37.1 billion, Underlying EBIT up 62 per cent to $32.0 billion and attributable profit (excluding exceptional items) up 74 per cent to $21.7 billion.
Strong margins and returns illustrated by increase in Underlying EBIT margin to 47 per cent and underlying return on capital to 39 per cent.
Record production across four commodities and 10 operations.
Record operating cash flow of $30.1 billion and gearing [leverage] of nine percent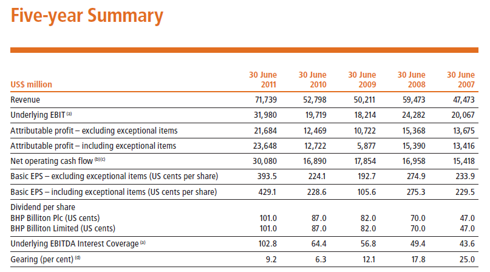 Competition
BHP Billiton has no peers. It is the world's largest and most diversified natural resources company, and its superior scale and diversity are critical elements of its success. An article by Justin Carley published by the Motley Fool defines two more factors:

Two important things that allow BHP Billiton to stand out against the crowd is their superior ROIC (return on invested capital) numbers and top-notch management. ROIC is consistently in the 20-40% range and was even 18% in the depths of the Global Financial Crisis. These numbers are well above the company's cost of capital and are a sign of great operational performance. ... Management is also willing to divest assets that are not contributing to earnings as a way of maximizing returns on invested capital. They are NOT just trying to get big and the ROIC numbers bear that out.

A consistently high return on equity is another hallmark of great management. The average for the past 5 years is 36.7%. FY 2011's free cash flow from Operations was an astronomical $30 billion. The current P/E of 7.6 is one of the lowest ever for this company. The earnings per share is growing at a rate of almost 15% per year and during the last 5 years the dividend has grown at over 30% a year.
Iron ore accounts for 37% of BHP Billiton's profits. The largest iron ore producer in North America is Cliff's Natural Resources (NYSE:CLF). Cliff's, however, has no diversification into other ores. Dangerously, over 60% of the market for iron ore is China. During the financial crisis, Cliff's stock tumbled 90%. Vale (NYSE:VALE) is the Brazilian giant and is more diversified than Cliff's, but 60% of their revenue comes from iron ore. Currency risk may be a problem for a Brazilian company due to the weakness of the Real.
Rio Tinto (NYSE:RIO) is a miner, which like BHP Billiton also has geographic diversity and is mostly in safer countries. While it has diversity of product, it is a little heavier in iron ore than might be desirable. Top management of the firm is not held in as high esteem as that of BHP. Operationally, Rio does a good job and is an innovator. However, when you look at their 5 year average ROIC of 17% they compare unfavorably to BHP. The same is true with the ROE, which has a 5-year average of 27%, good, but far below BHP's 37%. Other miners commonly traded in the US are smaller and most focus on only on one mineral.
Reasons to buy BHP Billiton
You immediately become an owner of appreciating scarce metal and energy resources
You will earn a growing dividend with an over 3.40% yield
BHP Billiton is the largest miner, an enviable position both operationally and competitively
The company is undervalued, on the order of 25% or more
BHP Billiton has stated policy of dividend growth, and is rapidly increasing dividends
The company is one of the best managed firms of any type, confirmed by ROIC and ROE figures
They have "skated to where the puck is going to be" and will profit greatly as the recovery continues
Reasons to Hesitate in Buying BHP Billiton
You believe that economic growth in the world is slowing, and the recovery is failing
Environmental risks and sovereign risks in the form of taxes are too limiting for miners
The high beta of the stock makes it too volatile for you
A long holding period, perhaps 5 years, might be necessary to get the best return
BHP Billiton, trading as BBL, is one of my three core long-term high conviction holdings. This company performed very well over the past 15 years and will do so for the next 15. I have a small position in RioTinto.
I also suggest a perspective on BHP Billiton by Colin Lea, BHP Billiton, Undervalued, Undeterred and Forging Ahead.
Good luck mining for profits!