The Hedge Zone is always on the lookout for breakout stars. French utility company Veolia Environnement (VE) just might fit the bill. After plunging to ten-year lows in December, Veolia has snapped out of its downward funk, recovering 46% year to date--and over 38% in March alone. This is an impressive short-term performance by any metric, but particularly when you consider Veolia boasts an annual dividend yield of roughly 7%.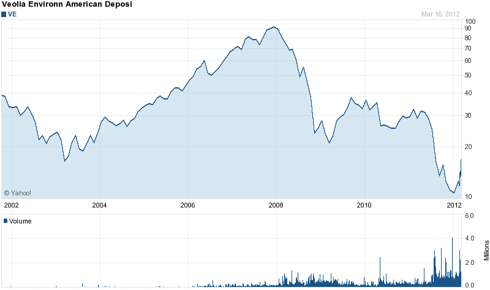 A Race to the Bottom
Evidenced by the chart above, the past five years have been challenging for Veolia. Aggressive global expansion under the leadership of former CEO Henry Proglio came at exactly the wrong time--as global markets were collapsing. In the aftermath of the financial meltdown of '08, Veolia found itself overly leveraged and drowning in debt, unable to sustain its sprawling operations that had ballooned to 70 countries. As a result, its share price tumbled 75% from the highs of '07.
Current CEO Antoine Frerot took the reigns in 2009. Soon thereafter, the same issues that had plagued his predecessor resurfaced amidst another financial meltdown--this one in Europe--and Veolia's share price was sent spiraling to the abyss once more. By 2012, the stock had fallen an additional 50% from its '09 lows, and Veolia slashed dividend payouts by nearly half.
A Plan for the Future
During the summer, Veolia laid out a massive restructuring plan. Frerot vowed to sell down assets, consolidate operations, and focus on core growth areas where the company had a defined competitive advantage. The plan included withdrawing operations from 37 countries around the world by 2013, leaving Veolia operational in less than 40. Notably, the company was to withdraw its U.S. operations, which were losing market share to Waste Management (NYSE:WM), Republic Services (NYSE:RSG), Waste Connections (NYSE:WCN), AES Corp (NYSE:AES), and Casella Waste Systems (NASDAQ:CWST), as well as sell down its transport business.
Last month, amidst a heated battle over the direction of the company that involved former CEO Proglio, who is now a board member (and good friend of French President Nicolas Sarkozy), attempting the ouster of Frerot, the board signaled its confidence in Frerot (at least in the short-term) by rejecting the ouster and voting to follow through with the restructuring plan. Following the board's actions, Veolia's transport division, British regulated water activities, U.S. solid waste business, and the remainder of its operations in the 37 countries it plans to exit have essentially been put up for sale. According to Reuters, the total combined asset sale should amount to 5 billion euros, which would cut Veolia's total debt to less than 12 billion euros by the end of 2013.
Cause for Optimism
Following the February board meeting and upon news that Veolia was in talks to sell its mass transit division, Veolia's shares jumped 15% and have continued to soar ever since. The market is anticipating a flood of asset sales that should serve to boost the company's balance sheet and refocus its energies on profitable segments. Just Friday, the news broke that Goldman Sachs' private equity group is in preliminary talks (along with other bidders) to buy Veolia's U.K. water assets.
Further cause for optimism stems from two key upgrades in the past month. UBS upgraded Veolia to Neutral from Sell, while Morgan Stanley upgraded it to Overweight from Equal Weight.
In any case, following the recent 38% run-up in share price, it is clear that a breakout is occurring, but the question remains whether the momentum can be sustained.
A Closer Look
Veolia is priced at the low end of its fair value. It currently trades at a slight discount to its book value. This is signficant because, unlike many companies that carry a high book value with no prospect of cashing in, Veolia is actually realizing much of its value through asset sales. Additionally, Veolia's price/book ratio of 0.9 stands significantly below its historic average (in 2006, its price/book was 5.3). Veolia's forward P/E of 14 is reasonable--and also lower than its historic average of 16--but not a data point that demonstrates screaming value. However, the market price needs to be considered in the context of a high yield.
One sign that Veolia has upside at current levels is that earnings expectations are at historic lows. According to Yahoo! Finance, analysts are forecasting an annual EPS of $0.79 (USD) for 2012. Meanwhile, according to Morningstar data, annual EPS averaged 1.48 euros, or the equivalent of nearly $2 USD, between 2006 and 2010.
One unique consideration when analyzing this company is the prominent position Veolia Environnement assumes in French life. Although possessing global reach, it is also one of France's largest utilities, providing many of the critical social services that allow civil society to function, and its relationship with the French government is built-in to the business. President Sarkozy's closeness with former CEO and current board member Henry Proglio should also be noted. It appears at least that there is a civic interest in seeing a successful outcome, which is always a strong positive for shareholders.
And, finally, Veolia has indicated one of its key areas of focus moving forward will be water treatment in China. We see tremendous potential for growth in this area.
Conclusion
In the end, Veolia is a high risk, high reward play that we like at these levels for several reasons, one of the biggest being its outsized dividend that serves to provide some buffer on the downside. We also like the recent price action that we believe indicates a bottom was reached in December. What we don't like at Veolia is the executive infighting. We fear that Proglio's anti-restructuring view could eventually win-out among the board, at which point the company would no longer have a means of deleveraging. If the restructuring plan is reversed, we would reverse in kind our bullish view on the stock.
Disclosure: I am long VE.