Not too long ago when I was applying for a corporate job, I was shown a picture and was asked the question of "What do you see? Is the glass half full or half empty?" Write your own answer down and we can have fun with your answer(s) at the end of this article! No cheating!
Now, what does this have to do with Apple (NASDAQ:AAPL) given that it has surpassed Exxon (NYSE:XOM) in market cap, has now hit $600/share intraday, declared a dividend, and a share buyback program? My loyal readers would know that I like to "connect the dots backwards" to arrive at my conclusions. Having said that, allow me to recap (not in any order of importance) what I've written and what has transpired since my first article regarding Apple was published here at SA.
In "AAPL: If I could only buy and hold one stock; this is it", amidst the Greek and our own debt ceiling debacle, I argued that it had a lot more room to run. The suggested portfolio right now is up over 50% in less than a year.
At my readers suggestions, I followed it up with an article on "Apples' cash on hand: why shareholders should stop whining" wherein I argued that we should cut them some slack as they will do what is "right" for the company over time. The shares provided good value without dividends or the promise of a buyback program.
When AAPL was at $447, my "When to sell Apple", suggested that it wasn't too late to join the party.
Amidst the bad supplier publicity and with Apple making another new high of $459, I wrote "Apple and the 3 little Pigs", to provide a fun analogy of why we should stay the course. I DO have to thank SA for publishing it as it was pushing the limits of what SA articles "should" be like!
This article wasn't meant to "rub it in" to those who didn't take action or to pound my chest to say "I told you so!". The results speak for themselves whether you've been with me since our Research in Motion (RIMM) short thesis, or with our Apple trades or with my MoneyBall series.
What I'm more interested in is what made me (or us) miss a part (or some; or maybe all) of Apple's recent run! After all, I did cash out a majority of my AAPL leaps to create a few MoneyBall portfolios (I've shared one of them here with SA). I have zero desire for fame for calling the "top" or "bottom" of any security or garner headlines such as the ones below:
Remember that reporter that who apparently traveled to China doing an expose'? When is a "lie" a "lie"? The scary part about people like Mike Daisey is that thrive in the corporate world! I'm in awe of his attempt to "spin" the truth...
Mike Daisey: I'm not going to say that I didn't take a few shortcuts in my passion to be heard...
Or...
Dear People who think Apple may go $1,000 a share: Here's why you may be idiots...
Or Kass (who is he?) comparing Apples' run to what happened to Google...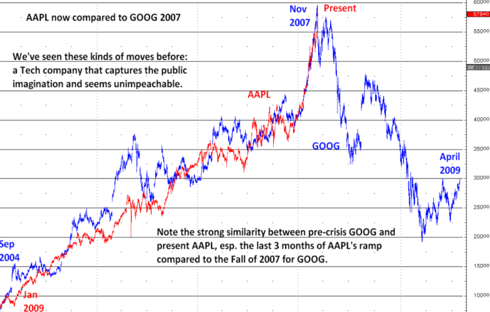 Or one of my all time favorites....
There's a rule of thumb on Wall Street: When a company starts building spectacular facilities, it's an ominous sign for investors. Apple's (Nasdaq: AAPL ) proposal for the Cupertino office campus that it's purchasing from Hewlett-Packard (NYSE: HPQ ) looks to be just that.
You get the drift; why do we continue to pay attention to these types of headlines?
How does one process the "noise" above? How you answered the question of "Is the glass half full or half empty" may also dictate how you view Monday's dividend announcement! Before we deal with that, there are a few salient points during the special conference call that I thought I should highlight; they are:
At Tim's request, none of his unvested RSUs will participate in dividends.
and
The Board has authorized the repurchase of $10 billion of stock over the next 3 fiscal years with the primary objective of neutralizing dilution from future grants through Apple's employee equity programs.
I would expect 4 different general reactions from the announcement today. They would be:
Apple must be slowing down and losing its "mojo". This generalization is usually synthesized from the belief that dividend paying stocks cannot provide the "sexy" returns of pure growth plays.
Happy that Apple finally opened up the vault and shared its cash hoard (albeit, there will still be whiners that would insist that the payout is still too low!).
Indifference. The announcement doesn't matter; Apple was a great play without it, it will continue to be a great play with it.
Who cares?
So, what was your answer to the question of "Is the glass half full or half empty?".
The answer I gave was "where is the party?" When pressed (honestly, at that time, I thought it was a stupid question!), I explained that all I cared about was whether the contents was Gin or Vodka! I continue to thank her today for giving me my first job in the corporate world!
Berkshire Hathaway (NYSE:BRK.A) trades at $122,115 today (traded at $290 in 1979); trades at 19x PE, pays no dividends and yet no one seems to care! Why is that? Are whiny Apple shareholders more willfully ignorant about the facts behind their own company's share price vis a vis a Berskhire shareholder? What about PriceLine (NASDAQ:PCLN) at $696 and trading at 33x PE with no dividends? What price do you get when PCLN's PE multiples are applied to AAPL? Yup, it gets to $1,000! I know, we must fret about numbers.
I'm a firm believer that if a company is managed well enough, the stock price will ultimately follow. Hence, it really doesn't matter what the payout was or that there was buyback planned; all I care about is how Apple is managed today and in the years to come. For Tim to ask that his uninvested RSU's be excluded from participating spoke volumes of the man. How much do you figure he is leaving on the table?
Despite bumping against its 52 week high today at $601, I continue to view its prospects very well in the years to come. I will provide an update after the next earnings call. Till then, I've raised my stops to $580 in my trading accounts.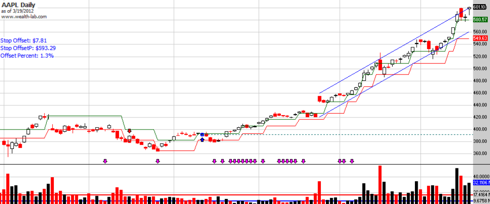 ...and what about that scaring looking chart provided by Kass? What happened between 2007 and 2009? ANY stock will tank if we have a repeat of what happened during that time frame! Yes, we must skip perspective so we may take shortcuts in our passion to be read!
I know, we must fret that Apple must be a bloated pig when it is valued more than Exxon! You may be right; but what does that have to do with making money when the trend is still your friend? Yes, it will retrace and yes, it will consolidate. Till then, why not play the cards provided? Apple has signaled that its future rests outside of the US; when will we understand that?
Is the glass half full or half empty?
Disclosure: I am long AAPL.