Cree Inc. (NASDAQ:CREE) is a $3.56 billion mid-cap market leading innovator of LED lighting and semiconductor solutions for wireless and power applications. Its LED lighting is energy efficient and environmentally friendly. Cree has been driving improvements in general illumination, backlighting, electronic signs and signals, variable-speed motors, and wireless communications.
The stock took a hit in 2011, bringing the price down from $70 to $20. It has recovered to around $30 in 2012. The current stock price looks undervalued as it is trading at only 1.4 times book value per share. However, Cree missed earnings estimates in three of its last four quarters. Granted, the earnings misses were only a penny or two, but percentage wise, the negative surprise ranged from -3.8% to -6.9%.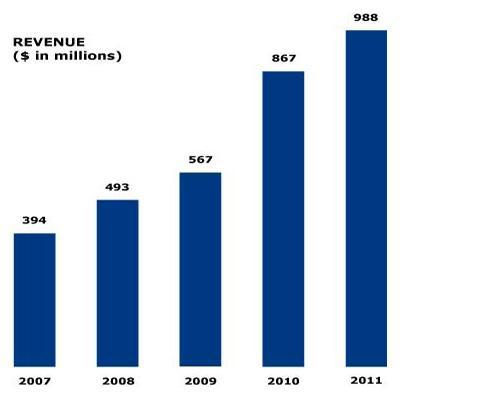 Cree has a profit margin of 6.14% and an operating margin of 7.06%. Revenue has grown steadily each year, as indicated in the bar chart. Quarterly revenue growth was 18.3% in Q4 2011. I like the fact that the company has zero debt with $687.25 million in total cash. Operating cash flow is $$227.86 million and free cash flow is -$24.84 million.
Cree has two upward earnings revisions for 2012. The company is expected to grow earnings annually at a healthy 18.67% for the next five years. This should significantly outperform the market's expected growth of 10.56%-- that is, if Cree can significantly meet or beat its earnings estimates. I think that if Cree does hit its estimates, the stock should appreciate to $70 in five years.
CEO, Charles Swoboda, stated in the Q2 report that the company is optimistic about the future. He pointed out that the lighting market is large, but that the LED adoption is low. This includes renovation in new construction markets and an upgrade opportunity. Mr. Swoboda explained that Cree is the LED leader. He said that the new XLamp XB-D LED changes the game by offering twice the lumens per dollar. He also stated that Cree has a pipeline of innovation that will further improve payback which drives adoption.
Mr. Swoboda also said that market dynamics have reduced operating results over the past year, but it has also accelerated the price per lumen curve, which should increase adoption. He explained that this process is healthy and that it should provide an improved business environment for the future.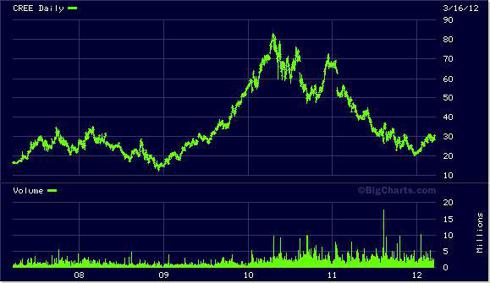 Since the company had a rocky 2011, investors may want to see how the company reports for Q3 on April 17 to better gauge the company's outlook. The stock does look close to temporarily overbought after the 2012 run-up, so waiting for a pullback may also by wise. Overall, I think that the company looks solid for the long-term (five years or more). Cree should appreciate higher than the market in the next five years.
Disclosure: I have no positions in any stocks mentioned, and no plans to initiate any positions within the next 72 hours.
Additional disclosure: Although I don't own the stock individually, I may own it as a part of a fund in my retirement account.