Adobe (NASDAQ:ADBE) reported first quarter net income of $185.2 million (37 cents a share), and non-GAAP net income of $1.045 billion (57 cents a share), just hitting analysts' estimates of 57 cents a share. "We delivered solid earnings in Q1, achieved revenue within our targeted range, and began to build excitement for our upcoming creative product release," said Mark Garrett, executive vice president and chief financial officer, Adobe. Although still recommended as a 'buy' by most analysts (51.9%), many still are reluctant about Adobe's new Software as a Service (SAAS) subscription model, and are waiting to see if it is as profitable as Adobe predicted. Analyst ratings with regard to Adobe's ten nearest competitors are more optimistic (73.9% average 'buy' ratings), but I believe Adobe will continue to grow in the coming 18 months, as it begins to capitalize on some of the emerging new areas in which it has heavily invested. I also believe this trend is likely to continue in the future.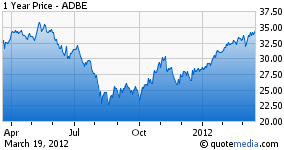 Diversified across many platforms, products and services, Adobe became a bureaucratic nightmare over the last few years, and despite reasonable growth, seemed to be lacking a grasp on market currents and had endless unrecognized synergies. The HTML5 fiasco is a great example of Adobe's slow thinking. When Apple first released the iPhone, many were initially surprised that it lacked compatibility with the most dominant method, then, as well as now, to deliver rich media content to end users, i.e. Flash. However, Apple had no intention of supporting Flash, and instead invested heavily, through their relationship with the Web Hypertext Application Technology Working Group (WHATWG), in HTML5, which would bridge the void. It was clear that Apple would not budge on this matter, and while the entire developer community was embracing HTML5 with an extra, borrowed hand, Adobe was waging their own little war with Apple, and tried to hold on for dear life to Flash as a dominant platform. Adobe failed, of course, at shunning HTML5, and recently began developing tools for HTML5 developers, although years late.
Adobe has seen an incredible decade of growth as a result of constant innovation and embracing of new technologies, but it had become impossible to replicate past success without a major rethinking of future strategy. During the past year, Adobe has reorganized its profit units into two main categories: Digital Media and Digital Marketing. The Digital Media unit is responsible for tools and solutions for content creators, web application developers, and digital media professionals that enable them to create, promote, and monetize their content. In contrast, the Digital Marketing unit is responsible for solutions and services for digital marketers, advertisers, publishers, merchandisers, and web analysts, to allow multi-channel campaign execution, and delivery of personalized web experiences and media monetization. This type of focus is what Adobe really needed, and it is great to witness that it has a clear vision of how it will create value in the near future. Digital media creation and monetization are huge revenue sources, and although Adobe historically had a significant competitive advantage on the content creation side, it is only recently that it made a real push into the monetization and analytics space in which they are now a powerful player.
Things have changed at Adobe, and it has successfully positioned itself to compete with new consumer demands. The new SaaS subscription model is not a new product, but rather a hint of things to come, and I believe that this is the reason Adobe has put so much emphasis on it in past presentations. The new SaaS model has been priced in a manner that would actually increase Adobe's overall sales (assuming the adoption rates predicted are, in fact, met), and looking forward I believe this is a more viable platform, as it will allow better integration with current Digital Marketing platforms and will most likely increase overall value to both the consumer and the company. Sales are, in fact, lower this quarter, but this is to be expected in anticipation of a new Creative Suite version, which will be released soon, and with subscription revenue up 38%, I wouldn't put too much emphasis on this fact. I am, however, concerned with the fact that, despite revenue from Digital Marketing increasing from 19% to 22%, cost of revenue has gone up from $254.9 million to $301.6 million, and has more than offset this growth. These costs are directly associated with the fact that Adobe has made many acquisitions is this space (including Efficient Frontier, Auditude, Typekit, Nitobi Software, IRIDAS, EchoSign and Demdex), and is working hard to integrate them into the Adobe product umbrella. "We are raising our fiscal year revenue and non-GAAP earnings growth targets due to the addition of Efficient Frontier" said CEO Garrett. I am optimistic, and while I would monitor these numbers closely, I expect them to decrease over the next 18 months, and expect significant growth from this sector.
Given Adobe's dominant position and aggressive strategy, I believe that it is in a very strong position to exceed its new forecast guidance of $1.63 to $1.73 per share, and at current prices is undervalued.
Disclosure: I have no positions in any stocks mentioned, but may initiate a long position in ADBE over the next 72 hours.