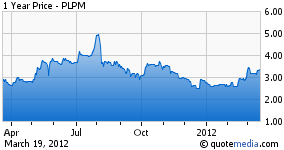 At Micro Cap Club, we've been talking about Planet Payment (NASDAQ:PLPM). Whenever an illiquid micro cap tech stock files a registration statement with J.P. Morgan (NYSE:JPM), William Blair & Company, Jefferies (JEF), Needham & Company, Oppenheimer & Co, and Canaccord Genuity on the cover, it grabs my attention. What are blue-chip banking powerhouses doing with this little micro cap company that most investors don't even know exists?
Planet Payment is a leading provider of international payment processing and multi-currency processing services. The company has over 25,000 active merchant locations in 16 countries across the Asia Pacific, North America, Middle East, Africa, and Europe. In a nutshell Planet Payment facilitates the growing international consumer.
Planet Payment's flagship offerings are their multi-currency processing services, which include Pay In Your Currency and Multi-Currency Pricing. These purchases enable merchants to offer customized pricing in multiple currencies and enable acquiring banks, processors and merchants to settle and report transactions in their local currency.
Industry trends are a strong tail wind for Planet Payment. Increased shift toward electronic payment transactions, increased international travel and commerce, and increased e-commerce on a global scale continue to propel the company's services. Visa (NYSE:V) reported that for the 12 months ended September 30, 2011, cross border payments and cash volume grew 14% year over year on a constant U.S. Dollar basis. MasterCard (NYSE:MA) reported for the three months ended September 30, 2011, cross border payments and cash volume grew 19% compared to a year ago, on a local currency basis.
Growth in Global Card Spending
Earlier this month, an independent authority on credit card processors announced it's Top-10 list of multi-currency processors. Planet Payment ranked 3rd, but it's important to note that a few of the other Top-10 companies listed actually utilize Planet Payment's solution.
For the 9-month period ended September 30, 2011, Planet Payment had revenues of $29.5 million, up 40% from $21 million from the year ago period. Adjusted EBITDA has increased to $3.2 million for the 9-month period ended September 30, 2011 compared to an Adjusted EBITDA loss of $(70,000) for the year ago period. Total active merchant locations increased 83% from 13,610 on 9/30/2010 to 25,013 on 9/30/2011.
Key industry partnerships with the likes of Global Payments (NYSE:GPN) have helped propel Planet Payment's impressive growth rate with no sign of slowing. The company is now profitable and producing increasing cash flows from operations. The operating leverage in Planet Payment's business model from this point forward will allow for a substantial portion of top line improvement to fall to the bottom line. New partnerships pave the way for significant growth in 2012 and beyond.
Earlier this month Planet Payment signed a global processing agreement with China UnionPay. China UnionPay in one of the largest card brands in the world with 2.8 billion cards issued and is the only credit card network in China. Overseas consumption made through China UnionPay's credit card network jumped 66% to 300 billion yuan ($47 billion) last year, up from 180 billion yuan in 2010. Now financial institutions located in any country where Planet Payment operates can sign an acquiring agreement with UnionPay. The targeted launch date is Q2 2012.
In 2011, Planet Payment collaborated with MICROS Systems (NASDAQ:MCRS) to launch the MICROS Payment Gateway. MICROS provides enterprise applications for the hospitality and retail industries worldwide. There are currently more then 330,000 MICROS systems installed in 130 countries on all seven continents.
Vantiv (NYSE:VNTV), the payment-processing arm of Fifth Third Bancorp (NASDAQ:FITB), is scheduled to IPO on March 22nd. They are expected to raise ~$500 million, potentially valuing the payment processor at $3.6 billion. In 2011, Planet Payment entered into a contract with Vantiv to provide Pay In Your Currency service at ATMs.
Planet Payment is currently an illiquid, unknown, pink sheet listed company that has caught the attention of some of the most reputable investment banks in the world. The registration statement that was filed shines some light on the past, present, and future of the company.
One thing is for certain, payment-processing stocks have always been in demand by wall street because of the scalability and inherent operating leverage in their business model. Planet Payment is right in the middle of the largest growth area in payment processing, international e-commerce and multi-currency processing. As an experienced micro cap investor I've seen how this show plays out in the past when a very unknown growth story becomes known. I would guess in the next 6 months the company will raise capital via the firms mentioned in the first paragraph and re-IPO on the NASDAQ. A few of the firms will initiate research coverage soon after, and Planet Payment will be a known story.
Disclosure: I have no positions in any stocks mentioned, and no plans to initiate any positions within the next 72 hours.