Treasury yields are on the rise and bond prices are falling. Last week was the worst for Treasurys since July. Ten-year notes are now over 2.3%, the highest level since last October (source). If this trend continues, how will it affect bond ETFs?
To assess the risk, I looked for instances of rapidly rising interest rates in the recent past that might allow us to quantify the possible dangers. I found one in the four-month period between 10/8/2010 and 2/8/2011, when the CBOE 10-Year Treasury Note Index (TNX) showed an increase corresponding to a rise in 10-year rates from 2.38% to 3.72% (source: Yahoo Finance) or 134 basis points (1.34%).
The first graph below shows TNX from 10/8/10 to 2/8/11. The second one widens out to show TNX for the last 18 months, from October 2010 to the present (source: Stockcharts.com).
click to enlarge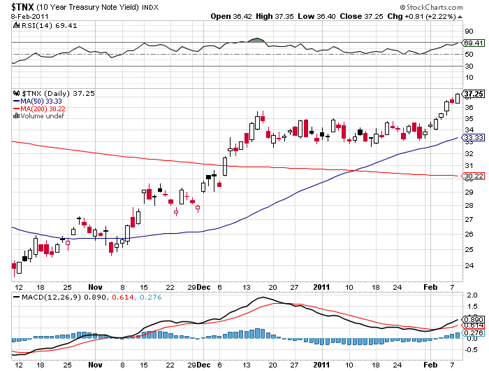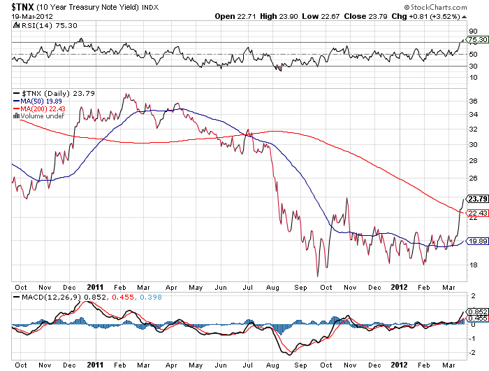 Note how quickly rates have risen recently, putting 10-year Treasurys above 2.3% for the first time since last October and above their 200-day moving average for the first time since last July. If this trend continues, a situation similar to the one that played out in late 2010 and early 2011 may be on the horizon.
To understand how this new episode of rising rates might affect bond ETFs, I compiled the table below that shows the percentage change in adjusted closing prices from October 8, 2012 to February 8, 2011 for all twenty-eight bond ETFs that currently have over $1B in assets (source: Yahoo Finance and ETFdb.com). In addition, I've listed the current yield and duration (source: Morningstar).
I also calculated the ratio of the four-month change in market price to current yield, which captures the magnitude of that price change relative to today's dividends. One way to think about this ratio is that it represents the number of years' worth of current dividends lost during the four-month decline in market prices during late 2010 and early 2011. For instance, TLT lost over three years' worth of current dividends due to its price decline during that period.
SYMB

NAME

CURRENT

YIELD

3/16/12

DURATION

AS OF

3/16/12

CHANGE 10/8/10

to 2/8/11

CHANGE/

CURRENT

YIELD

iShares Hi Yld Corporates

7.26

4.14

2.25%

0.31

SPDR High Yield Bond

7.28

4.32

2.00%

0.27

iShares Short Treasuries

0.07

0.43

0.00%

0.00

iShares 1-3 Year Credit Bonds

1.85

3.28

-0.31%

-0.17

PIMCO Short Maturity

0.97

0.83

-0.38%

-0.39

iShares 1-3 Year Treasuries

0.77

1.84

-0.80%

-1.04

Vanguard Short Term Corp

2.29

2.72

-1.34%

-0.58

SPDR Short Term Muni Bond

1.43

2.84

-1.35%

-0.95

Vanguard Short-Term Bonds

1.86

2.65

-1.67%

-0.90

iShares MBS Fixed-Rate Bond

3.28

1.59

-2.64%

-0.80

iShares Intermed Credit Bond

3.62

4.29

-3.02%

-0.83

iShares US Aggregate Bd Fund

2.81

4.36

-3.42%

-1.22

Vanguard Total Bond Market

3.06

5.04

-3.44%

-1.12

CFT

iShares Credit Bond Fund

4.01

6.50

-3.44%

-0.86

SPDR Int'l Gov TIPS

4.32

9.78

-3.53%

-0.82

iShares Inv Grade Corporates

4.24

7.56

-4.42%

-1.04

Vanguard Int-Term Corp

3.71

6.16

-4.52%

-1.22

WisdomTree Em Mkts

4.21

4.44

-4.68%

-1.11

iShares 3-7 Year Treasuries

1.62

4.45

-4.92%

-3.04

iShares TIPS

3.89

4.84

-5.38%

-1.38

iShares National Muni Bond

3.24

6.58

-5.64%

-1.74

SPDR Int'l Treasury Bond

3.41

6.98

-5.68%

-1.67

Vanguard Intermed Bond Idx

3.54

6.40

-5.93%

-1.68

iShares USD Emerging Mkts

4.69

7.38

-6.64%

-1.42

PwrShares Em Mkt Sov Debt

5.26

8.65

-6.73%

-1.28

SPDR Municipal Bond Fund

3.23

8.37

-7.66%

-2.37

iShares 7-10 Year Treasuries

2.52

7.54

-8.00%

-3.17

iShares 20 Year Treasuries

3.37

16.80

-10.34%

-3.07
Not surprisingly, long Treasurys performed the worst as rates increased, while short-term ETFs weathered the storm best. Most noticeable, however, is that junk bond funds gained over 2% while the rest of the bond market was in retreat. This occurred because during this four-month period the stock market, as measured by SPY, rose 9%, and presumably junk bonds do best when the dangers of recession and default seem remote. Overall, more than half of the twenty-eight bond ETFs lost more than one year's worth of current dividends due to their decline in market price.
To help visualize these data, the figure below plots each ETF's price change by its current duration, using the data in the table, but omitting TLT, an egregious outlier. The chart also includes a trend line, which clearly shows the inverse relationship between duration and price change: the longer the duration, the greater the price decline.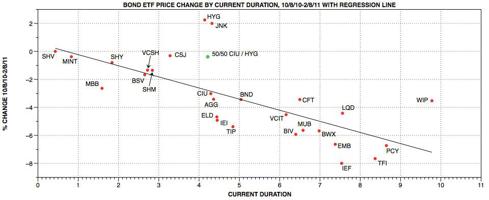 Duration is a measure of the sensitivity of bond prices to changes in interest rates. Bond prices move inversely to changes in interest rates, and the higher the duration, the more a bond's price will rise as interest rates fall and fall as interest rates rise. In anticipation of rising interest rates, bond investors can reduce their risk by shortening the durations of their portfolios. Effective duration for bond ETFs is available at Morningstar.com.
This graph also tells us which bond ETFs did better relative to the others during the downdraft from 10/8/2012 to 2/8/2011. Points significantly above the trend line experienced less decline than might have been expected, given their duration. This means they are the ones investors should concentrate on as rates begin to rise. So what are the best options?
Option 1: Buy HYG and JNK
Far and away the best performers were HYG and JNK, the two junk bond funds. As noted above, both rose rather than declined as rates increased, acting more like stocks than bond ETFs. Thus one approach as rates rise is to buy junk bonds' big yields to keep your portfolio's head above water. Together these two ETFs currently have over $28B of combined assets and are the fifth and sixth largest bond ETFs.
But for some investors this approach is simply a non-starter, since they wouldn't consider committing a significant portion of their nest egg to non-investment grade bonds. The fear of a "black swan" event or another Treasury downgrade or a sudden unraveling of the Greek bond settlement is too strong to allow them to consider this option.
Option 2: Buy CSJ (iShares 1-3 Year Credit Bonds)
CSJ is, I think, the best option among the short duration (less than three years) bond ETFs at the left side of the chart (SHV, MINT, MBB, SHY, BSV, VSCH, SHM CSJ). CSJ only declined -.31% during the four-month rise in rates, losing only about two months' worth of its current dividends. That said, however, the current dividend is only 1.85%, less than 10-year Treasurys, but of course with much lower duration.
A possible alternative is VSCH, Vanguard's Short Term Corporate Bond ETF, which has a higher yield at 2.29%, but it lost more than half a year's worth of current dividends during the four month decline, netting less than CSJ.
Option 3: Buy CIU (iShares Intermed Credit Bond) or CIU and HYG
For bond ETFs with durations between four and six years (CIU, AGG, BND, ELD, IEI, and TIP) there isn't a clear standout choice. Many investors, of course, own one or the other of the two total bond market ETFs, AGG and BND. But both lost more than a year's worth of current dividends during late 2010 and early 2011.
A better choice, I think, is CIU, which has a higher dividend than either AGG or BND (4.4% vs 2.81% and 3.06%, respectively) and which declined somewhat less, losing less than a year's worth of current dividends (-.83) to their more than a year's worth (-1.12 and -1.22).
Of course, for passive index investors, moving out of AGG or BND may violate their investment strategy. For them, the best bet may be to sell part of their holdings and raise cash while rates are on the rise.
Another variation on the CIU theme would be team it up with HYG for a best-of-both-worlds combination. The green point in the upper middle part of the graph represents the percent change and duration for a 50-50 allocation to CIU and HYG, representing a market price change of only -.38% (about the same as CSJ) with a combined duration of 4.2 years. In effect this combination allows an investor to hedge the downside risk of CIU with the upside potential of HYG. For a 50-50 combination, the combined yield is 5.44%, and the pair lost only about a quarter of a year's worth of interest (-.26%) in the downdraft.
Option 3: Buy CFT (iShares Credit Bond Fund)
For bond ETFs with more than six years' duration (VCIT, BIV, CFT, MUB, BWX, EMB, IEF, LQD, TFI, PCY, and WIP), CFT is the standout. Although it yields less than the widely-held LQD (4.01% vs 4.24%), it suffered much less than LQD during the late 2010 and early 2011 decline: -3.44% vs -4.42%. As a result, it lost less than one year's worth of current interest (-.86) vs LQD's more than an year (-1.04).
The two inflation protected bond funds in this group (TIP and WIP) perhaps belong in a different category than the other ETFs discussed here, because of the adjustments made to their principals based on inflation. But they are still affected by market price declines when rates rise: widely-held TIP lost -5.38% during the bond market decline of late 2010 and early 2011.
And What If It Gets Worse?
Finally, we have been analyzing bond ETFs' reactions to a four-month increase of 134 basis points (1.34%) in 10-year Treasury rates. Suppose such an increase continued unabated for a whole year? That would imply over a 4% rise in 10-year rates. Can we even imagine 10-year rates at 6% a year from now? And what bond ETFs would be worth holding if the losses in the table above were multiplied by three? Short duration would win over everything else: I vote for CSJ.
Disclosure: I am long BND, TIP.
Additional disclosure: This article is intended to be solely informational and does not represent a recommendation to buy or sell any security. Do your own research and exercise due diligence. Good luck!