By and large, I don't waste my time on sub-$1 biotechs. Sure, every once in a while you can find a gem by dumpster-diving, but more often than not sub-$1 stocks are just a fast ticket to capital losses. All of that said, I have to admit I'm interested in Cyclacel (NASDAQ:CYCC). While there's a lot to dislike about the company's capital/governance structure and plenty that could still go wrong, I'm intrigued by the tiny valuation of this stock.
A New Approach To A Very Tricky Disease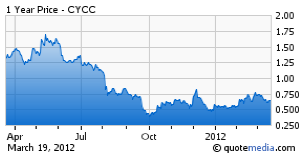 Whatever value Cyclacel has, it's tied to sapacitabine - the company's novel oral nucleoside analog that it has licensed from Daiichi-Sankyo. Sapacitabine is vaguely similar to Lilly's (NYSE:LLY) Gemzar, and basically works by interfering with the DNA synthesis within a cancer cell.
What really stands out about sapacitabine, though, is that it combines a tolerable safety profile with what has thus far looked like very definite survival benefits in some hard-to-treat cancers.
Cyclacel is currently running the SEAMLESS Phase 3 study for sapacitabine in acute myelogenous leukemia (AML) in elderly patients. AML is not especially common (fewer than 14,000 new cases a year in the US), but it is difficult to treat in part because it is a notably heterogeneous disease. Roughly half of all new AML cases are in the elderly and their prognosis is bleak - more than one-third can be expected to die in two months or less and many forgo treatment altogether because of the high toxicity of treatment and the low expected survival benefit.
Thus far, sapacitabine has shown encouraging data with respect to survival. An early-stage single-arm study showed a 30% one-year survival rate (and a complete remission rate of 25%), while a more recent study of sapacitabine in combination with Astex Pharmaceuticals' (NASDAQ:ASTX) Dacogen (licensed to Eisai) showed less than 10% mortality at 2-month follow-up. While extrapolating from single-arm studies is dangerous, it does look as though this drug does extend lives, and does so without intolerable side-effects.
Cyclacel's SEAMLESS study was originally designed as a three-arm study comparing a combination of sapacitabine and decitabine (Dacogen) to sapacitabine alone and dectiabine alone. That study has since been modified to a two-arm study comparing the combination to decitabine alone. The FDA signed off on the SPA (special protocol assessment) and the study should enroll 485 patients.
Balancing Challenges And Opportunities
Not many biotechs in pivotal trials for first-line therapy in an under-served market carry such low valuations, and it's true that there are still plenty of challenges for the company to surmount.
For starters, the company's financial resources could limit the pace of study enrollment. While the SEAMLESS study leader is from the very well-regard MD Anderson Cancer Center (at the University of Texas), it still takes money to enroll sites. At this point, I would expect a pace of enrollment that should have the company in place to submit an NDA in 2014/2015, with launch in 2016.
There is also the risk that the drug simply does not work, or work well enough for approval. There's going to be an interim analysis after 212 patient deaths ("events") and the primary endpoint here is improved overall survival. Based on prior studies, I suspect that sapacitabine will have to show a survival benefit of around 3 months to meet statistical significance and the hazard ratio of 0.725, as well as commercial viability.
By way of reference, Eisai/Astex recently received an FDA rejection letter for dectiabine as a front-line AML treatment due to an unfavorably risk/benefit analysis. While Dacogen seemed to extend survival by about 2.7 months, it didn't meet statistical significance and there some serious side-effects tied to the drug.
While the rejection of this drug is a complicating factor, it may not be as bad as some investors fear. The FDA has allowed experimental, non-approved drugs as controls before, Dacogen is approved for another indication, and insurers to reimburse for its off-label use in AML.
Frankly, AML has been a challenging target for most companies. Genzyme (well prior to its acquisition by Sanofi (NYSE:SNY)) failed with Clolar, Vion failed with Onrigin, and Johnson & Johnson (NYSE:JNJ) failed with Zarnestra. Hopefully Cyclacel has learned from these failures, particularly the failure to run a randomized study (as opposed to a single arm study).
Needing both cash and credibility, it would not be surprising if Cyclacel partnered sapacitabine. The longer Cyclacel waits, the better the terms may be assuming that the data holds out. If the phase 3 data from SEAMLESS supports FDA approval in AML, the sales potential would likely fall between $250 million and $450 million a year.
AML is not the only possible indication for this drug. Cyclacel is also pursuing studies in myelodysplastic syndrome (where Dacogen is also approved) and that could be worth just as much as the AML indication. Cyclacel is also exploring the use of sapacitabine in treating non-small cell lung cancer and other tumors; the lung cancer indication alone would likely chip in another $300 million to $400 million in revenue.
Running the numbers, it's not too hard to come up with impressive-looking targets for Cyclacel. If the drug can get FDA approval and garner $400 million in sales in 2019, the per-share value of this one drug would be around $2.50.
That said, there is potential competition. In addition to stem cell transplants and stem cell therapies, Ambit's quizartinib could be useful in certain types of AML, as well as Novartis' (NYSE:NVS) midostaurin, and Onyx Pharmaceuticals (NASDAQ:ONXX) / Bayer's (BAY) sorafenib in combination therapy.
A Potentially Deep Pipeline
Cyclacel is not just a one-drug story, either. Seliciclib is oral cyclin dependent kinase (NYSEARCA:CDK) inhibitor that has shown potential efficacy in non-small cell lung cancer and could have broader uses as well. While a small phase 2 study did not show any improvement in progression-free survival, there was a notable improvement in overall survival (about 4 months). Given Cyclacel's limited resources, though, I do not believe investors should expect the clinical development of Cyclacel to be a priority, though it would seem to be a very good candidate for out-licensing.
Behind seliciclib is a number of additional pre-clinical compounds, including CDK inhibitors, Plk1 inhibitors, and an oral aurora kinase and VEGFR2 inhibitor. None of these drugs are likely to move forward with any particular speed at this point, due to the company's cash position. At the risk of stating the obvious, cancer drug development is highly competitive and there are a number of companies developing drugs with the same biological targets, including Sanofi, Onyx, Johnson & Johnson and Roche (OTCQX:RHHBY).
Problems With The Balance Sheet And Boardroom?
Cyclacel is not in great shape when it comes to its cash position. The company ended its last quarter with about $28 million in cash - enough to get it through 2012, but likely not enough to see the SEAMLESS study to its end. The company raised cash in the middle of 2011 with Leerink Swan, but it doesn't look as though the capital raise was well-handled, as few existing institutions took part and the stock has been fairly weak since then.
Cyclacel is also a little unusual in that it has a large slug of preferred stock on the balance sheet, as well as some warrants. The preferred stock can be converted into common shares or debenture debt, but it has also given board seats to two outside directors. While these outsiders do not control the board, it seems as though investors have had a lot of issues with how Cyclacel has managed its capital needs.
The Bottom Line
If sapacitabine is approved, Cyclacel will owe royalties to Daiichi Sankyo on the order of high single-digits to low double-digits. Here too was another issue for bears - Cyclacel had to offer Daiichi Sankyo a higher royalty rate to maintain control of the drug (due its not being approved by September 2011). Some bears have not only groused about the higher payment, but have also tried to make the case that if the drug were really worthwhile, Daiichi-Sankyo would want it back. I think that argument fails on a few levels (including the possibility that Daiichi-Sankyo would have to restart the pivotal study from scratch, not to mention a legal fight), but it's been out there nonetheless.
Assigning zero value to seliciclib (despite some suggestions of efficacy) and the preclinical pipeline is conservative, but arguably rational as Cyclacel doesn't have the capital to develop them to approval at this point. That said, these shares look as though they could be worth close to $3 on the basis of sapacitabine in AML and MDS, even with a very high discount rate.
That looks like a bargain compared to the sub-$0.70 price today, but investors should be very careful. Cyclacel still has to shore up its balance sheet and clean up its capital structure and that could result in further dilution. That said, this stock ended up looking more interesting than I initially believed, and I can see quite a bit of appeal for it as a very risky holding in a well-diversified portfolio.
Disclosure: I am long OTCQX:RHHBY.