The Finnish Economy

Finland is a sparsely populated Nordic country. It has one of the best educational systems in Europe and has been ranked as one of the most peaceful, competitive and livable countries in the world. It has a highly industrialized mixed economy with very high per-capita output. Finland has a lot of timer and freshwater resources making it one of the world's leading wood producer. About a third of its GDP is international trade. It is a member of the Euro-zone and uses Euro as its currency, unlike its Nordic neighbors (Sweden and Norway).
Finland is home to Rovio Entertainment - developer of the Angry Birds video game franchise. Of course, while growing up, I considered Nokia and Finland as synonyms. In this article, I introduce some lesser known Finnish companies. Each has a decent dividend yield suggesting that the corporations have dividend friendly policies though most companies went through a bad patch in 2007-08 and had to cut dividends unfortunately.
Company

Ticker

P/E

% Div Growth

1 Year

% Div Growth

3 Year

% Div Growth

5 Year

% TTM Yield (Euro)

% TTM Yield (US$)

Amer Sports

14.65

10.00%

36.40%

-7.90%

3.2%

3.2%

Kone

19.2

55.50%

29.10%

22.90%

3.2%

3.3%

Metso

15.5

9.70%

34.40%

2.50%

4.6%

4.6%

Nokia

(NYSE:NOK)

13.8

-50.00%

-20.60%

-14.20%

5.0%

5.0%

Sampo

11.7

4.30%

14.40%

0.00%

5.5%

5.5%
Dividends as Stock Screen
I firmly believe that dividends are real cash and hard to fake. They are paid out of positive cash flow and while accounting gimmicks (and even fraud) can be used to window dress earnings per share, dividends are typically honest. I end up using current dividend yield combined with dividend history to come up with a short-list of stocks to watch and investigate. I have included a simple chart for each company that shows the Euro dividend amounts which I gathered from the company websites. The dollar amount and current dividend yield is also given along with a pointer to the company's website that lists the dividend history.
Withholding Tax on Dividends
Finland withholds tax on dividends at the rate of 15% for US residents though they deduct taxes at the rate of 28% of other investors. An individual investor can file for tax credit on Form 1040 if the shares are held in a regular brokerage account. There are limits to the amount of foreign tax credit that can be claimed but most investors would perhaps never hit that limit. Amounts up to $300 ($600 for joint returns) can be claimed on the 1040 directly. However, greater amounts or carry-forward/backward requires Form 1116. If the shares are held in a tax deferred account like IRA or 401(k) then there is no mechanism to recover the withholding foreign tax and is lost thereby reducing the effective dividend yield.
Amer Sports OYJ
Amer Sports is one of the world's largest sporting equipment manufacturer in the world. It is a multinational company that has acquired multiple brands over the years. Its current portfolio includes Wilson, Atomic, Precor, Salomon, Arc'teryx, Mavic and Suunto. The company has managed to grow at a decent rate in the last 3 years after cutting the dividend in 2008 like many other companies in Finland. The company website lists a lot of financial numbers along with the last 10-year dividend history though the dividend policy is not spelled out anywhere. The forward yield is approximately 3.2% based on an expected distribution of $0.218 for the 2011 financial year.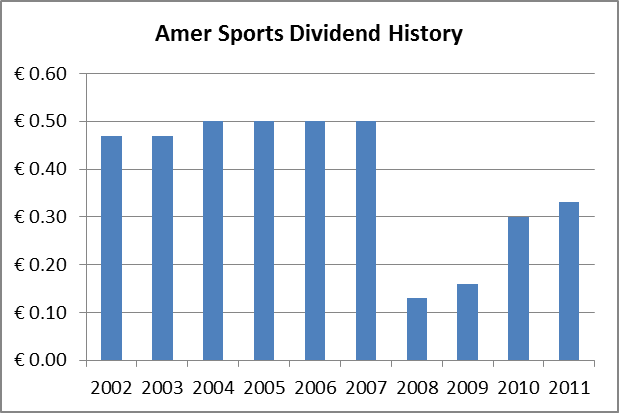 Cargotec Corp (OTC:CYJBY)
Cargotec provides provide cargo handling solutions for marine and offshore operations and local transportation. It has relatively limited history since it was formed in 2005 when it was demerged from Kone (discussed below). It had poor results in 2008 and 2009. EPS and dividends have increased since then and the yield is now approximately 3%. The company's stated dividend policy is - "Cargotec's annual dividend will be 30-50% of earnings per share."
Elisa Oyj (OTC:ELMUY)
Elisa is a telecom company with approximately 2.2 million customers. It offers 3G and 4G network speeds in Finland and has partnerships with Vodafone (NASDAQ:VOD) and Telenor (OTCPK:TELNY). It has a decent current yield but inconsistent dividend history as listed clearly on its website. It had losses in 2002 and 2003 and did not distribute any dividends. After that distributions have consisted of special dividends and capital repayments. The latest dividend would be €1.30 which is the same as last year's amount of €0.90 + €0.40 extraordinary amount. The forward yield is about 8.5% based upon an expected amount of $0.86 assuming a conversion rate of $1.32 per €1.0.
Fortum OYJ (OTCPK:FOJCY)
Fortum is a energy company that generates and distributes power. It operates more than 250 hydro-electric power plants and a few nuclear powers as well. It has a dividend of €1.0 for last 4 years that declined from the €1.35 distributed in 2007. The current yield is approximately 5% based on dividend amount of $0.26 per ADR. I feel that there are better utilities since I do not like my utility investment to cut dividends. The good news is that the EPS increased nicely in 2011 and the payout ratio is only 50% now as opposed to 69% in 2010.
Kemira OYJ (OTC:KMRSF)
Kemira is a chemical manufacturer that oeprates in Municipal, Industrial, Paper and Oil and Mining sectors. It does not have an ADR listing in the US though the dividend history and the website suggests that it may make a decent investment if someone wants to invest directly in the foreign shares that may be available to a US investor as an ORD ticker. The current yield is expected to be about 4.8%.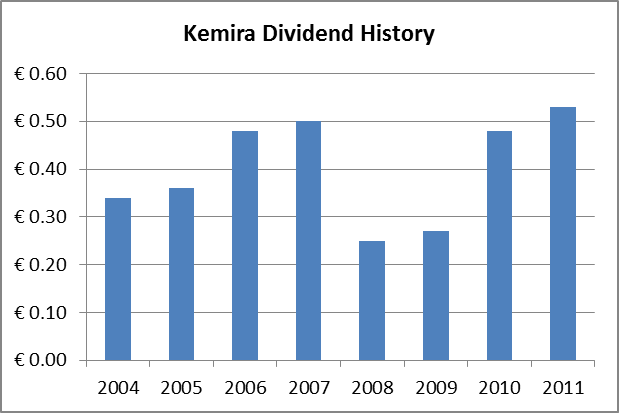 Kone Oyj
Kone is the one of the world's largest elevator and escalator designer and manufacturer. It also sells automatic building doors and provides solutions for modernization and maintenance. Like most other Finnish companies, it has a rich website that has past financial reports (in English) and easily accessible dividend history as well. The company's stated philosopy is - "to take an aggregated view of share price trends and dividends as components of total shareholder return. The growth in share value can also be influenced by the purchase of own shares. Consequently, KONE does not define a separate dividend policy." I find the company attractive based on current yield and decent dividend growth history.
The indicated dividend amount is €1.40 for 2011 which would be approximately $0.92 (each share is 2 ADR) giving a forward yield of 3.3%. One of its biggest competitor is Otis Elevators that is owned by United Technologies (NYSE:UTX).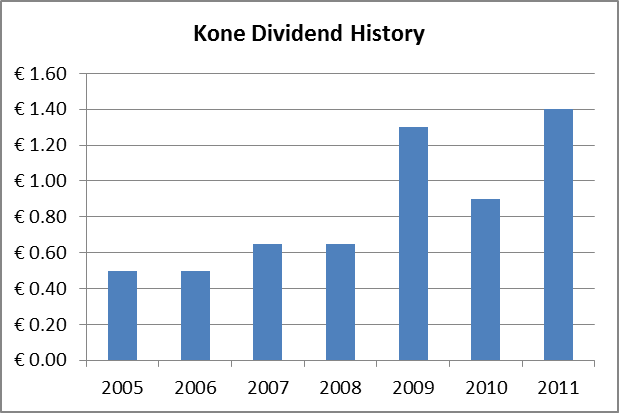 Metso
Metso is a supplier of process industry machinery and systems for the pulp/paper industry, rock and mineral processing, panelboard, power, oil and gas industries. The company states its dividend policy as "distribute at least 50 percent of earnings per share in annual dividends or in other forms of repatriation of capital to its shareholders." It has a good website in English with access to financial reports and dividend history. Like many other Finnish companies, the dividend was cut substantially in 2008 but has since recovered though not at the same levels. The forward dividend yield based upon an approximate dividend distribution of $2.25 is 4.65% at current OTC market price.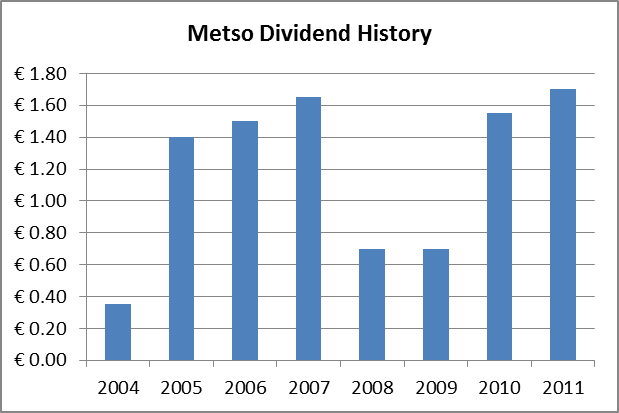 Neste Oil OYJ (OTCPK:NTOIY)
Neste Oil is a oil refining and marketing company. The company's EPS fell drastically in 2008 and dividend was cut as well. Per share key figures are easily accessible in English on the company investor relations website. I didn't dig deeper given the massive cut and no increase for the latest proposed dividend for 2011. The current yield is approx 4%.
Nokia Oyj
Nokia is the world's largest mobile phone manufacturer. It used to command an amazing 40%+ market share in the recent past but has been unable to keep up with Apple and other players from China, Taiwan etc. It still manufactures phones for every market segment and communication protocol and offers various Internet services like applications, games, music, maps and messaging. It also sells networking communication equipment along with Siemens. Nokia is extremely well covered and discussed and I can perhaps add little information or value.
The dividend history was great until 2007 but has been a tragic story ever since. The board proposed a 50% cut for the latest financial year 2011. The yield is still a good 5% but it is not clear whether we have seen the end of cuts. There is a possibility that the dividend may get eliminated completely in coming years as the company loses market share and needs to redeploy funds towards its operations. I would personally stay away from Nokia until it becomes clear if the consumers want the new Windows-based Nokia phones or not.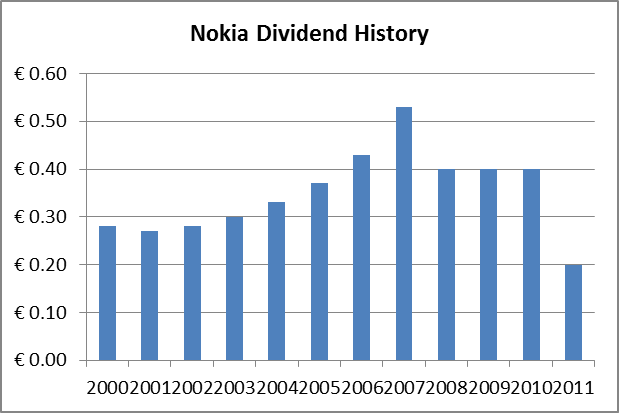 Nokian Tyres (OTCPK:NKRKY)
Nokian Tyres was demerged from the current telecom giant, Nokia Corporation in 1988. It makes after-market premium tires, especially winter tires, for cars, trucks and busses. The company - "plans to continue to distribute approximately 35% of net profits in dividends." The dividend amount for 2011 is €1.2 (approximately $0.8 for each ADR) which makes the yield as 3.25% at current market price. This is a big jump from last year's dividend amount of €0.65 and €0.4 before that. The dividend history is not easily accessible on the company website and I decided not to add it to my watch list for now.
Sampo Group
Sampo Group has two main operations - Property & Casualty Insurance and Life Insurance. It used to have banking operations as well which were divested in 2006 to form the Sampo Bank. The company has a great website with a lot of financial numbers as wel l as years of dividend history. The stated dividend policy is - "total annual dividends paid will be higher than 50 per cent of Group's net profit for the year (excluding extraordinary items). In addition share buy-backs can be used to complement the cash dividend." The growth in the last year slowed and the dividend has only reached where it was 5 years back but it appears that the cut in 2008 was largely due to the ongoing financal crisis and I am willing to watch the company and look for further signs of improvement.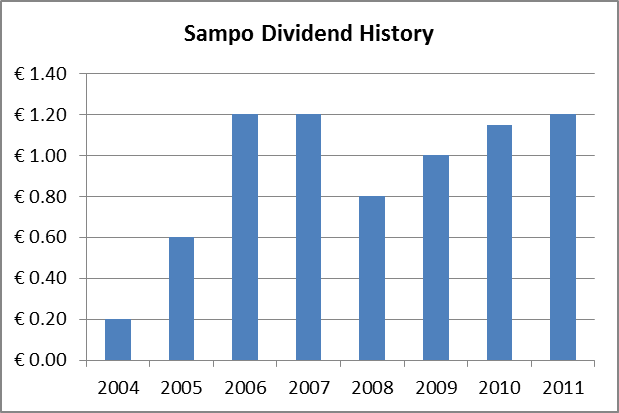 Stora Enso (OTCPK:SEOAY)
Stora Enso is one of the world's largest paper manufacturer and also produces biomaterials, packaging and wood products. It has a decent yield of 5% right now. However, the company reduced the dividend significantly in 2008. Before that had a constant dividend with no increases since 2000 as per the company investor website. Annual reports and other share details are available in English.
UPM-Kymmene Oyj (OTCQX:UPMKY)
UPM-Kymmene is one of the world's largest paper manufacturer. The company website makes it relative easy to find the dividend history. The dividend was €0.75 from 2000 through 2007 and then cut down to €0.40 in 2008. It has since increased to €0.55 in 2010 and proposed €0.60 for 2011 but the EPS fell down 20%. I decided not to add this stock to my watch list.
Wärtsilä Oyj (OTCPK:WRTBY)
Wärtsilä is a global leader in complete lifecycle power solutions for the marine and energy markets. Its combustion engines power one in three ships and the company services one in two ships sailing the seas today. Net sales reduced in 2010 compared to 2009 and then again in 2011 though profits have stabilized via margin improvement. The company's "target is to pay a dividend equivalent to 50% of operational earnings per share." The investor website tabulates the dividend distribution for the last 10 years which show an amazing growth till 2007 but a major cut in 2008. The current yield is approximately 3.3% but since the dividend is proposed to be cut again for the year 2011, I have decided not to look further into the company.
Concluding Remarks
The US market is at a 4-year high and there are few bargains in the dividend bucket. I feel that most of the dividend (growth) stocks are fairly valued. Even though I consider myself a long-term investor, I am slowly selling some of these stocks that I purchased from 2007 to 2009. I want to invest the sale proceeds and found that there are some solid European companies still available at value prices. I do not hold any Finnish stocks and I only found Kone to be attractive for now. I may start watching a few more after I have bought some of my favorite stocks from Netherlands, Sweden, Switzerland and Germany. I look forward to discussing these and any other stocks in the comments section of the article.
Disclosure: I have no positions in any stocks mentioned, and no plans to initiate any positions within the next 72 hours.
Additional disclosure: I will look at adding Kone after I dig deeper into the company and after buying some of the stronger European stocks that are on sale right now.