As an investor, most of us have looked in the rear view mirror and dreamed of owning Microsoft or Google or Apple when they were unrecognized and unloved … long before they multiplied in value and turned their early owners into millionaires, multiple times over.
While it is not easy to pick potential winning stocks it is relatively easier recognizing the potential of an entire geographical region and participating in its growth. Take for example the Asian growth of the past 2 decades. Investors that recognized the potential of Asia and invested early in the "four tigers" of Hong Kong, Taiwan, Singapore and South Korea in the early 90s, and held patiently have been richly rewarded.
And now I am seeing a similar opportunity emerging. In the hedge fund circles, there is a classification by geographical markets based on their perceived risk and transparency. There are developed markets like those of the US, Europe, Japan. There are emerging markets of Asia and Latin America and there are the so called frontier markets of Eastern Europe, Middle East and Africa.
As a hedge fund manager, I have been hearing a lot of chatter recently about Africa among my colleagues. As part of the information flow I receive I have seen some startling statistics which I was not aware of, that I want to share with you today.
1. Outperformance of Africa over the past decade
In fact, the potential for investing in Africa has already begun to be realized. In the past decade, an investment in an Africa Composite benchmark has significantly exceeded the performance of the S&P 500 Index, and even outpaced the MSCI Emerging Markets Index on a buy-and-hold basis, as shown below.
click to enlarge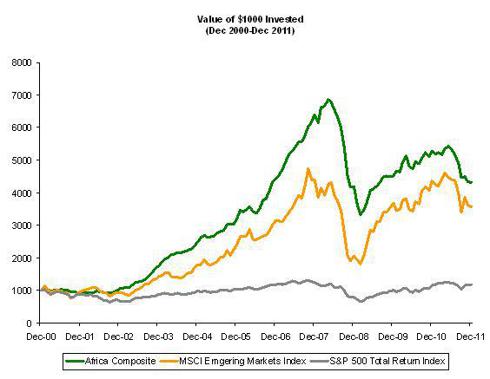 Click to enlarge
2. Valuations are attractive Compared to developed or other emerging markets, African markets and stocks trade at lower multiples, are less liquid, have lower coverage by Wall Street analysts and are not followed by large money managers. But this is bound to change and once it does, the valuations will become rich along with the investors that take advantage of this opportunity early.
3. Amazing Risk-Return Metrics: African market's Sharpe ratio or the ratio of returns to the volatility of those returns, is better than S&P 500, various Emerging market indices and even the BRIC Index. This is a good metric for calculating if you are getting rewarded for the risk you are taking. By this measure investors in African markets have been richly compensated and for lower risk.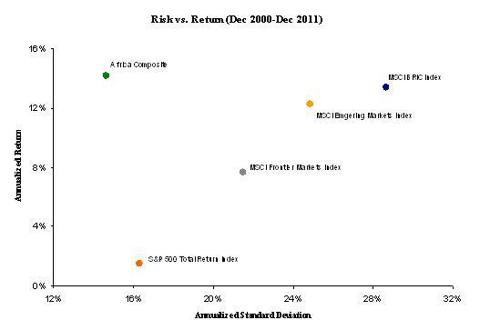 Click to enlarge
Steadily Increasing Capital Flows Steadily increasing capital flows - Capital flows to Africa now exceed those of three (3) of the four (4) BRIC countries.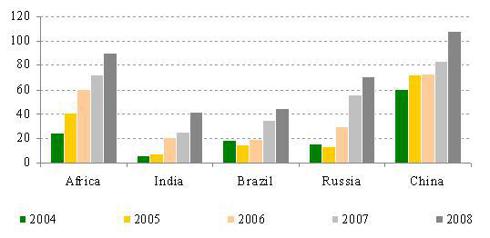 Click to enlarge
In summary, money will be made in markets that have the highest economic growth potential. It is clearly not going to be in the Western markets and even the Asian markets have seen the juiciest returns already made as capital has flooded in and the valuations have soared over the past 2 decades.
The next and probably the last frontier for outsized returns is clearly Africa. Over the next decade, more analysts and big-money global investors will undoubtedly discover what the diverse continent has to offer, investors who invest now will clearly beat the herd.
At the recently concluded World Economic Forum in Davos, the headline that came out was:
"China and Africa to be centre of world trade"
George Soros at at an economic conference in Oslo said,
"Africa is an attractive area to invest in"
Steve King, group economist at HSBC, predicts,
"A return to the world economy of 1,000 years ago - with the centre of world trade centered on China, India, Indonesia, and the east coast of Africa."
So one might ask why is the world so excited about Africa. The answer is, "natural resources". Africa is home to:
13% of the global reserves for oil
50% of proven gold reserves
50% of proven iron ore reserves
60% of cobalt
90% of the platinum group reserves
China, perhaps one of the hungriest consumer of natural resources and a savvy investor, is buying up mining rights and signing land deals everywhere in Africa.
Now, the question is how does an individual investor in the US invest in this burgeoning opportunity and take advantage of massive profit potential? The answer is the Nile Pan Africa Fund, Class 'C' shares, symbol, NAFCX.
The Nile Pan Africa Fund is an actively managed mutual fund that has on the ground analysts in 53 countries and invests in companies that derive most of their revenues from companies doing business in Africa. These companies trade on global stock exchanges ranging from the US, Europe, South Africa and even the smaller stock exchanges Ghana, Tanzania, etc.
Disclosure: I have no positions in any stocks mentioned, and no plans to initiate any positions within the next 72 hours.