Dunkin Brands (NASDAQ:DNKN) has seen a stellar performance since it IPO'ed last year. The company recently announced that its biggest shareholders will be selling 22 million shares in what is deemed a secondary offering. The offering will not bring any proceeds to the company, but will allow its private equity shareholders to lower their stakes in the company.
The PE firms selling are Bain Capital LLC, the Carlyle Group LLC and Thomas H. Lee Partners LP, which each hold 22.2 million shares, or about 18% of the company. These firms have been lowering their stake at a rapid pace. They sold a large amount in the IPO and then again in November.
While the company has instituted a decent dividend of almost 2%, this is mainly due to PE firms opting to cash in the company as quickly as possible.
I recommend investors stay away from Dunkin brands for a multitude of reasons. One is valuation, which Dunkin Brands is trading at a forward P/E of 21, when the company's growth projections do not justify such a valuation.
The other issue I have is competition. Their are three other competitors I see in the space that may be better off. McDonald's (NYSE:MCD), Starbucks (NASDAQ:SBUX), and Krispy Kreme (NYSE:KKD) have all seen great growth in their breakfast segments. Not only are these companies great, but they do not have private equity firms dragging down the stock prices with constant stock sales.
McDonald's just recently announced that they will be expanding upon their pastries during breakfast hours. The new line of baked goods, which will be available all day, will feature a cheese danish, two kinds of muffins, banana bread and vanilla scones. The pastries will also be made fresh.
Starbucks has also seen a strong rise in market share compared to many of its competitors.
click to enlarge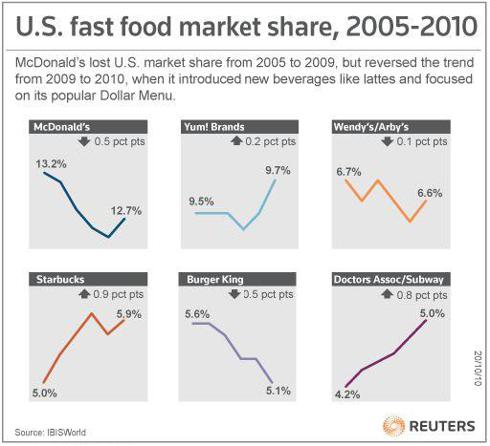 Click to enlarge
Krispy Kreme has seen massive growth as well in the past couple of years. Last year, Krispy Kreme saw a 26% growth in revenue last year. The company has been pushing a strong marketing effort as well as increase store growth.
Dunkin Brands is far from being a great company mainly due to its exposure to these PE firms. These firms will do their best to make money, even if it is at the cost of current shareholders, they will find a way. Additionally, Chairman Jon Luther will be selling 436,500 shares, about 32% of his current holdings of 1.3 million shares.
I would encourage investors to stay away from Dunkin Brands and opt for better companies in the segment with cheaper valuations. PE firms have too much say in this company and they don't really seem to care about the operations of the company.
Disclosure: I have no positions in any stocks mentioned, and no plans to initiate any positions within the next 72 hours.