Prospects for Dell (NASDAQ:DELL) appear to be very mixed. After a disappointing 4th quarter report the stock just hasn't regained traction. As this graph provided by Barchart shows, the stock has hit price resistance point and can't seem to return to that 18 dollar level:
click to enlarge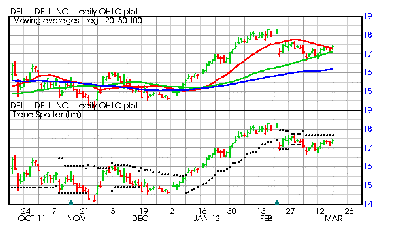 Although the rest of the market is in a rally with the Value Line Index up 17% in the last 6 months, Dell has only been able to increase by 6% over the same period: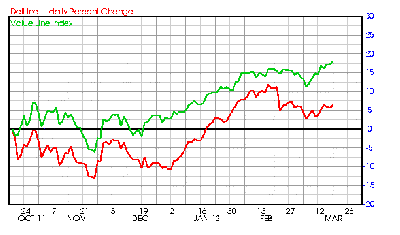 Dell Inc. provides integrated technology solutions in the information technology (IT) industry worldwide. It designs, develops, manufactures, markets, sells, and supports mobility and desktop products, including notebooks, workstations, tablets, smartphones, and desktop PCs, as well as servers and networking products. The company offers storage solutions, including storage area networks, network-attached storage, direct-attached storage, and various backup systems. It also provides IT and business services comprising transactional services, such as support, managed deployment, enterprise installation, and configuration services; outsourcing services, including data center and systems management, network management, life cycle application development and management, and business process outsourcing services; and project-based services consisting of IT infrastructure, applications, business process, and business consulting services.
In addition, the company offers third-party software products comprising operating systems, business and office applications, anti-virus and related security software, and entertainment software; and peripheral products, such as printers, televisions, notebook accessories, mouse, keyboards, networking and wireless products, and digital cameras. Further, it provides financial services, including originating, collecting, and servicing customer receivables related to the purchase of its products and third-party technology products.
The company sells its products and services directly through its sales representatives, telephone-based sales, and online sales; and through retailers, third-party solution providers, system integrators, and third-party resellers. It serves corporate businesses, law enforcement agencies, small and medium businesses, consumers, and public institutions that include government, education, and healthcare organizations. Dell Inc. was founded in 1984 and is headquartered in Round Rock, Texas. (Yahoo Finance profile)
Factors to consider:
Barchart technical indicators:
32% Barchart technical buy signal
Trend Spotter sell signal
In spite of the sell signal the stock is trading above its 20, 50 and 100 day moving averages
The stock has hit a resistance but trades only 5.28% off its 1 year high
Relative Strength Index 52.96%
Barchart computes a technical support level at 17.10
Recently traded at 17.60 with a 50 day moving average of 17.13
Fundamental factors:
Wall Street has the stock on their buy lists and 26 brokerage firms have assigned 33 analysts to follow the numbers
Analysts revenue projections aren't rosy and they predict revenue will only increase by .60% this year and another 1.90% next year
Earnings are expected to be flat this year, increase slightly by 2.30% next year and increase annually by about 5.89% over the next 5 years
These slim forecasts still result in the brokerages releasing 11 strong buy, 9 buy, 9 hold and 4 under perform recommendations to clients
Much of the analysts' predicted price increase of 17% - 21% annually for the next 5 years comes in an increased P/E ratio
The stock sells at a P/E ratio of only 8.10 in a market where the average stock sells at a 15.80 P/E ration
No dividend even though the company has enjoyed a positive earnings stream for years
The company enjoys an A Financial Strength rating
The company is investing over a billion dollars in R&D
Sales and earnings have been hurt by hard drive supplier problems in Asia and weakness in technology budgets in US and Western European companies
General investor interest:
As measured by the opinions of the readers of Motley Fool the individual investors is not as optimistic as the professional analysts
Of the 5,596 readers expressing an opinion only 71% think the stock will beat the market - This is low for Fool readers
The more experienced and savvy All Stars are in agreement with a 72% vote for the same result
I note that when I look at the Fool readers who have made money on the stock they were mainly short sellers
The columnists and analysts Fool follows still give an 87% positive vote on the stock with J Greenblatt and Maxim Group recently giving new buy recommendations
The market has the final word and when I compare the stock's price over the last 6 months to its major competitors I find Dell up 6%, and Hewlett Packard (NYSE:HPQ) down 5% but IBM is up 15% and Cisco (NASDAQ:CSCO) up 16%: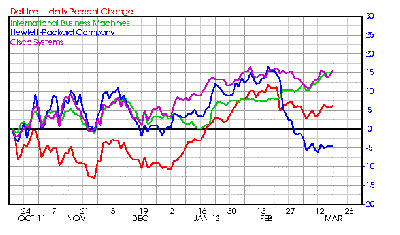 Summary
Dell doesn't have projections of greatly increasing revenue and earnings and most analysts only see the stock's price increasing by trading at a better P/E. Traders might want to watch the 14 day turtle channel in the chart below to play any short term P/E gains but I think the rest of investors can find better revenue and earnings projection elsewhere. I think the analysts are wrong on their price increase projections for the next year: