Back in September, I wrote the following in recapping Conn's (NASDAQ:CONN) fiscal second quarter earnings:
Even when discounting the value of inventories and consumer receivables, CONN looks to be trading just slightly higher than its liquidation value. Considering the company's history of generating cash flow, and its forward P/E of 11 at the midpoint of guidance, CONN looks like a bargain.
CONN closed at $7.70 that day; after a short-term dip, the stock indeed proved to be a bargain. It closed Monday at $14.55, its highest close in two and a half years. The stock is up 227% from its lows of early 2011, and has nearly tripled from its $5/share range before the second quarter earnings beat.
To be sure, the company has performed well, leading to the quickly rising share price. Those second quarter earnings were a key catalyst; the stock jumped 38% as adjusted earnings guidance of 65-75 cents per share for FY12 (ending January) was well ahead of Wall Street estimates. Above-average fourth quarter revenue sparked another rally last month, as same-store sales rose 12% on higher sales of mattresses and appliances, while margins rose 500 basis points.
What has been striking about CONN's bull run is that is has come as two of its largest competitors, Best Buy (NYSE:BBY) and RadioShack (NYSE:RSH), have struggled. The chart tells the story:
click to enlarge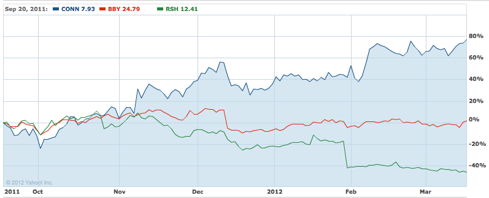 Click to enlarge
CONN in blue; BBY in red; RSH in green; six-month chart courtesy Yahoo! Finance
I covered RadioShack's struggles in detail last month, and while Best Buy's breakeven performance doesn't look as awful as RSH's collapse, bear in mind that the S&P 500 is up nearly 20% over this time period, making BBY a significant laggard.
Now, it's worth noting that Conn's differs from RadioShack and Best Buy in two key ways. First, Conn's is solely a regional play; 57 of the company's 65 locations are in Texas, with six more in Louisiana and two in Oklahoma. This has lessened the company's exposure to a weak national economy, as its home state has survived the recession better than most: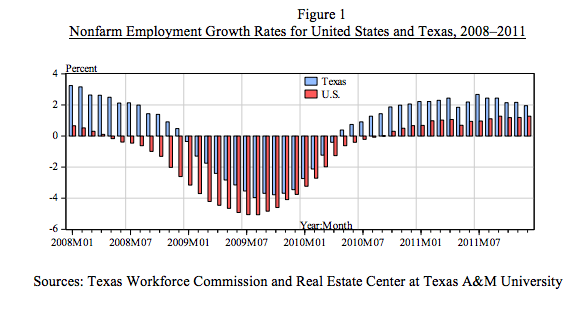 Click to enlarge
Secondly, and more importantly, Conn's has kept the majority of its financing in-house, and its credit and rent-to-own programs provide an enhanced ability to sell higher-priced items and create repeat business. 58% of the company's sales were financed in-house in fiscal 2010 (ending January 2011), according to the most recent 10-K. The company has worked to improve the credit score of its outstanding financings and to lower the delinquency rate after a spike in 2010 that damaged CONN's share price. In its earnings guidance for 2011 and 2012, the company expects bad debt to be between 4 and 5% of its balance in the fourth quarter (ending January 2012), and 3-4% for the fiscal year ending January 2013.
Finally, Conn's is showing strong sales growth. The company anticipated the struggles in electronics -- notably televisions -- by expanding its furniture department. Those sales grew 37% year-over-year in the fourth quarter, with margins that in 2011 were the highest of any of the company's major categories. Overall, same store sales were up 12.1% in the fourth quarter, following an 18.9% rise in the third quarter. This top-line improvement is expected to translate to the bottom line; adjusted earnings for 2011 were guided to 55-65 cents after the third quarter, but the company initiated 2012 guidance for between $1.05 and $1.15 per share. (Fourth quarter margins beat the company's estimate, so it seems likely that 2011 results, reported on April 3rd, will be at least toward the higher end of the 55 to 65 cent range.)
All told, the company -- and, quite obviously, the stock -- are performing well. But there are some concerns. Conn's maintenance of its own credit portfolio adds real risk to the stock, particularly given the nature of many of its borrowers and Conn's refusal to sell its receivables to third parties. The weighted average credit score of the company's balances is just 591, well below average. As noted, the company has improved its credit metrics as of late, lowering charge-offs and delinquencies, but an unexpected economic downturn would have a "double whammy" effect on the company. Not only would sales likely decline, but the value of its $677 million loan portfolio would take a hit as well.
Conn's efforts to manage its credit portfolio have improved its performance, but the company expects additional improvement. As noted, 2012 guidance rests on the assumption that the company's charge-off rate will drop to 3-4%, from 4-5% in the fourth quarter and 5.5% in the first nine months of 2011. The failure to do so would likely impact earnings; a 100 basis point change in the bad debt provision costs the company a little over 20 cents per share in earnings, based on the current outstanding balance. That guidance also implies that margins will improve slightly from 2011's performance, though the fourth quarter appears to have come in at the high side of the company's 28-30% projection for 2012. Finally, 2012 guidance assumes that selling, general and administrative (SG&A) expenses will be between 28.5 and 29.5 percent of sales, down from 33 percent in the first nine months of 2011.
Should the company hit all those performance targets -- hardly an easy task, particularly if the economy does not rebound as strongly as many would hope -- the stock is still trading at 13.2 times forward earnings. That compares to 9.3x at RadioShack and just 7.1x at Best Buy. Conn's free cash flow generation has been fantastic, going from $54 million in 2009 to $60 million in 2010 to $72 million in the first three quarters of 2011. But 2011 numbers were aided by inventory reduction, and annual interest expense of about $20 million lowers levered cash flow to about 8-12% of current market cap annually over the last three years. Those numbers are strong, but hardly spectacular.
Investors should simply be wondering if an electronics retailer with nearly $12 per share in net debt should be valued at 13 times forward earnings. Given the weakness in the sector, and reasonable fears about a correction in the broad market, such a valuation seems too high. Shorting CONN is a risky play; its short interest float is about 14% of shares outstanding, and many bears have been burned in the company's rise over the last twelve months. Still, the high debt, and the company's reliance on both credit and well-above-market-average sales growth make the stock acutely reliant on economic and market sentiment. If either one slips, CONN will give back some of the remarkable gains it has made over the past year.
Disclosure: I have no positions in any stocks mentioned, and no plans to initiate any positions within the next 72 hours.