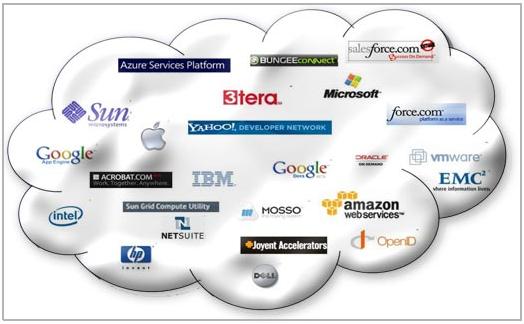 "The cloud" has always been a metaphor for the Internet - used in several diagrams to demonstrate data travel. However, the term gets a bit more complicated when joined with the word "computing." The understood reference often defines servers that are available 24/7 over the Internet in a virtual capacity. If you want to get a bit more technical and perhaps broad, one can argue that "the cloud" can be any type of proprietary data access that is composed or retrieved outside corporate firewalls. This may also include the typical outsourcing.
The challenge for investors is trying to figure out how to make money on this new crave. In doing so, the important thing is figuring out which companies stand to benefit more so than others. As the graphic above shows, one can easily be pulled in a number of directions. This is why it is important to focus and develop of strategy to support your ideas of which firms will thrive and offer a chance at producing solid market-beating performances. Here are my top five.
Red Hat (NYSE:RHT)
One name that I'm starting to like more and more in this sector is Red Hat. As far as the cloud is concerned the company takes a different approach from the standpoint of "open source." Red Hat's strategy hinges upon its belief that openness in software and architectures is a big win for users. The company has long been an advocate of the "open" initiative and have bet quite a bit that customers will recognize the benefit of being "open" and the scalability and flexibility that it offers - particularly as it relates to the cloud and 24/7 accessibility.
The company believes that having an open architecture and approach when building a cloud matters quite a bit. As far as it's concerned, only an open cloud allows customers to manage diverse infrastructures by bringing them together under the same cloud architecture. Instead of creating a new cloud silo or forcing them to (impractically) start their IT over from scratch, an open cloud extends its benefits to the entire IT infrastructure, delivering greater efficiency and agility and putting them in control of their technology road map and, ultimately, the future of their IT.
So far this approached has worked if you're measuring success by the company's stock price. I bring this up because I'm not going to pretend that the stock is cheap. It's not. Trading at $51 with a P/E of 70 it is clear that Wall Street expects great things for this company and remarkably it has been able to produce. But as far as tech companies are concerned an inflated valuation has rarely (if ever) mattered. So as long as the company continues to produce I have no reason to believe that its stock price should drop off in any considerable way.
VMware (NYSE:VMW)
As with Red Hat, VMWare is yet another cloud name that has become pretty expensive. The stock closed on Monday at $106 and now has a P/E of 63. But as with Red Hat and Salesforce.com (NYSE:CRM), it continues to impress investors each quarter while offering little doubt that its valuation is not justified. As far as the cloud goes, the company stands out because it is one that focuses on the hybrid concept - one that allows clients to create and manage the applications and services that you need to run businesses most effectively.
Its hybrid cloud services features high performance, comprehensive security, high availability to deliver exceptional quality of service, interoperability and the ability to scale with business operations. The good thing is the company also provides clients with flexibility and portability to move applications between clouds without rewriting them - from private to public clouds and back. From an investment standpoint it also helps that the company holds almost 75% of the server virtualization market share.
However, it is hard to build a case for the company that it can still grow at the rate that it previously did - particularly on both increasing penetration of server virtualization, and at the same time compete with other firms in the virtual desktop market. Because of its success the company has become a target of the competition, but that is a great problem to have. And for investors, an excellent risk to take.
Microsoft (NASDAQ:MSFT)
Software giant Microsoft has excited me all year but the excitement has been taken up an extra notch as it approaches its release of Windows 8 - an event that I have recently stated will add $8 to its share price. However, the biggest impact in my opinion is going to arrive with the company's cloud strategy, something that I think already sets it apart from other names such as Oracle and IBM (NYSE:IBM).
For software giant Microsoft, its cloud initiative has been ongoing as several of its most popular titles are becoming available on a subscription basis instead of the typical software box. But I have come to realize that its cloud strategy comes in all forms, but none will be as significant as its Azure platform, one that is designed to be open and flexible that enables users to build, deploy as well as manage applications across global networks. What makes this platform so unique is that it also allows easy integration of public cloud applications to existing enterprises while also enabling networks to build and run highly available applications without focusing on the infrastructure.
How successful that transition remains to be seen. But considering the fact that several other cloud firms have made significant acquisitions for cloud advancement, Microsoft will certainly need to step up its game in order to leverage its enterprise dominance. From an investment standpoint, at $32 and trading at a P/E of 11, value investors with 12-24 month investment horizons should consider giving the company a long look at current levels and expect that Windows 8 and Azure to bring in some significant gains.
Oracle (NASDAQ:ORCL)
Database giant Oracle will be releasing its earnings this afternoon after market close and I recently offered some reasons why it should be considered ahead of its announcement - one of these reasons has to do with its cloud initiative. As with Microsoft, Oracle will have a say in the cloud footprint when it is all said and done. For now, the question is which one is more ready to address the demand that it will require. I am not ready to take sides at this point, but I will say that these two will be one of the leaders in an overly crowded space. Oracle Exalogic Elastic Cloud X2-2 is a standard that will indeed become a force. The X2-2 is considered somewhat of a building block that provides a fully integrated Private Cloud platform that is ideal for a wide range of mission-critical enterprise application workloads, from middleware and custom applications to packaged applications from Oracle and hundreds of third party application and tool vendors.
How can investors not get excited? As the cloud continues to consolidate the company will remain one of the top players within the space as well as the enterprise. The company realizes the importance of not resting on its laurels because the competition for its current business as well as those heading for the cloud is growing fierce - particularly from IBM and Microsoft. But managing the competition is nothing new for the company. Yet, it would seem that the market would have understood this and not have overreacted to its recent report. As the stock is now trading at $30 with significantly more upside over the next 12 - 24 months, value investors would be vise to make a play here as the stock can reach $40 to $45 during that span.
EMC (EMC)
As far as cloud titans are concerned a list would not be complete without EMC. The company focuses on making corporate infrastructure simpler to manage and more efficient to operate. Its cloud solutions allow companies to establish a presence by utilizing virtualization technology. The company makes this complicated endeavor as simple as possible from a management standpoint and brings efficiency to the operation. What also makes EMC so special is the fact that is has partnered with several of companies that it also competes with. As far as the stock is concerned, it is certainly not cheap at a P/E of 26 and sitting at its 52-week high of $29.
Though the company also enjoys a strong share as well as a great reputation, one has to think that the competition will eventually catch up. Names such as Hewlett Packard and Dell (NASDAQ:DELL) come to mind in terms of the competitive threats. EMC could grow its cash flow at less than 5% from here on and still be undervalued by around 20%. Although It will be hard-pressed to outperform if IT spending crumbles in 2012. However, today's price makes this look like a risk worth taking. Investors may want to wait a bit to see if the market strips out even more expected growth and valuation, but a price in the low $20s or lower it would be extremely hard to pass up.