And Lord, we are especially thankful for nuclear
Power, the cleanest, safest energy source there is.
Except for solar, which is just a pipe dream.
- Homer Simpson, The Simpsons
Several factors have converged of late to produce what we perceive to be an attractive entry point for uranium miners. Cameco (NYSE:CCJ), as North America's largest uranium miner, is in our judgment a rock solid way to take advantage of the industry's growth and upside.
Despite high profile nuclear accidents at Chernobyl, Three Mile Island, and most recently Fukushima, which all frankly have had the impact of scaring the pants off investors, experts insist that modern safeguards at nuclear power plant facilities make for a safe and "clean" energy source in nuclear power--"clean" in reference to nuclear's small carbon footprint. Nonetheless, the market reacted to uranium miners and nuclear power companies brutally following the March 2011 Japanese earthquake, driving down prices to levels from which they have yet to recover.
While a lot of fear and bluster surrounds the nuclear industry at times, the price action following Fukushima was based as much on actual revisions to production outlook as it was on vague trepidation. In the disaster's wake, as several countries made commitments to reducing or eliminating entirely their reliance on nuclear power--most notably Germany with a planned close of all reactors by 2022--the International Energy Agency halved its estimate of additional nuclear generating capacity to be built by 2035. The second half of 2011 also saw a global economic slowdown, sending uranium prices falling even further.
To contextualize the uranium industry today, we can look at the following 20+ year price chart of uranium spot. Notice the dramatic spike and bust beginning in 2004 and ending with the financial crisis in 2007-2008. After dropping following the dual shock of Fukushima and the economic slowdown in the second half of 2011, prices seem to be stabilizing just above $50 today, which might indicate a roughly 20% upside from current levels to recent, pre-Fukushima highs. Additionally, given rising crude prices and the trajectory of emerging market growth, it is not a stretch in our estimation that market circumstances could arise during the next decade such that uranium's 2007 highs are retested.
(Click charts to expand)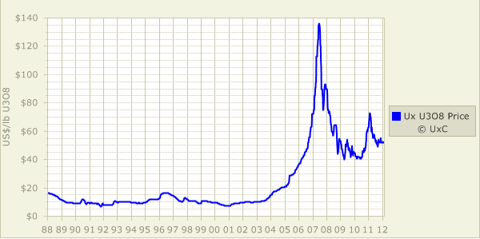 And below is a five-year chart of Cameco relative to the S&P 500 (courtesy of Yahoo! Finance). You can see the price fallout Cameco experienced from the Japanese earthquake as the stock begins to diverge from the greater market in the quake's aftermath (March '11). The event set off a price discrepancy between CCJ and the S&P that now stands in the magnitude of 40%.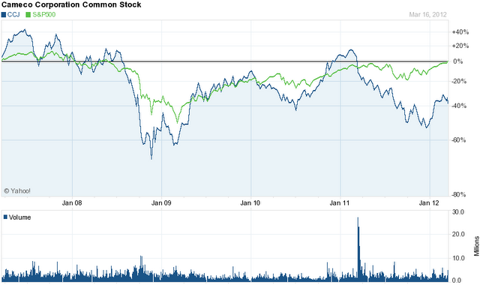 Looking ahead, the market may be pricing uranium companies for stagnant growth given the fear and uncertainty surrounding nuclear energy; yet, when you do the math on uranium producers, the sharp slope of their growth trajectory against a backdrop of rising demand is unmistakable. In a report updated last month, the World Nuclear Association identified over 60 nuclear reactors under construction in 14 countries. In China alone, where there are now 14 operating reactors on the mainland, construction is under way on 26 reactors today, with plans to more than quadruple the country's nuclear capacity by 2020. We see similar trends in other emerging economies, particularly in India and Russia, as well as continued commitment to nuclear power in the United States.
With fossil fuel prices rising, widespread international concern over carbon emissions, and a desire among many countries to achieve a measure of energy independence, nuclear power occupies a significant place in global energy policy post-Fukushima. With the rise of China and the great emerging economies--and barring any further unforeseen disaster--we are bound to see significant development of nuclear power plants over the next two decades and, correspondingly, increasingly higher demand for uranium.
Cameco is poised to benefit from this demand given its dominant size and aggressive global positioning. At the same time, however, CCJ is trading at 20 times current earnings, 14 times forward earnings, and 1.8 times book value--we typically like to see better multiples before jumping in to an investment in this industry, as mining peers are priced at moderately lower levels. Further cause for caution is the advent of the major run-up in stock price during the first two months of 2012, which saw Cameco's stock jump 36% before coming back down to current levels (about 24% YTD). Ultimately, however, the March price retreat has been welcome, and we recognize how immensely rare it is to discover a growth and value story as simultaneous and complete as Cameco. We like Cameco as a risk moderated play on what we see as the inevitability of rising uranium prices over the next decade.
Potential alternatives to Cameco include smaller uranium miners, which, though more volatile, may present higher upside. These include Denison Mines (NYSEMKT:DNN), Uranium Resources (NASDAQ:URRE), Uranerz Energy Corp (NYSEMKT:URZ), and Uranium Energy Corp (NYSEMKT:UEC). For investors who would prefer a broader exposure to the industry, we recommend Global X Uranium ETF (NYSEARCA:URA). Market Vectors Uranium & Nuclear ETF (NYSEARCA:NLR) is another option. Finally, as a play on a utility that generates, as one component of its business, nuclear power, Exelon (NYSE:EXC) is a popular holding and offers a solid dividend yield nearing 4%.
Disclosure: I have no positions in any stocks mentioned, and no plans to initiate any positions within the next 72 hours.