Pockets of value are harder to find in a market that has increased over 25% over the last six months. The financial sector is actually outperforming the market after years of underperformance, but still has a long way to go to close the gap in three year performance. Here is a financial equity that is unloved and sparsely followed, but has a very low valuation and pays a dividend north of 5%.
"QC Holdings, Inc. (NASDAQ:QCCO) provides various retail consumer financial products and services in the United States. The company offers payday loans that provide cash to the customers in exchange for a promissory note with a maturity of two to three weeks." (Business Description from Yahoo Finance)
7 reasons QCCO is a Solid buy at under $4 a share:
The stock has a robust 5.4% dividend yield. I would also look for the company to increase the dividend provided it hits its earnings estimates over the next 12-18 months.
Insiders have purchased over 100,000 shares in the last six months.
The stock is cheap at 79% of book value and sells at just 1/3 of annual revenues
The stock has a forward PE of less than 6 and the one analyst that covers the stock has a price target of $5 on QCCO.
The stock sells for less than 4 times operating cash flow and is valued at around $180,000 a branch.
The company has done a good job over the last few years diversifying away from just being a provider of payday loans and has brought those revenues down to less than 2/3's of its total revenue base. This trend will continue as it seeks to expand its other revenue sources such as used vehicle loans.
The stock was over 3 times higher prior to 2008, has long term technical support at these price levels and is right at its 200 day moving average (See Chart)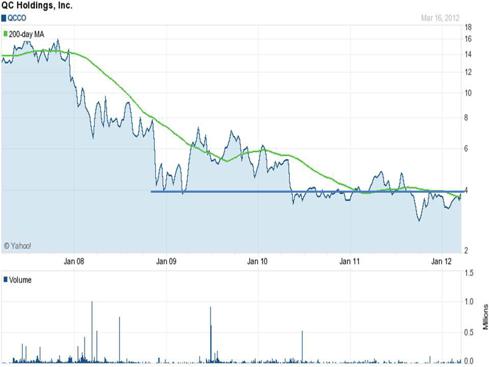 Click to enlarge
Disclosure: I have no positions in any stocks mentioned, but may initiate a long position in QCCO over the next 72 hours.