By: Brendan Gilmartin, VP Research
Overview
FedEx (NYSE:FDX) is scheduled to report 3Q 2012 earnings before the bell on Thursday, March 22. The results are typically disseminated at 7:30 a.m. EST and will follow with a conference call at 8:30 a.m. Profits from FedEx are widely seen as a proxy for economic growth and tend to heavily influence the broader market gauges, including the equity index futures.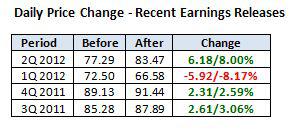 Outliers and Strategy
Key measures:
Earnings Per Share: FedEx typically reports a "clean" number for Earnings Per Share that is comparable to consensus estimates.
Earnings Per Share Guidance (4Q 2012): Note that FedEx tends to offer fairly conservative guidance. The current estimate is $1.99 for 4Q 2012.
Earnings Per Share Guidance (FY 2012). The underlying expectation is that FedEx will maintain the previously issued outlook of $6.25 to $6.75. An upward adjustment could lift the shares higher.
FedEx previously reported it projects EPS to be $1.25 to $1.45 in the third quarter quarter and $6.25 to $6.75 for fiscal 2012. The Street estimates are $1.35 and $6.37 per share, respectively (Source: Yahoo Finance).
Recent News
03/19: Citigroup raised its price target on FedEx from $95 to $110 and reiterated a Buy rating, according to StreetInsider.com.
03/08: Deutsche Bank slightly lowered its 3Q 2012 earnings estimates on FedEx, according to a post on Benzinga.com. The firm reportedly cut its 3Q EPS estimate from $1.32 to $1.30 (consensus is $1.35), based on several factors including macroeconomic uncertainty, geopolitical risks, high oil prices, and slower growth in China. The firm maintained a Buy rating.
03/07: Barclay's maintained an Overweight on FedEx with a $116 price target, according to StreetInsider.com. The firm noted that higher fuel prices are a bigger concern for the recent 3Q 2012, but manageable, given the recent strength in the U.S. economy.
02/17: FedEx declared a quarterly cash dividend of $0.13.
02/06: Bank of America upgraded FedEx from Neutral to Buy and raised the price target from $91 to $112, according to a post on Benzinga.com. The firm points to the strong earnings at the time from UPS, based on a strengthening domestic backdrop.
Technical Review
FedEx shares are up close to 14% YTD, closely tracking its rival, UPS Corp. (NYSE:UPS). After a recent thrust higher, however, the shares failed to overtake the previous high near $97.50 back in mid-February. The Relative Strength Index (RSI), MACD and 20-Day SMA have all flattened over the past week - signals that near-term momentum is waning in advance of the 3Q earnings release. Should results and guidance surprise to the upside, look for initial resistance at the aforementioned peak near $97.50, followed by the 52-week high of $98.19. Conversely, support is at the 50-day SMA near $92.00, with potential downside risk to $87.50. (Chart courtesy of StockCharts.com.)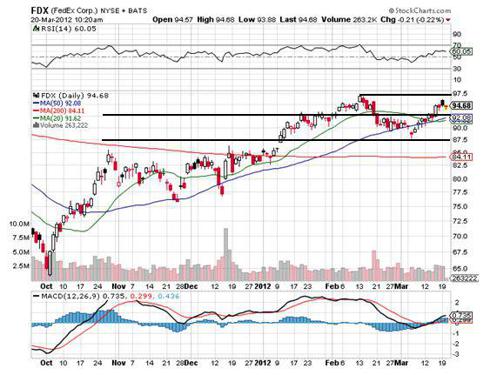 Click to enlarge
Summary
FedEx shares are near a 52-week high in advance of the 3Q earnings release, following a solid report back in early February from rival UPS and the strengthening domestic economy. The company is also seeing solid growth overseas, but faces the risk of higher energy prices, geopolitical risks and recent evidence that the Chinese economy may be softening. The forward guidance will therefore be a key focal point for investors in light of the current uncertainty. Back in September, 2011, FedEx shares tumbled more than 8% after reducing its outlook - highlighting the importance of these critical measures.
Disclaimer: By using this report, you acknowledge that Selerity, Inc. is in no way liable for losses or gains arising out of commentary, analysis and or data in this report. Your investment decisions and recommendations are made entirely at your discretion. Selerity does not own securities in companies that they write about, is not an investment adviser, and the content contained herein is not an endorsement to buy or sell any securities. No content published as part of this report constitutes a recommendation that any particular investment, security, portfolio of securities, transaction or investment strategy is suitable for any specific person.
Disclosure: I have no positions in any stocks mentioned, and no plans to initiate any positions within the next 72 hours.