In 1934, Professors Benjamin Graham and David Dodd of Columbia University published Security Analysis, in which they lay the foundations for an approach to equity selection known as value investing. Fifteen years later, Graham published The Intelligent Investor - often referred to as the "Bible of Value Investing."
In this bible, Graham formalizes the central tenets of the value approach: identify strong companies whose intrinsic values are above those temporarily assigned to them in the marketplace; allow for a wide margin of safety in measuring this undervaluation; purchase these companies with the mentality of a business owner, rather than a holder of stock certificates; finally, expect prices to fluctuate and neither be concerned by sizable declines nor become excited by sizable advances.
Moreover, Graham condemns the purchase of "glamour" stocks, which he vaguely characterizes as those expected to do markedly better than average in the future. He criticizes this approach, known as growth investing, with the following:
Common stocks with good records and apparently good prospects sell at correspondingly high prices. The investor may be right in his judgment of their prospects and still not fare particularly well, merely because he has paid in full (and perhaps overpaid) for the expected prosperity. Unusually rapid growth cannot keep up forever; when a company has already registered a brilliant expansion, its very increase in size makes a repetition of its achievement more difficult. At some point the growth curve flattens out, and in many cases it turns downward.
At the core of The Intelligent Investor, Graham argues that a value-oriented approach to the purchase of large capitalization stocks offers a return premium, relative to a growth, over time. He advocates the purchase of "The Relatively Unpopular Large Company," as follows:
If we assume that it is the habit of the market to overvalue common stocks which have been showing excellent growth or are glamorous for some other reason, it is logical to expect that it will undervalue - relatively, at least - companies that are out of favor because of unsatisfactory developments of a temporary nature. This may be set down as a fundamental law of the stock market, and it suggests an investment approach that should prove both conservative and promising. The key requirement here is that the enterprising investor concentrate on the larger companies that are going through a period of unpopularity.
Since the time of Graham's writing, a debate on Wall Street and in the ivory towers has evolved, which I detail in my article Equity Selection: Value Versus Growth, as to whether a value premium is merited by return data. To summarize, Fama and French, who are regarded as subject experts, find historical evidence of a value premium in equity returns. However, a chasm still divides the academic community; many financial economists have affirmed the value premium, but others argue that it is an insignificant, sample specific phenomenon. In fact, Graham himself acknowledged that between 1917 and 1933, a 16-year period over which the value premium was first empirically tested, the value approach proved unprofitable.
I have empirically tested Graham's argument that a value premium exists for large-cap stock purchases, and provide my findings below.
Methodology
(Please visit "Equity Selection: Value Versus Growth" for a full-discussion of background and methodology)
This article builds upon the studies of Fama and French (1992) and Lakonishok, Shleifer and Vishny (1994), which are regarded as the building blocks of the value versus growth debate. I expand the existing literature in five ways: (1) by analyzing a unique sample period; (2) by rebalancing portfolios annually and every five years, whereas Fama and French only rebalance annually and Lakonishok et al only every-five years; (3) by introducing price-weighted portfolios in addition to using equally weighted portfolios; (4) by constructing price-weighted and equally weighted time series, which exploits the compounded effect of returns over time; and (5) by introducing Sharpe ratios as a measurement of risk-adjusted performance.
I use equity return data from Capital IQ to segregate the top-250 component securities of the S&P 500, as measured by market capitalization, by P/B ratios. Each decile of securities constitutes a portfolio. The bottom decile with the lowest P/B ratios is considered the value portfolio, and at the opposite extreme is the growth portfolio. I repeat this process for P/E ratios.
To determine whether large-cap value investments outperform growth over the 1991 to 2011 period, portfolio returns are measured on an average annual basis as an equal-weighted index, as well as a price-weighted index. For each equally weighted portfolio of N securities, the individual return of security i accounts for i/N of the total portfolio return. For each price-weighted portfolio, the percentage of total portfolio return contributed by an individual security i is commensurate with the ratio of its price to the sum of prices for all securities in the portfolio. The portfolios are reformed annually and after five years on the basis of P/B and P/E rankings for each company.
Further, I construct equal-weight and price-weighted time series to measure the nominal returns to an investment of $1,000 in either of the portfolios in 1991. This provides transparency into the compounded effects of equity returns over time, which is unaddressed in the existing literature. Finally, I adjust returns for volatility risk by measuring Sharpe ratios for each portfolio.
Results
The data provide no conclusive evidence that either value or growth offers a return premium over the 1991 to 2011 period. When sorted by price-to-book (P/B), growth outperforms value on an average annual basis. Sorted by price-to-earnings (P/E), the trends are inconsistent; value outperforms growth when the portfolios are equally weighted, but underperforms when the portfolios are price-weighted. When performance is measured as the return of an equal-weighted index, relative performance of value to growth is ambiguous on a one-year rebalancing basis, but growth outperforms value when rebalancing is done every five years. However, value offers a distinct return premium across each metric when measured as a price-weighted index. On a risk-adjusted basis, value also tends to yield a premium; value consistently achieves higher Sharpe ratios than growth when sorted by P/E, and again in three-of-four cases when sorted by P/B.
The growth portfolio sorted by P/B outperforms its value counterpart on an average annual basis between 1991 and 2011 (see Chart I). As an equal-weight portfolio, growth realizes an average annual gain of 25.8 percent, whereas value realizes 24.5 percent. This premium increases to 480 basis points when the equal-weight portfolios are rebalanced every five years. The price-weighted growth portfolio also outperforms the value portfolio for both 1- and 5-year rebalancing methods when sorted by P/B, by approximately 2 percent in each case.
Click to enlarge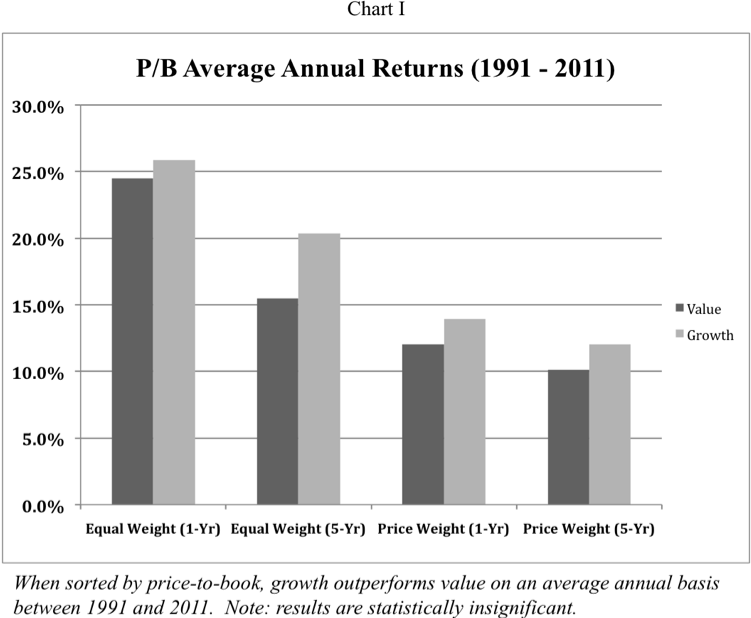 Sorted by price-to-earnings, the data are mixed as to which portfolio offers a return premium between 1991 and 2011. The equally weighted value portfolio underperforms growth over the period (see Chart II). The growth premium is 1 percent when rebalanced annually and 9.5 percent when rebalanced every five years. However, value outperforms when the portfolios are price-weighted, by approximately 1.5 percent across the 1- and 5-year rebalances.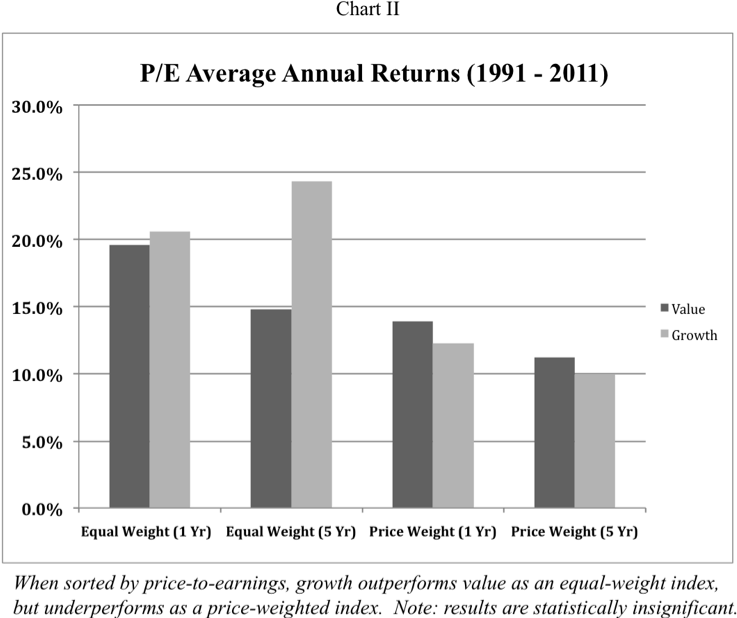 Neither value nor growth can be attributed with a return premium when performance is measured as the absolute growth of equally weighted indexes with annual rebalancing. Sorted by P/B, an investment of $1000 in the value portfolio in 1991 would be worth $1900 more by 2011 than had the investment been made in the growth portfolio (see Chart III). However, the same investment would be worth $250 less in the value portfolio than in growth when constructed with P/E sorts (see Chart IV).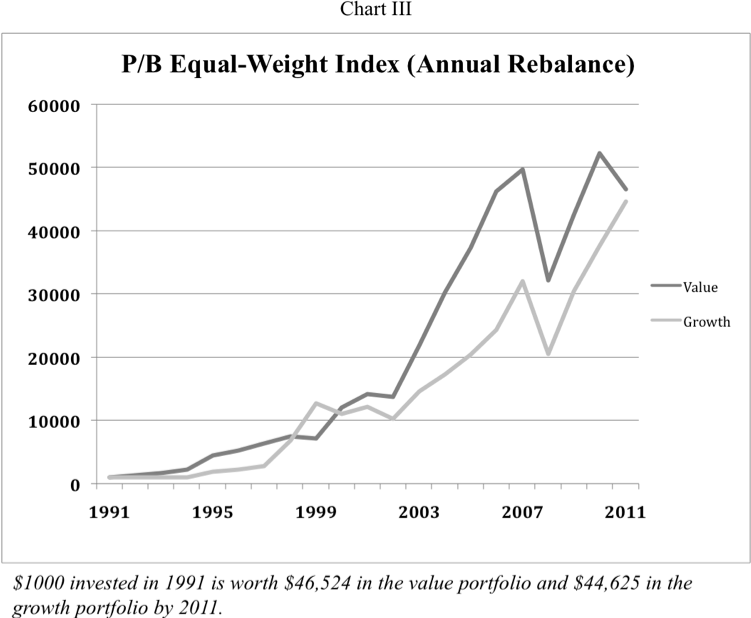 The above chart, as well as those that follow, may seem to contradict the stock market's general pattern since the early 1990s. Roughly speaking, the market trended upward between 1990 and 2000, and then stagnated the following decade. Yet, the above indexes appear relatively flat between 1991 and 2001, and then dramatically rise through 2011. However, this is simply an issue with scale, which is resolved by distinguishing nominal change from percentage change.
Between 1991 and 2001, the value index, for example, increases from $1,000 to $14,212, an increase of 1,321 percent. Between 2001 and 2011, the same portfolio rises from $14,212 to $46,524, an increase of only 227 percent. Clearly, the index performs in line with the market, as it grows much more rapidly in the first-half of the period than the second-half.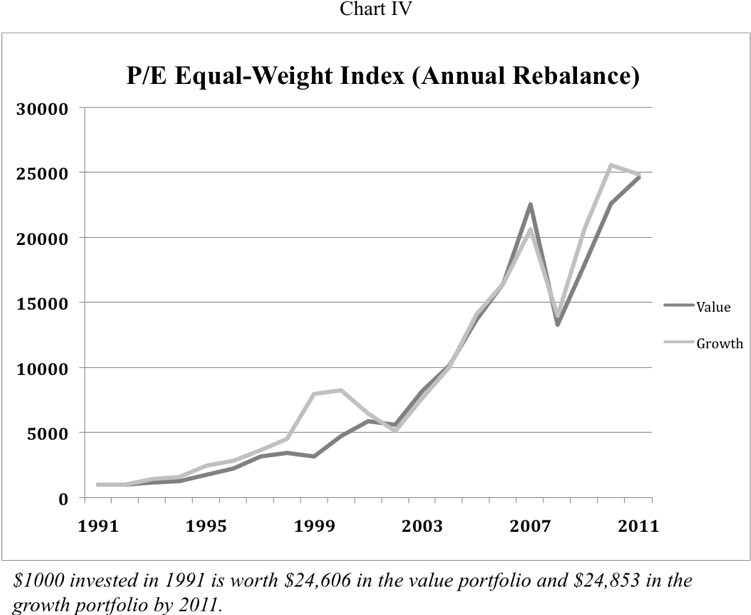 When the equal-weight indexes are rebalanced every five years, the growth portfolio exhibits a clear return premium between 1991 and 2011 (see Chart V). An investment of $1000 in 1991 would be worth $8,066 more in the growth portfolio than had the investment been made in the value portfolio when indexed via P/B sorts. Similarly, the growth portfolio would have returned an excess of $17,561 over the value portfolio on a $1,000 initial investment when sorted by P/E ratios (see Chart VI).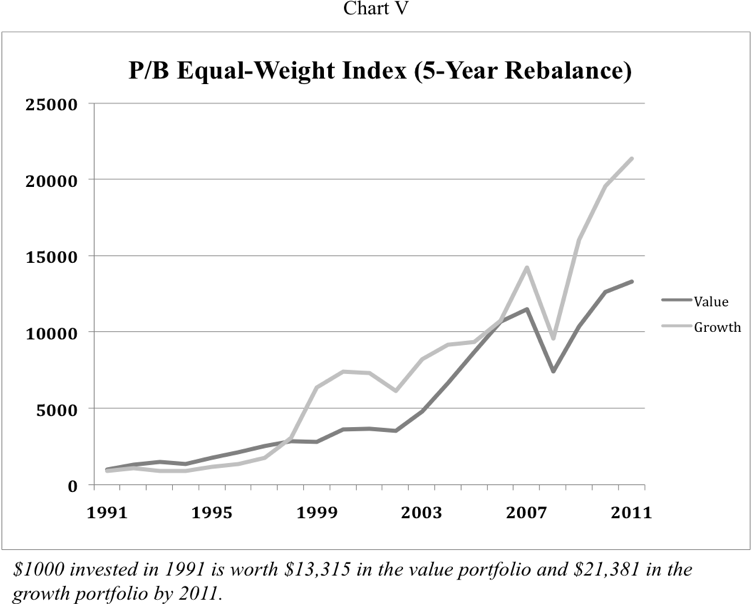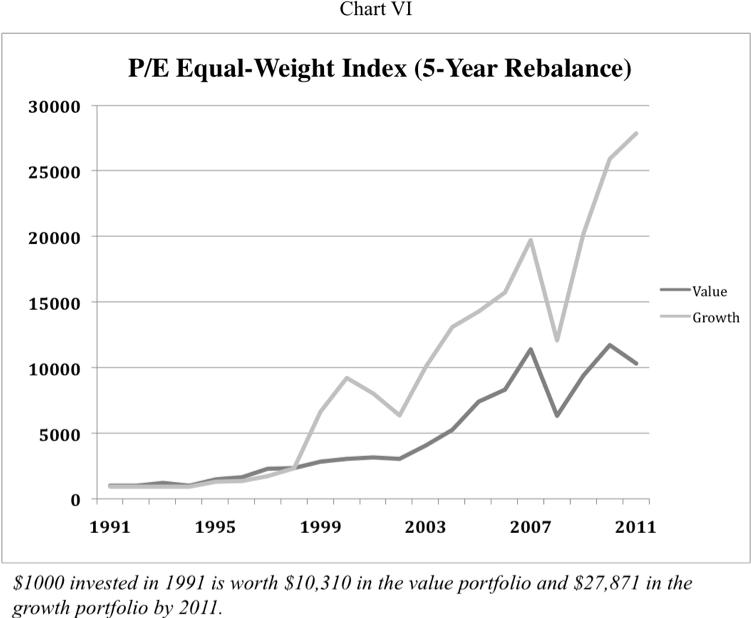 The price-weighted value portfolio offers a return premium between 1991 and 2011 regardless of ratio-sort and rebalancing methodology. Sorted by price-to-book (P/B) ratios and rebalanced each year, the value portfolio would yield $795 more than the growth portfolio on an investment of $1000 in 1991 (see Chart VII). When the portfolios are constructed by way of P/E sorts, but still rebalanced annually, this value-surplus on initial investment of $1,000 increases to $3,725 (Chart VIII). The price-weighted value premium on an investment of $1,000 in 1991 via P/B- and P/E-sorted portfolios, rebalanced every five years, is $327 (see Chart IX) and $2,600 (see Chart X), respectively.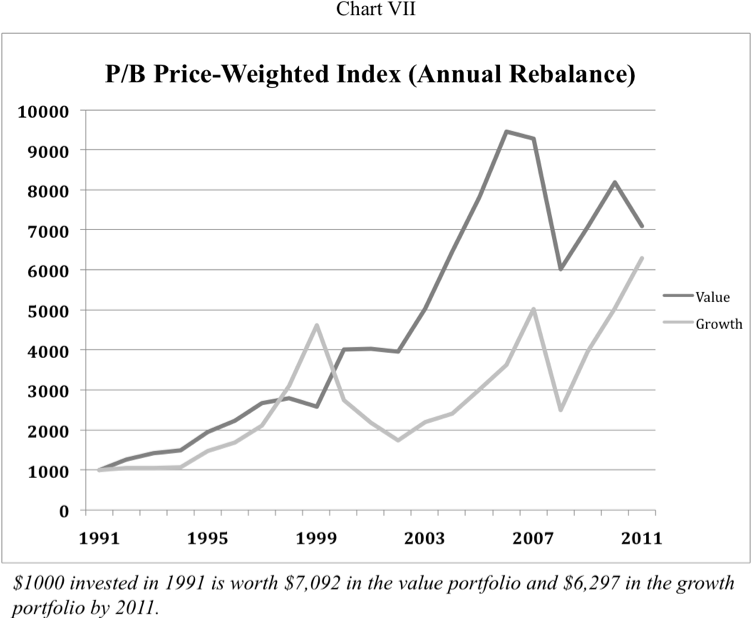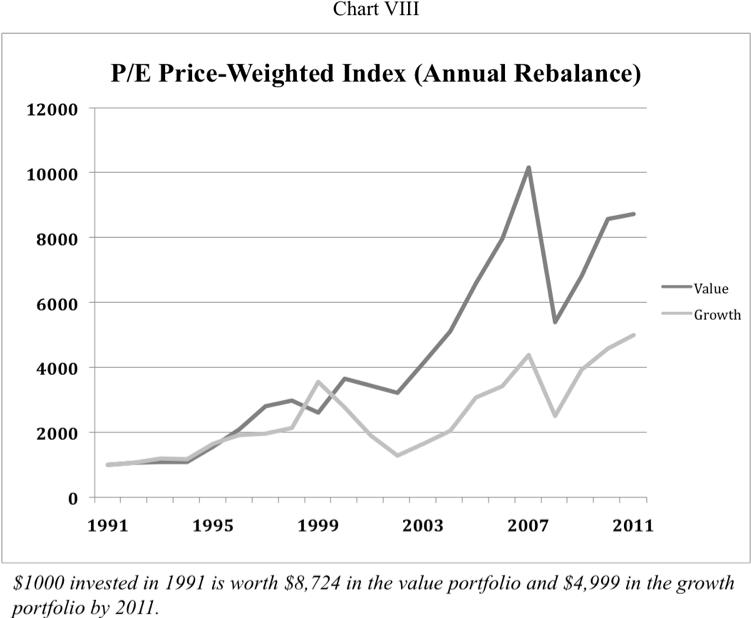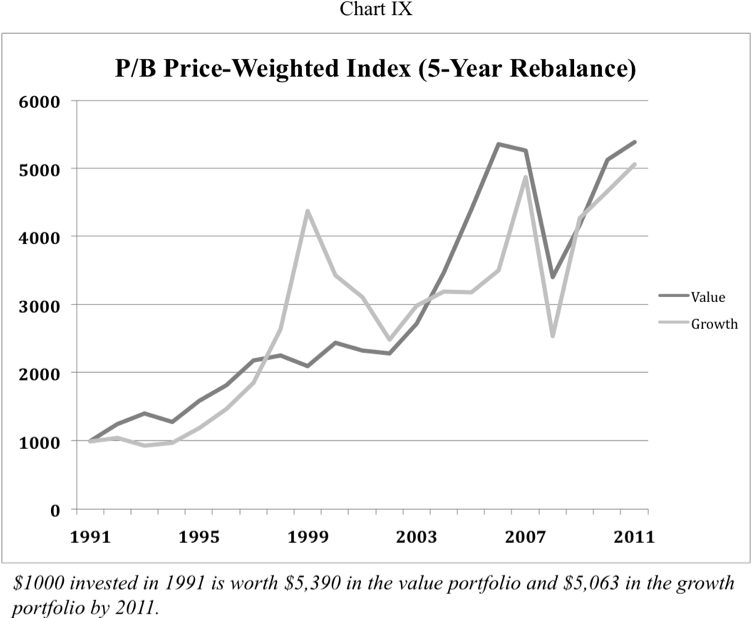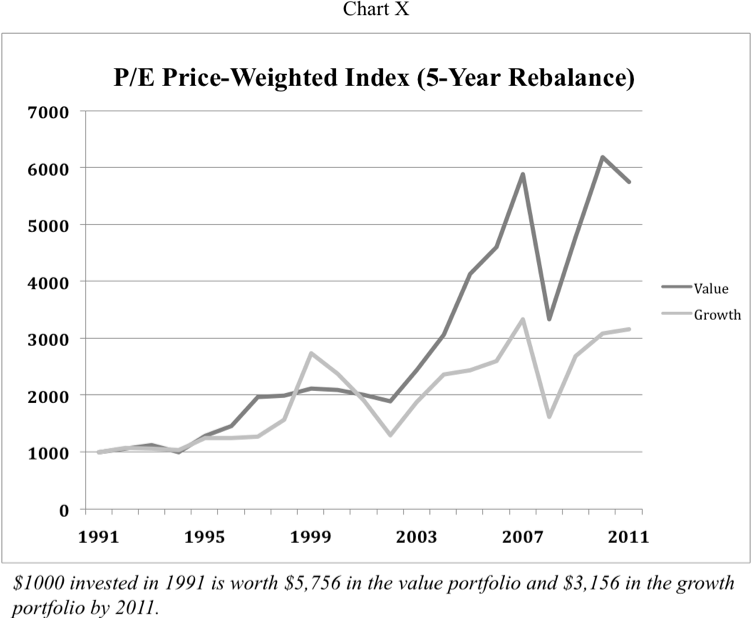 On a risk-adjusted basis, value tends to offer a return premium over the period. When sorted by P/E ratios, value achieves higher Sharpe ratios for both equal- and price-weighted portfolios rebalanced annually and every five-years (see Chart XI). The results are similar when sorted by P/B, although growth does outperform when the portfolios are price-weighted and rebalanced annually (see Chart XII).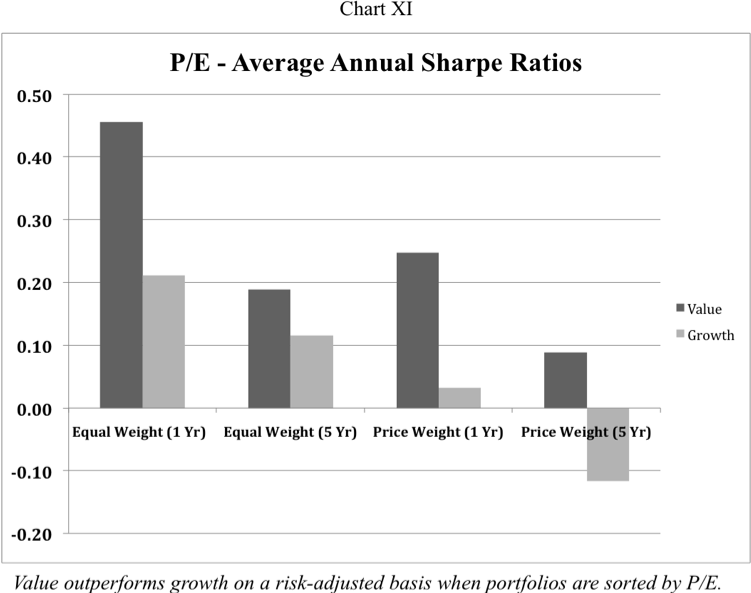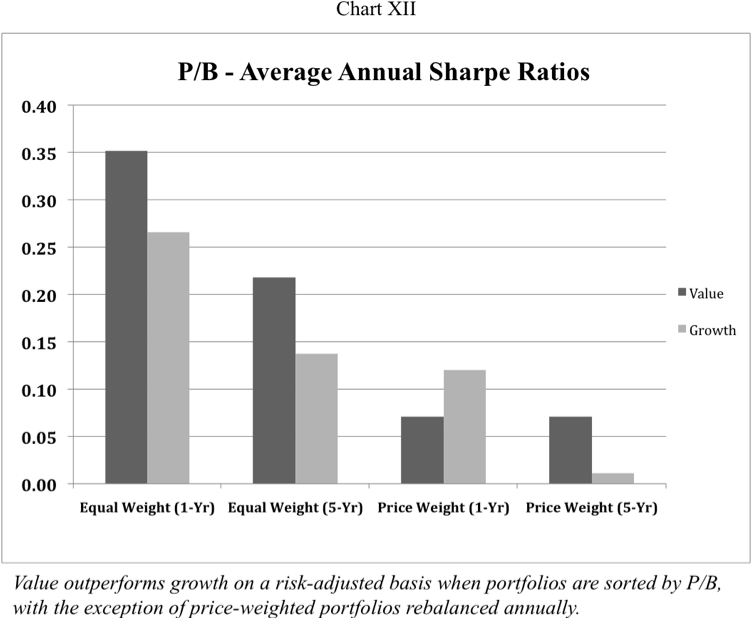 Below is a list of the value and growth portfolios, per my study, for 2012 inception via P/B sorts (descending P/B's):
Growth Portfolio
DIRECTV (DTV), Philip Morris International (PM), Western Union Company (WU), Colgate-Palmolive (CL), Yum! Brandes (YUM), The Hershey Company (HSY), Salesforce.com (CRM), Boeing Company (BA), priceline.com (PCLN), Ford (F), Amazon.com (AMZN), Limited Brands (LTD), Altria Group (MO), Accenture (ACN), Coach (COH), Express Scripts (ESRX), International Business Machines (IBM), United Parcel Service (UPS), Kellogg Company (K), Estee Lauder (EL), FMC Technologies (FTI), Lockheed Martin Corporation (LMT), Fastenal (FAST), Mastercard (MA), Simon Property Group (SPG), and Starbucks (SBUX).
Value Portfolio
Chubb (CB), Edison International (EIX), Time Warner (TWX), State Street (STT), Duke Energy (DUK), WellPoint (WLP), BB&T (BBT), Goldman Sachs Group (GS), PNC Financial Services Group (PNC), Fifth Third Bancorp (FITB), The Travelers Companies (TRV), Bank of New York Mellon (BK), Ace Limited (ACE), CME Group (CME), Valero Energy (VLO), JP Morgan Chase (JPM), Loews (L), Prudential Financial (PRU), Allstate (ALL), MetLife (MET), Capital One Financial (COF), Morgan Stanley (MS), Citigroup (C), American International Group (AIG), and Bank of America (BAC).
Below are portfolios for 2012 inception using P/E sorts (descending P/E's):
Growth Portfolio
Salesforce.com , AvalonBay Communities (AVB), EOG Resources (EOG), Boston Properties (BXP), Amazon.com , Anadarko Petroleum Corporation (APC), American Tower Corporation (AMT), Merck & Company (MRK), Wynn Resorts (WYNN), Nucor Corporation (NUE), Marsh & McLennan Companies (MMC), Simon Property Group , Citrix Systems (CTXS), Ventas (VTR), priceline.com , Public Storage (PSA), Verizon Communications (VZ), Pioneer Natural Resources (PXD), Whole Foods Market (WFM), Intuitive Surgical (ISRG), Motorola Solutions (MSI), Fastenal , Stanley Black & Decker (SWK), Vornado Realty Trust (VNO), Charles Schwab (SCHW).
Value Portfolio
Archer-Daniels-Midland (ADM), The Travelers Companies , General Dynamics Corporation (GD), PNC Financial Services , Dell (DELL), Entergy (ETR), Raytheon (RTN), Chevron (CVX), Prudential , Freeport-McMoRan Copper & Gold (FCX), Chubb , WellPoint , ConocoPhillips (COP), JP Morgan Chase , Northrop Grumman (NOC), Aetna (AET), Hewlett-Packard (HPQ), Ace Limited , Eli Lilly (LLY), Cigna (CI), Corning (GLW), Ford , Capital One , American International Group , Marathon Petroleum (MPC).
Conclusion
This article exposes two-important issues with the existing literature on the value versus growth debate: (1) the measurement of returns to value and growth stocks has been inappropriately confined; and (2) the recent data provide evidence of a value premium only on a risk-adjusted basis.
These results cooperate with the theory of efficient markets, which would suggest that a value premium can exist only until it is known in the marketplace, at which point it would disappear as demand rises for value stocks and decreases for growth stocks, causing the two approaches to equilibrate. Graham alludes to this idea in the following passage:
Those [approaches] that gain adherents and importance do so because they have worked well over a period, or sometimes merely because they have been plausibly adapted to the statistical record of the past. But as their acceptance increases, their reliability tends to diminish. This happens for two reasons: First, the passage of time brings new conditions which the old formula no longer fits. Second, in stock-market affairs the popularity of a trading theory has itself an influence on the market's behavior which detracts in the long run from its profit-making possibilities.
However, my findings are no more important than those of Fama and French or Lakonishok et. al. Over certain intervals, such as 1917 to 1933 or 1991 to 2011, a value premium has been nonexistent. Yet in others, such as 1968 to 1990, there has been distinct outperformance of value stocks relative to growth stocks. As such, it would be inappropriate to say that because I find no evidence of a value premium over the past-two decades, there will be no outperformance in this space going forward.
Quite frankly, there is more to the art of investing than sorting companies by accounting ratios and buying those each year. As Graham writes,
Perhaps the aggressive investor should start with the "low-multiplier" idea, but add other quantitative and qualitative requirements thereto in making up his portfolio.