Lumber Liquidators (NYSE:LL) is a flooring retail chain with 263 stores in The United States and Canada. LL is up over 68% in the past 6 months and we believe the current risk/reward profile makes this stock one to avoid. Lumber Liquidators has risen on the assumption of a healthy recovery in housing and has reached a hefty valuation. Any change in housing to the downside will provide a catalyst toward our downside target of $17.90.
Most of the data from this article has been taken from the most recent annual report.
Strengths
Lumber Liquidators has opened at least 36 new stores per year for the past 3 years. It is capitalizing on the 13.5% shrinkage of the home flooring market during this time by taking out competitors and opening stores with very favorable rent prices.
Management has indicated that the pace of new store openings will slow in 2012 compared with 2011, and 2010. This should have a positive influence on profit margins. It has opened 172 of its 263 stores in the last 5 years, while 40 of those stores were opened in 2011.
Gross margins (35.3%) and net sales ($681M) have increased in 2011 from their 2010 levels of 34.8% and $620M.
Net cash provided by operating activities has grown at an annual compound rate of over 78% since 2009. An amazing number at first glance, but considering the 2009 level was $7.8M, this outsized growth should be taken with a grain of salt.
Weaknesses
Profit margins have declined from the 2009 high of 4.94% to 3.85% in 2011, while net sales growth has declined steadily from 18.97% in 2008 to 9.88% in 2011.
The company relies on a few suppliers for the majority of its supply needs. It generally does not have long-term contracts with suppliers and typically obtains supplies on an order-by-order basis. This opens up the company to a profit squeeze if the price of lumber moves higher in the futures markets.
(Click charts to enlarge)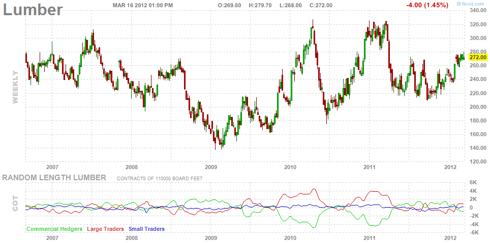 Founder and Chairman Tom Sullivan controls 7% of outstanding stock and is a landlord to almost 10% of the company's stores. He is able to influence every aspect of the company including the composition of the board of directors. There are also provisions in the company's bylaws that restrict stockholders rights. There are some instances where this power in the right hands can be very profitable for the shareholder, think Apple (NASDAQ:AAPL) and Steve Jobs, but we think visionaries like Mr. Jobs come by once in a lifetime and do not like the fact that an activist shareholder cannot step in and shake things up.
There is a class action lawsuit in California, from employees complaining about working conditions. Although we do not know what the results of this will be, it must be considered a possibility that some employees may not view their employer in a positive light. This feeling, if spread throughout the company, could mean trouble down the road.
Management expects a store's net sales to increase faster during its first 3 years of operation than in its later years. We expect to see some drag on same store sales as the positive affect of the 172 new store openings dissipates in the coming year.
Opportunities
Catalina Research estimates that Lumber Liquidators, Home Depot (NYSE:HD) and Lowe's (NYSE:LOW) together represent approximately 37% of hardwood flooring retail sales.
An improving national economy and increased housing turnover could provide a scenario where LL can capitalize on the new store investments it has made over the past 5 years.
15% of all stores are located in Florida, and California, two states that have experienced extreme volatility in housing prices; this is either a blessing or a death sentence, only time will tell.
Threats
If housing were to turn a corner, the eventual entry of new players into the flooring market would provide more competition for sales than LL has experienced in the recent past.
The company's annual report indicates that typical customers are homeowners in their mid-30s or older who are well-educated and have been living in their homes for at least several years. Most of this target demographic is now on the hook for student loans for their education or their children's education - a cost that is rapidly increasing. Student loans are the second great wall behind housing depreciation that prohibits families from making significant upgrades to their homes.
A final headwind to consider is rising fuel costs. They diminish customer purchasing power while increasing overhead and shipping costs to Lumber Liquidators. We believe that as fuel and heating costs rise customers are more likely to hold off on larger discretionary purchases given the continued uncertainty in the labor market.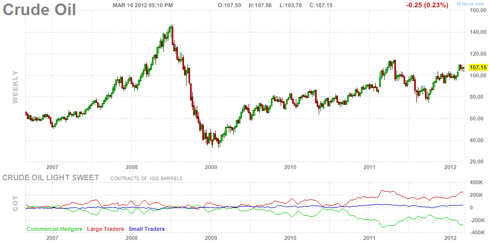 Price to Get Short $25.82
This price was calculated by averaging the earnings multiple for the past 3 years (26x) by our projected EPS of $0.99. We used 29 million shares outstanding in our calculation and assumed sales growth of 9.88% and profit margins of 3.85%, similar numbers to those in 2011.
2012 Target Price $17.90
Given the current headwinds we expect LL to experience this represents our most likely price target for 2012. We assumed a multiplier below what LL has averaged over the past 3 years because we expect same-store sales to flatten over the next year. We believe this target balances the expectations of a higher stock market overall in 2012 and the company specific problems LL faces in the near term.
Technical Analysis
While LL may continue to drift higher with the market, it's unlikely we see significantly higher levels before a meaningful correction is experienced. With talk of an imminent stock market correction making headlines almost daily, our sometimes contrarian outlook leads us to believe the market will indeed drift marginally higher from current levels before this correction actually occurs.
LL has almost completely retraced (78.4%) the sharp decline it experienced beginning in July 2011 after cutting 2011 full year revenue and earnings forecasts (ultimately losing close to 50 percent of share value).
We see that the daily chart is forming a potential bearish divergence in the RSI that is being confirmed by a similar condition in the MACD. With the weekly chart also sporting an overbought RSI, our confidence in an eventual pull back is strengthened.
The gaps that occurred on February 14 (analyst downgrade) and February 22 (announcement that 2012 sales may fall short of expectations) were quickly filled, but these troublesome signs coupled with our forecast of slower future growth underlie our bearish stance on LL.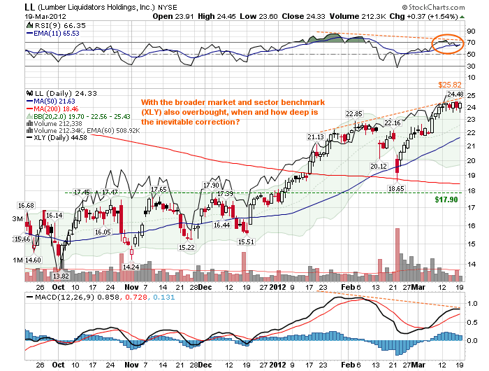 While it's likely that any correction may catch at least temporary support at any number of levels (20 day MA of Bollinger Bands, recent reaction high on February 3, or the 50 day MA), we see our ultimate price target of $17.90 as significant as the top of a range that LL traded in during Q4 of last year before breaking out in early January 2012 and a likely area of support.
Summary
The company has made a huge bet creating 172 stores over the past 5 years in an effort to gain market share in a shrinking pie. If housing does not pick up, this bet could prove to be very dilutive to the existing shareholder. It is likely that one or more of the headwinds listed in the threats section will seriously affect profit margins in the near future, causing a drain on the $61M of cash on hand leading to a debt offering. LL is currently being valued as a growth stock headed to the stairs with the wind at its back. We believe investors should avoid this stock and traders should look at it as an opportunity to go short at $25.82 per share with an end of 2012 target price of $17.90.
Disclosure: I have no positions in any stocks mentioned, and no plans to initiate any positions within the next 72 hours.