Over the last few years, following the financial crisis and the subsequent low risk-free interest rate, many investors sought out high-yielding equities as alternatives to supplement fixed income portfolios. One popular option that offered some of the highest dividends among publicly traded equities, and continues to do so, would be agency mortgage REITs.
Within the world of residential mortgage REITs, some hold residential mortgage backed securities insured by federal agencies while others also own RMBSs that have no agency backing. Agency mortgage REITs should have portfolios exclusively composed of residential mortgage backed securities that are insured by federal agencies.
An agency RMBS is, in many ways, similar to a U.S. Treasury, though some significant differences do exist. Government agencies make or back mortgages and then issue a mortgage backed security composed of multiple mortgages. These agency RMBS come with an agency backing and an implied U.S. government backing. If borrowers default on the agency-backed loans that make up the RMBS, the agencies must either make payments or buy out the defaulting obligations on behalf of the borrower.
Prepayment buying of loans often has a volatile affect upon a mREIT's quarterly income, its yield and asset valuation, but prepayment is considerably preferable to an outright default. Because of this backing, the yield provided by an agency-backed RMBS is usually reasonably close to the yield offered by a comparable term Treasury, though slightly higher. As a result, most agency mortgage REITs use leverage to obtain high yields, many of which are presently well within the double digits.
Below, I have provided recent performance rates for five reasonably liquid and high- yielding Agency Mortgage REITs: American Capital Agency Corp. (NASDAQ:AGNC), Annaly Capital Management, Inc. (NYSE:NLY), Anworth Mortgage Asset Corporation (NYSE:ANH), Capstead Mortgage Corp (NYSE:CMO) and Hatteras Financial Corp (NYSE:HTS). I have provided 1-week, 2012-to-date and 6-month equity performance rates, as well as each REIT's yield.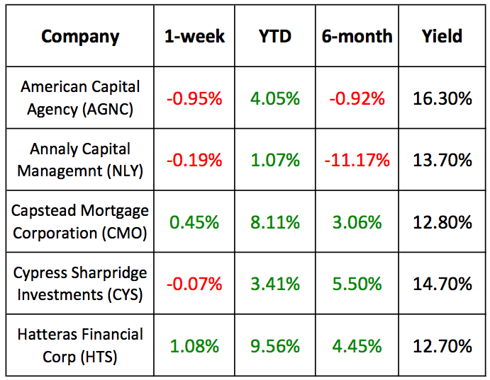 And below is a 2012-to-date performance comparison chart:



These mREITs have reported some material information within March, with some still forthcoming. On March 7, American Capital Agency Corp. announced and priced a massive secondary public offering with estimated gross proceeds of about $2 billion. The secondary followed AGNC going ex-dividend. Just last month, when AGNC reported Q4 2011 earnings, the mREIT also announced a dividend policy cut, lowering its quarterly payout to $1.25. AGNC had maintained a $1.40 dividend for the previous 10 quarters.
On March 8, CYS announced a Q1 2012 dividend of $0.50 per share. This was the same dividend CYS paid the prior quarter. On March 12, Hatteras announced a 1Q 2012 dividend of $0.90 per share, and on March 13, Capstead announced a dividend of $0.43 per share. Both HTS and CMO's Q1 2012 dividends are also the same rate each paid out for Q4 2011, though all three did reduce dividends last quarter.
Annaly, which is still the largest publicly traded agency mREIT, is expected, based upon previous reporting, to announce its Q1 2012 dividend this week. Like CMO, CYS and HTS, NLY reduced its dividend within 2011 and may be able to maintain its previous payout, though such is no certainty.
As mentioned above, agency REITs achieve substantial yields through leverage. These listed REITs currently have leverage rates of between 5x and 8x assets. Leverage risk may one day become a major concern. If interest rates do continue to increase, as they have been doing in March, or even eventually begin to spike up, these REITs will likely suffer both reduced spreads and, more importantly, leveraged reductions to book values.
These mREIT dividends are taxed as regular income and not at the lower corporate dividend rate, making them substantially better performing investments when held within tax deferred or exempt accounts. Nonetheless, and because of the risks associated with mREIT leverage and the potential recent peaking of Treasury valuations, exposure to agency mREITs should be limited to a reasonable portion of an income and/or real estate portfolio allocation.
Disclaimer: This article is intended to be informative and should not be construed as personalized advice as it does not take into account your specific situation or objectives.
Disclosure: I am long NLY.