Most of the growth in recent years has come from emerging economies such as China, Brazil, and India, among others. But these economies have been saturated with investors by now and they no longer have bargain deals that once made them so attractive.
In addition, emerging markets have been growing their revenue by exporting to the west, but as western economies have been slowing down and so has the ability of emerging markets to boost growth through exports. The whole world economy is interconnected. For example, a slowdown in the U.S. will negatively affect China's ability to sell its goods to the U.S. market. This in turns reduces China's appetite for commodities, which will affect commodity exporters such as Brazil, Russia, and Australia, among others, leading to a downward spiral.
With limited prospects of growth among most major nations, people's eyes have been turning to the last frontier or the so-called frontier markets. Frontier markets are typically defined as less developed than Emerging Markets, yet different from countries popularly referred to as "failed states." Examples of frontier markets are countries like Mongolia, Kazakhstan, and Nigeria. These are places most people would never have thought of investing, which is also the reason they are still very cheap.
The frontier markets are often considered very risky, but just consider that just as little as 10 years ago investing in places such as China, India, and Brazil, was considered highly risky. Those places were considered exotic investments and only highly specialized firms would touch them. But today they account for a large percentage of most funds, and they have provided spectacular returns to early investors.
Furthermore, frontier markets have a low correlation to highly developed markets, often due of their isolation. Because they often have been cut off from the rest of the world they are somewhat insulated to things like recessions or even depressions. They often do not feel the effect of economic downturns and manage to grow despite distress in the world.
Many of these countries are starting from a very low base with people only earning a few dollars per day. By starting from rock bottom there is only one way to go and that is up. Frontier markets like Myanmar have been through years of civil war, while others have been dominated by ruthless dictators. But what they have in common is that the people are tired of war and starvation and ready for change. They may be far away from adopting western style democracy, but just a small change in the right direction can have huge impact on the population's general well being. From what I have seen people all over the world are pretty much the same when it comes to the desire to increase their own living standards.
In addition, a lot of frontier markets are young countries with favorable demographics. Mongolia, for example, is dominated by young people: 70% of the population is under the age of 35. This typically means that they are eager to work hard and improve their lives. The chart below shows the GDP growth in some of the frontier markets over the last three years.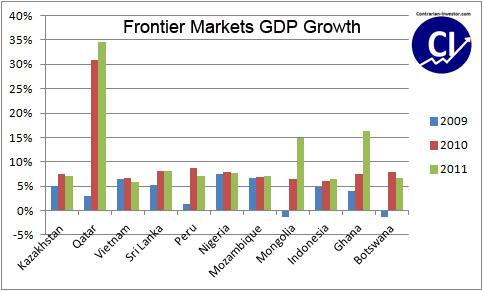 One of the main reasons for the poor economic performance among western nations in recent years has been because of their high debt levels. Once public debt goes beyond 90% of GDP, interest payments becomes too burdensome, making it close to impossible to grow. Many of the frontier markets have very low debts levels. Part of the reason is that their financial markets are less developed and most people have simply not been willing to lend them any money. The chart shows the debt-to-GDP ratio of these countries.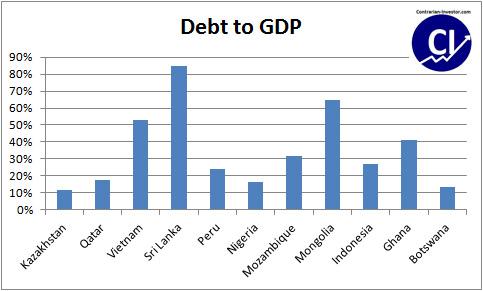 While some countries like Mongolia and Kazakhstan still lack an ETF I suspect that you will see one emerging soon. In the meantime the following ETFs offers exposure to other promising frontier markets.
PowerShares MENA Frontier Count (NASDAQ:PMNA) is an ETF that is weighted heavily toward Kuwait, Egypt, Qatar, and the United Arab Emirates.
The Market Vectors Gulf States Index (NYSEARCA:MES) offers investors high exposure into Kuwait, Qatar, and the United Arab Emirates, but it also includes exposure to Oman, Bahrain, and Yemen.
Market Vectors-Africa Index ETF (NYSEARCA:AFK) is a fund that is 66% weighted in South Africa, Egypt, and Nigeria, while it has a 22% weighting in offshore companies that get a majority of their income from operations in Africa.
Guggenheim Frontier Markets ETF (NYSEARCA:FRN) tracks the BNY Mellon New Frontier DR Index. Chile, Egypt, and Colombia, have the highest weighting and represent close to 60% of the fund.
Disclosure: I have no positions in any stocks mentioned, and no plans to initiate any positions within the next 72 hours.