This is the first part of a three part series on State Street Corporation (NYSE:STT). The three parts are broken down as: 1) Recommendation and Overview, 2) Valuation Analysis, and 3) Risks and Outlook.
Recommendation
We are maintaining our Strong Buy recommendation on State Street Corp. common stock and increasing our Fair Value share price estimate to $54.63, approximately 19.5% above current levels and about 30% above the price where we first recommended it in January. We expect to see the company generate earnings per share of $4.24 in 2012 and to increase EPS by 8-11% annually over the following three years.
We recommend STT to aggressive investors who are interested in a potential corporate reorganization, turnaround and special situations restructuring as well as conservative investors interested in high-quality blue-chip companies with a wide economic moat and an exceptional business operations franchise.
We have raised our Fair Value Share price estimate after the company announced that it passed the Federal Reserve Stress Tests, that it will boost quarterly dividends 33% (From $.18/share to $.24/share, representing a 2.2% yield) and repurchase $1.8B of stock (representing about 8% of the outstanding shares).
Company Overview
State Street Corp is the holding company for State Street Bank and Trust (world's second largest custody banking institution) and subsidiaries. The bank provides institutional asset administration and servicing through its State Street Global Services division, investment research and trading services through State Street Global Markets, and institutional asset management solutions through State Street Global Advisors.
Management: The current CEO and President, Joseph (Jay) Hooley has been Chairman and CEO since 2010, succeeding Ronald Logue, and has been with the company since 1986. He was name the head of the bank's global investment servicing business and played a leading role in the acquisition of Deutsche Bank's Securities business in 2003 and Investors Financial Services Corporation in 2007.
Ownership: While executives and board members own less than one percent of the stock, we note that the outgoing CEO owned $52M worth of stock and Jay Hooley, the new CEO has $25M worth of stock, which shows that it has a vested and personally material economic interest in the company. All current directors and executives collectively own $153M worth of stock, including $113M directly.
Before State Street released its Q3 financial results, Nelson Peltz of Trian Fund Management L.P issued a press release announcing that it owned 3.3% of STT's outstanding shares and that a letter was sent to STT's Board of Directors setting forth its assessment as to why State Street has underperformed and delivered negative shareholder returns over the last 1 to 10 year periods, as well as time periods in between. Trian also issued a Detailed Action Plan White Paper identifying operational and strategic initiatives that State Street should undertake in order to improve operating performance and unlock shareholder value.
While State Street has not directly responded to Mr. Peltz's program, we believe that the $200M in share repurchases in the fourth quarter of 2011 plus the 33% increase in dividends and the new $1.8M repurchase program recently announced will satisfy Mr. Peltz. Already, the company has seen a total return of over 30% since Peltz went public with his concerns back in October 2011.
Summary of Observations
The company's net interest margin of 1.40% for the Q4 2011 period is low relative to the industry average. However, this was slightly higher than its direct competition in the investor services industry (BNY Mellon (NYSE:BK) 1.27% and Northern Trust (NASDAQ:NTRS) 1.28%). STT's net interest margin and revenue declined due to a flatter interest rate curve, which was partially offset by higher deposit volumes resulting in a greater volume of investable assets, which we noticed throughout the financial services sector.
STT uses its net interest revenue in conjunction with its asset management and investment services businesses, enabling them to offer lower direct fees to clients in exchange for compensating client deposit balances. State Street has a strong capital position and we believe that it has already met the potential capital increase requirements of the Federal Reserve under Dodd-Frank as well as the BASEL III agreements. With a Tier 1 common capital ratio of 16.9%, it significantly exceed the BASEL III requirements assuming its final capital requirements are 9.5%, which is the worst case scenario that has been proposed for large systematically important banks.
We read Peltz's White Paper and we agree with much of what he had to say. State Street has made a number of dilutive acquisitions in the past and because of the $9.5 Billion losses associated with the asset backed conduit securities programs and reimbursements of asset management clients; it was forced to make a dilutive issuance of shares in 2009 to shore up capital pursuant to Federal Reserve requirements in the aftermath of the financial crisis. In our professional opinion, we believe that STT suffered a first degree burn while other banks suffered second to fourth degree burns or demise during the financial crisis.
However, because STT was treated like other banks by regulators, it made a number of notable and unforced operating errors as well as a forced dilutive share issuance to exit the TARP program. It cut its dividend to $.01 per quarter and were refrained from buying back stock. This certainly helped contribute to State Street seeing a decline in its PE ratio from about 20 times trailing earnings in 2008 (18X historical median PE) to about 8 times trailing earnings on October 2011, before rebounding to under 11.
An increase to 13.5 would contribute to an increase of about 28.4% in shareholder value, which would be in line with comparable large asset management firms. We believe that though STT's primary subsidiary is a chartered bank, the nature of what it does makes it most closely reflected to other asset managers, as it is a wholesale bank providing asset management and administration fees and it generates 77% of its revenues from these fee-based operations and sold off its commercial banking operations in 1999 in order to focus on these businesses.
We believe what provides them a wide economic moat is its scale and market leadership in the asset management and administration industry.
Consider the following markets in which State Street and its subsidiaries are a Market Leader: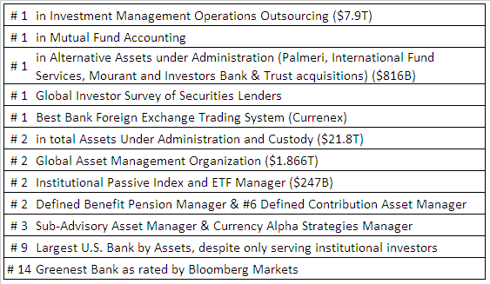 Source: State Street.
We also believe that the firm can achieve operating leverage improvements. In 2011, its Non-Interest Expenses represented 74% of net revenue and 98% of fees. We are expecting that Non-Interest Expenses will grow at 10% annually for the period, which is less than the 12% growth we expect for fee based revenue streams.
We expect that Non-Interest Expenses will be 91% of Revenues, allowing for the company to preserve its operating margins in case Net Interest Income does not improve and to steadily expand operating margins with Net Interest Income improvements. We look for the bank to steadily reduce Non-Interest Expenses as a percentage of fees while ensuring that the firm maintains and expands its strategic investments in its businesses.
In 2010, STT invested in technological upgrades to drive its operating efficiencies through improved data analysis and automation of manual operating processes. Its operating margin of 26% in 2011 was amongst the lowest in the asset management industry and Trian suggested that it set a target of 35% for the Investment Servicing Segments and 39% for State Street Global Advisors and limit expense growth relative to revenue growth was the basis for its over 100% increase in estimated EPS for the company for the five year period ending in 2015.
One area of expense improvement that we believe is achievable is in its real estate facilities expenses. In its home state of Massachusetts, it operates out of nine facilities, six of them are in ultra-expense Downtown Boston and the Back Bay Neighborhood and the other three are in Quincy, a smaller city southeast of Boston. Only two of these locations have front-office business units like State Street Global Advisors or Global Markets; the rest have operations and business unit staff personnel for State Street Global Services asset servicing division. We believe that it would be prudent for State Street to move some of these team members from Boston to its Quincy offices in order to reduce occupancy expenses as these leases expire.
Disclosure: I am long STT. Saibus Research has not received compensation directly or indirectly for expressing the recommendation in this report.
Disclaimer: Under no circumstances must this report be considered an offer to buy, sell, subscribe for or trade securities or other instruments.