This is the second part of a three part series on State Street Corporation (NYSE:STT). The three parts are broken down as: 1) Recommendation and Overview, 2) Valuation Analysis, and 3) Risks and Outlook.
Valuation and Projections
Our $54.63 value is based on applying a 14 times price to earnings multiple to estimated 2015 earnings per share of $5.54 and discounting the terminal value back to 2012 at a cost of capital of 11%. We raised our forward estimates and projected PE ratio after STT announced that it passed the stress test and boosted its dividend and share repurchase programs.
Although STT's forward PE, P/B and Price to Tangible Book ratios are higher than the average banking institution, we believe it is justified due to its superior franchise and strong and growing presence in fee-based businesses, particularly asset management and asset servicing. Also we noticed that it is trading below similar asset management companies, even though it is the second largest asset manager in the world and we believe that the multiple used is justified considering that the firm has grown faster than its industry and traded at a multiple of nearly 20 times trailing earnings before the 2007-2009 financial crisis.
Currently, asset management firms are trading at a forward PE ratio of 18. Furthermore, in his White Paper on State Street, Nelson Peltz suggested that STT's PE Ratio could reach 13.5 times price to earnings multiple for 2015 if it undertook his action plan. Based on his proposed initiatives, State Street could potentially earn $7.35/share in 2015, which would result in a value of $99 per share.
Click to enlarge.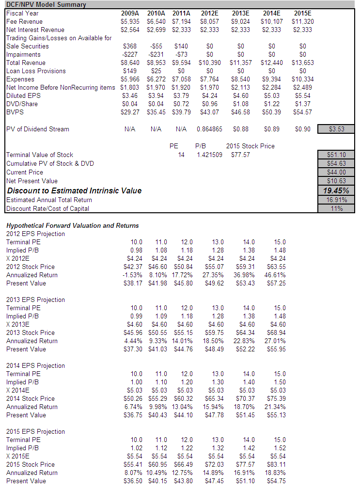 Click to enlarge
Source: Saibus Research forecasts
We believe that the company will continue to grow its fee-based revenues faster than its net interest income. In our model we estimated that STT would see a 12% annual growth in its fee based revenues from 2012-2015, based on adding new investment management and administration mandates, market appreciation of assets overseen and potential bolt-on acquisitions of smaller firms or acquiring the asset management or securities services divisions of European banks.
We estimated that the firm would be able to generate an increase in Net Interest Income of 1% because we feel the firm will maintain its high emphasis on short-term, high quality investment securities for its balance sheet and that while interest rate spreads will improve, that interest rates will be low for an extended period of time due to central bank interventions. The key driver of revenue and profitability for STT is its fee-based services and solutions business, Net Interest Income represents less than 25% of revenue, unlike traditional banks.
We also believe that the firm's Information Technology and business operations transformation program should ensure a slower growth in non-interest expenses (10% annually) versus fee revenue growth, which will mitigate the impact of slow growth in Net Interest Income and when the yield curve normalizes, allow a greater percentage of revenue to fall to the bottom line to reward shareholders and bolster its balance sheet instead of being utilized to hire new employees or buy new (in)tangible assets.
The bank announced that it will increase its 2012 dividends by 33%, and we estimated that it will increase dividends by 12.5% annually in the following three years and the steady repurchase of about 1% of its shares annually. We also assumed that loan loss provisions, gains on sale of debt securities and impairments would have an immaterial impact on the bank's net income and offset each other.
Keys to Investment Thesis
We like that the firm has a very low risk balance sheet. 89% of the bank's investments are in AAA or AA issuers. Furthermore, it has 59% of its assets are in floating rate securities, which minimizes the risk of rising interest rates. Non U.S. investments only account for 23% of investment securities and only 6% of those assets are in weaker European Countries (Italy, Spain, Ireland, Greece, Belgium and Portugal).
Nelson Peltz's shareholder activism. Though our EPS estimates are a little more conservative than Trian Fund Management's, we appreciate Peltz's analysis and evaluation of STT's underperformance. We were shareholders of Investors Financial Services, who State Street acquired in 2007. We were pleased that State Street seemed to navigate the crisis better than traditional banks, though we have been disappointed with operational missteps with its conduits and asset management activities and recurring charges of an ostensibly non-recurring nature. We believe that Peltz's activism is just what the doctor ordered in order to force STT to refocus its efforts on organic operations growth, profitability and rewarding long-suffering shareholders.
State Street paid off the TARP preferred stock as soon as it was permitted to do so. In 2008, State Street was one of 19 large, systematically important banking institutions who were required to take a preferred stock capital injection from the US Treasury Department under the Troubled Asset Relief Program. It was required to accept a $2 Billion preferred stock investment in 2008 and received permission to pay it back in June 2009. It also spent $60M to buy back warrants issued to the government injunction with the TARP investment in State Street.
Like its trust bank competitors, Bank of New York Mellon (NYSE:BK) and Northern Trust (NASDAQ:NTRS), State Street did not really want the TARP money in the first place, especially considering that STT invested in short-duration high grade investment securities for its Asset/Liability Management proprietary account and could easily handle the losses associated with those assets versus commercial loans and subprime mortgages of over banks like RBS Citizens Bank, who bought STT's commercial banking business in 1999 and needed a bailout from the British Government.
State Street Global Advisors has $1.866 Trillion AUM. With $1.866 Trillion in AUM, SSgA is the world's second largest asset management institution and it nearly exceeds the collective $1.9 Trillion in AUM from its two closest competitors in the trust banking sector (BK and NTRS). SSgA is the second largest ETF provider with nearly $247 Billion in ETF assets under management and distribution and the second largest passive index manager with $1.33 Trillion. Another $400 Billion is in Cash, Money Market and Liquidity Strategies and the remainder are in actively managed strategies.
SSgA introduced the first Exchange Traded Fund, the Standard & Poor's Depository Receipts S&P 500 ETF, which tracked the S&P 500 Index and traded on the American Stock Exchange under the ticker symbol SPY. It has grown to be the largest individual Exchange Traded Fund with nearly $97 billion in assets under management. SSgA is also the distribution agent for the SPDR GLD Shares, which is the largest and most liquid physical gold backed offering in the financial marketplace. It acquired the Bank of Ireland's Asset Management division, which added $23 Billion in AUM and added 32 new ETF strategies in 2011.
The Dodd-Frank Wall Street reform law will not hurt STT as much as other banks. In September, State Street announced the launch of its swaps clearing platform, enhancing its comprehensive derivatives solution that includes servicing, custody, accounting, risk, analytics, valuation and collateral management, as one of the requirements of that law is for swap contracts that are currently traded over the counter to migrate to a centrally cleared counterparty. The new regulations impose collateral and real-time reporting requirements designed to reduce counterparty risk. Plus, State Street has typically had higher levels of capital in spite of its low-risk balance sheet and fee-based business model and did not participate in the proprietary trading or consumer lending activities covered by Dodd-Frank.
We also like STT's position in the asset servicing segment. State Street Global Services is the second largest global custodian bank, with $21.8 Trillion in assets under custody and administration, an increase of 1.3% in the comparable period. We like the fact that there are maybe one or two dozen companies that have significant scale in the asset servicing segment and many of them have been acquired by other firms. We also believe that asset management and servicing specialists like State Street offer better execution and a stronger service commitment than financial conglomerates like Citigroup or JPMorgan Chase.
It earned a new investment manager operations outsourcing mandate from AllianceBernstein for more than $360 Billion in assets. PIMCO renewed its manager operations outsourcing mandate representing $1.3 Trillion in assets. 40% of its new service mandates won in 2011 came from non-US clients, which shows that its efforts to expand globally are yielding new contracts. It added 38 new alternative asset mandates and its alternative assets serviced increased by $23 Billion during the Q4 Period.
Disclosure: I am long STT. Saibus Research has not received compensation directly or indirectly for expressing the recommendation in this report.
Disclaimer: Under no circumstances must this report be considered an offer to buy, sell, subscribe for or trade securities or other instruments.