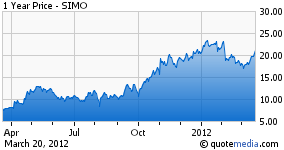 One of the best performing stocks in the past year has been Silicon Motion (NASDAQ:SIMO), a maker of microcontrollers used in NAND flash.
Apple has pumped up flash memory demand.
The rapid consumer adoption of mobile devices, spearheaded by Apple's (NASDAQ:AAPL) iPhone and iPad, has swelled demand for NAND flash. The battle over consumer wallets has become fierce, with makers continually pushing new feature packed devices requiring more memory.
This rush toward flash is boosting revenue at chip makers, which is being funneled into expanding foundries. It's also served to relief pricing pressure at vendors including Silicon Motion.
Last year, global NAND flash industry revenue was up 16.6%, according to Gartner. This year, Gartner expects such revenue will increase by another 18%. As demand swells, memory makers including Samsung - which controls roughly 35% of the market - Toshiba and Hynix are shrinking die sizes, making memory more complex and controllers, such as those made by Silicon Motion, more valuable.
Flash controller M&A has picked up.
To see just how important controllers are, we need look no further than the $500 million acquisition of Anobit in December by Apple. It's the largest Apple acquisition since buying NeXT in 1996. It also reflects the growing urgency to lock up flash industry players and design teams. Last March, OCZ Technology bought Indilinx, a controller maker. And, LSI Corp (NASDAQ:LSI-OLD) bought controller maker SandForce last fall.
Silicon Motion is heavily reliant on goliath Samsung.
Samsung, arguably the biggest competitor to the Apple throne, is Silicon Motion's largest customer, accounting for more than 10% of its sales each of the past three years. And while Samsung is only one supplier to Apple, its dominance in NAND flash and close ties to Silicon Motion have provided plenty of market heft. IHS iSuppli expects tablets to account for 17% of global NAND Flash demand in 2015. That's up from 9% in 2011. Overall, NAND flash shipments for tablets are expected to increase 10 fold to 16.3 gigabytes over the next three years.
Volume and pricing are boosting the balance sheet.
Silicon Motion's Q4 sales were up 61% to $67.1 million year-over-year. Mobile storage products, primarily microcontrollers where the company claims a 25-30% market share, account for 70% of its sales. Shipments of controllers were up 14% from Q3 and 42% from the final quarter of 2010. At the same time, average selling prices ("ASP") increased 6% and 13%, respectively.
The volume growth has come from the company's expanded relationship with flash manufacturers. Sales to flash OEM's have increased to 50% of mobile storage revenue, up from 35% in 2010. Given device makers turn to flash OEM's for memory needs, integrated controller solutions make sense for Silicon Motion. Particularly, as new technology including triple level cell ("TLC") flash ramps. Silicon Motion's sales of TLC flash controllers jumped 60% sequentially in Q4, rising to nearly 50% of all controller sales.
The higher prices and volume helped gross margin increase by 4.7% last year to 49.7%. Operating margins similarly increased, rising 9.7% to 21%. Given internal targets of 30% operating margins, the company believes there is more cost saving, volume driven synergies ahead.
The company also has an opportunity in LTE.
The company's tight relationship with Samsung also allowed it an opportunity to expand into LTE transceivers. Silicon Motion's mobile communications segment, which accounts for 22% of total sales, has benefited from Samsung's use of its LTE transceivers in popular products including the Galaxy Nexus for Verizon. In 2012, Silicon Motion's LTE transceivers will be found in 11 Samsung devices, up from six last year.
Growth in 2012 will be driven by ongoing controller volume upside and volume tied to LTE transceivers. The company also expects its eMMC controllers to pick up steam as makers embrace data security and target error correction. Overall, the company is guiding for 20-30% sales growth and margins in the range of 48-50%.
Shares in Silicon Motion have slipped 20% from their 52 week high and trade at less than 10x 2013 EPS estimates, which are expected at $2.01, up 14% from 2012. This follows an expected 27% lift in earnings in 2012 from 2011. The company has beaten analyst expectations in each of the past four quarters and 2012 analyst EPS estimates have increased to $1.77 from $1.43 60 days ago. Additionally, the company carries no debt and has $3 per share in cash, or $91.7 million up from $69.8 million exiting Q3.
Disclosure: I have no positions in any stocks mentioned, but may initiate a long position in SIMO over the next 72 hours.